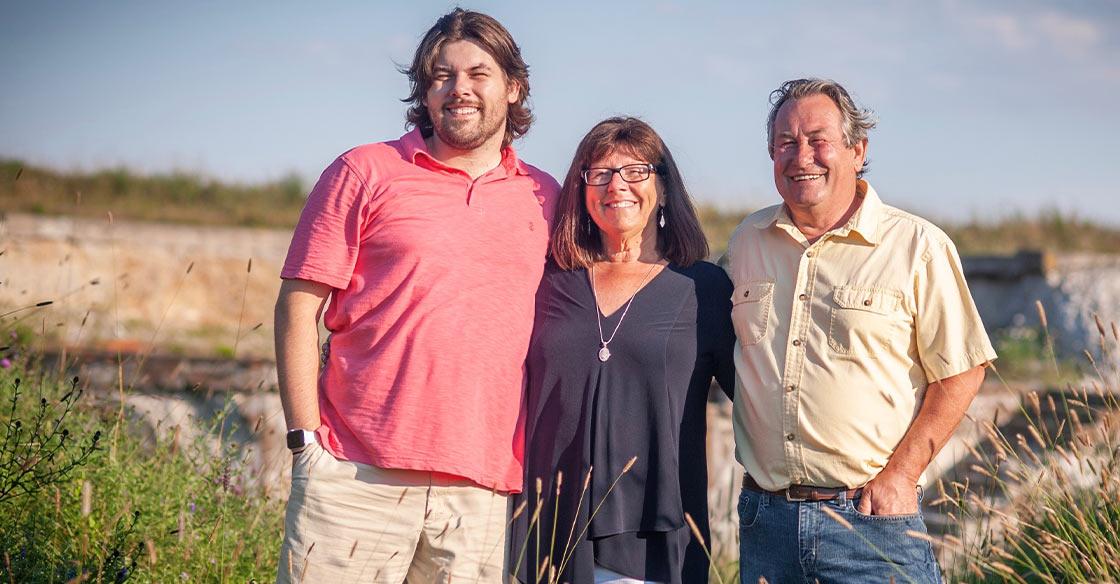 Agnes pictured with her son, Jesse (left), and husband, Keith.
Just seven weeks after her second robotic surgery for kidney cancer, Agnes Rendell was back playing the game she loves.
An avid golfer, the Eastern Passage resident is still amazed by her "quick and exceptional" recovery – and the QEII's surgical team who saved her life.
In March 2020, Agnes received a shock diagnosis: an eight-centimetre tumour in her right kidney and a seven-centimetre tumour in her left.
The news was the last thing the then 62-year-old expected; she was extremely active, healthy and in the best shape of her life.
"In that moment, I thought my life was over," says Agnes.
What followed was a whirlwind: a series of phone calls, a referral to the QEII Health Sciences Centre, and a consultation with her would-be robotic surgeon, Dr. Ricardo Rendon.
"When he first mentioned robotic surgery, I immediately imagined something out of a cartoon or sci-fi movie," says Agnes. "But I had complete confidence in my surgeon and the team."
Robotic surgery during COVID-19
Agnes underwent her first robot-assisted surgery in early March; a partial nephrectomy to remove the cancerous tumour in her right kidney.
Six weeks later, she underwent the same procedure for her left – but this time during the peak of COVID-19.
"My second surgery felt like it happened in a different lifetime," says Agnes.
During her six-day stay, Agnes says she was constantly monitored to ensure she was virus-free before, during and after her surgery. Visitor restrictions, which helped limit the spread of COVID-19 among healthcare staff and patients, added an extra layer of "uncertainty" as it meant Agnes' husband couldn't join her in-hospital.
"I remember my husband dropping me off for my surgery and I then didn't see him again until I was discharged," says Agnes. "It was part of the overall [COVID-19] response, but it was still difficult."
Despite the additional stress and uncertainty that goes hand-in-hand with cancer surgery during a global pandemic, Agnes says that QEII teams went above and beyond to make her feel safe and supported during her experience.
"Everyone from the nurses and administration to the team who operated on me were extraordinary," says Agnes. "It's hard to describe how much that meant to me, especially given all the added stress and pressures of COVID-19."
Precision beyond the human hand
Heralded as one of the most effective tools to treat certain cancers, robot-assisted surgery enables movements so tiny and precise that they would not be possible with the human hand alone.
"It's optimal for delicate procedures," says Dr. Rendon, like partial nephrectomies – often referred to as kidney-sparing surgeries – that remove the tumor while leaving as much healthy kidney tissue as possible.
Due to the size and position of Agnes' tumours, Dr. Rendon knew robot-assisted surgery was the best option for his patient.
"This was one of the most complex and complicated cases I've ever experienced in my entire surgical career," says Dr. Rendon. "Robotic surgery was the clear solution."
During both of her robotic kidney surgeries, Dr. Rendon sat a few feet away from Agnes at a computer console, operating robotic arms with precision far beyond what a human hand can offer.
As the surgery itself is performed using very small incisions, it significantly reduces recovery time, pain, risk of infection, scarring and more. The end result is patients, like Agnes, can return to their daily lives with a minimum of inconvenience, despite having undergone major cancer surgery.

"The fact that seven weeks after her last surgery, Agnes was playing golf is a testament to this advanced technology and its benefits," says Dr. Rendon.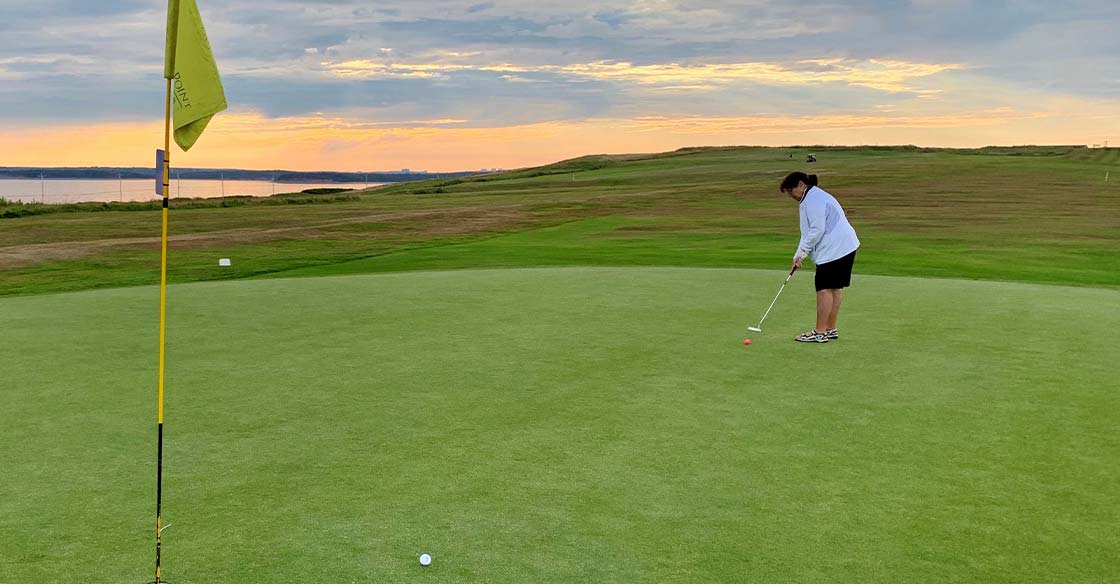 Donors make it possible
Pandemic aside, Agnes describes life post-robotic surgery as pretty swell: "Both of my recoveries were great. Before I knew it, I was back on my feet doing the things I love with the people I love."
Thanks to QEII Foundation donors and our Ride for Cancer community, Atlantic Canada's first surgical robotics technology arrived at the QEII in February 2019. Since then, more than 200 robotic surgeries have been performed, including the two that saved Agnes' kidneys.

The $8.1 million project will be entirely donor-funded with less than $670,000 left to raise to keep the technology at the QEII and expand its use to other cancer surgeries.

When asked what she would say to the generous donors who introduced this treatment option to our region, Agnes feels like 'a simple thank you' just isn't enough.

"There's no question that the QEII's surgical robotics program saved my life," says Agnes. "My son still has a mother and my husband still has a wife because of this technology and the teams who use it – we're so grateful."
To learn more about the QEII Foundation's surgical robotics campaign or to donate today, visit: QE2Robotics.ca. 
You might also be interested in...