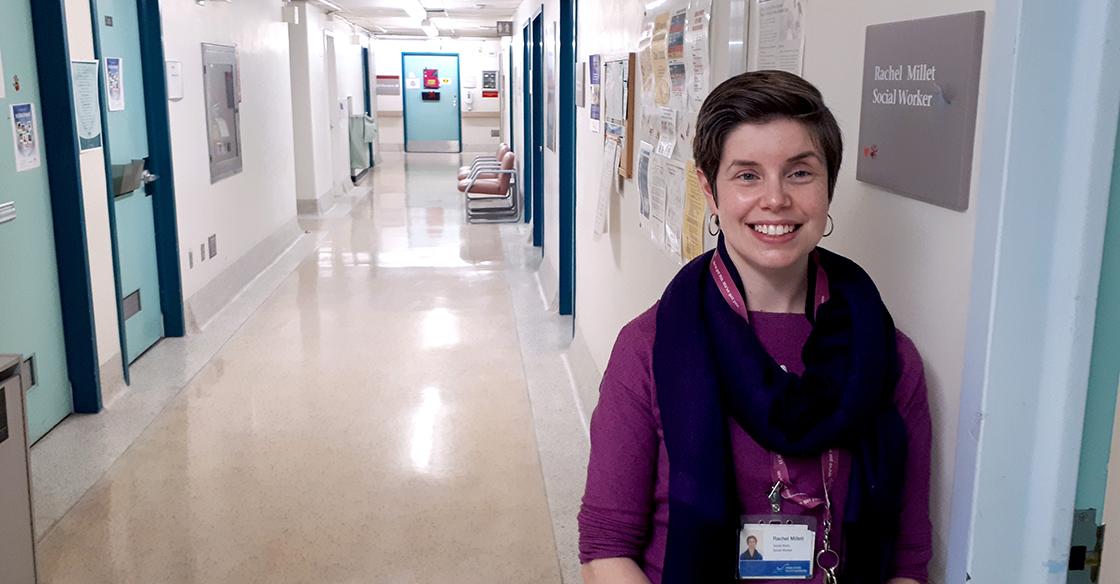 An illness or injury can interrupt life's normal activities. The unwanted intrusion of a health crisis can cut into time with family and friends and time spent earning a living.
For many patients, this loss of income can be difficult to manage, particularly in an economic environment marked by both a housing crisis and rising inflation. The situation is compounded when a patient requires medication or medical devices not covered by an insurance plan.  
That's why the QEII Foundation made the QEII Patient Assistance Fund available to help patients afford life's necessities during their healthcare journey. 
Entirely funded by donors, the grants are available to those receiving both inpatient and outpatient care from the QEII. 

Grants of up to $1,000 can be used to pay for rent, mortgage, food, utilities, transportation to medical appointments, medically necessary dental procedures, and medication not covered by a medical plan.
As a healthcare social worker at the QEII, Rachel Millet regularly sees what can happen when a personal health crisis is compounded by financial difficulties. In many cases, she says, patients are more concerned about their finances than about their illness.
"It's something we deal with daily," says Rachel. "We see a lot of seniors who are on a fixed income, so finances are quite often a factor."
Rachel has seen the difference a grant can make in a client's life and says it's always a pleasure to call to give them the good news.
Specializing in psychosocial oncology, Rachel is well-versed on the body-mind connection, and how stress can impact a person's ability to get well.
"Stress can affect the immune system," she says. "So, if somebody is already immunocompromised it can lead to more complications, both physical and mental."
Mental, physical and financial wellness are the three pillars of good health. According to the Government of Canada, individuals dealing with financial stress are twice as likely to report poor overall health and can lead to more serious health problems. 
Rachel notes that if somebody cannot afford the basics of life, it is very hard to focus on recovery. 
As of mid-March, 145 grant applications have been approved, totaling $67,503. Requests have been approved from a diverse cross-section of the QEII, such as rehabilitation programs, cancer care and dialysis.
"The great thing about this grant is that it's open to anybody, regardless of illness, so it certainly gives us more options," Rachel says. "This has really become my go-to grant for patient support."
 
---
To learn more about or donate to the QEII Patient Assistance Fund, visit QE2Foundation.ca/qeii-patient-assistance-fund