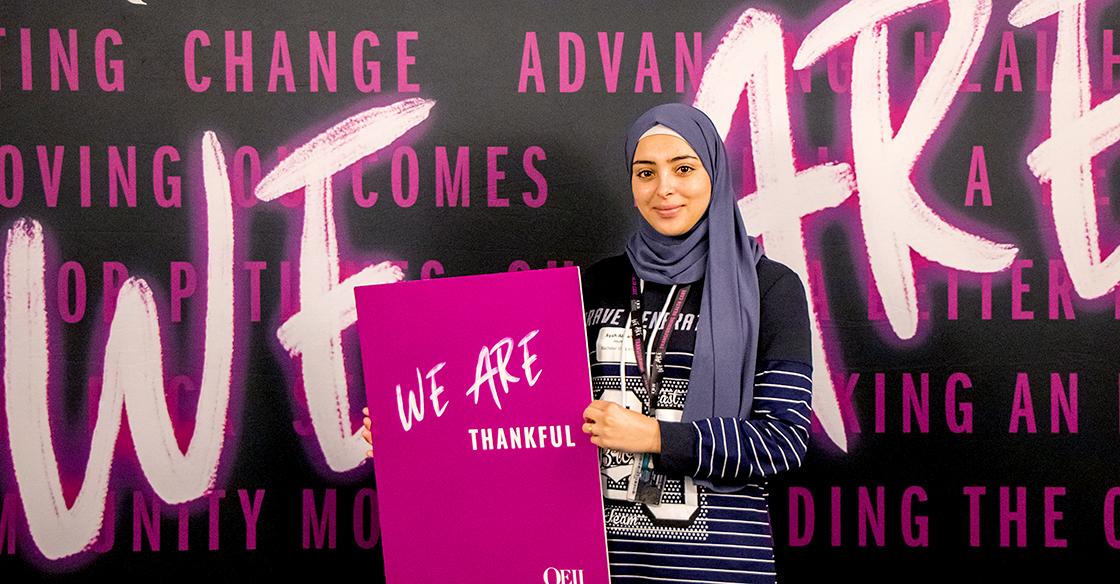 Ayah Alelaiwi was fourteen years old when she arrived in Nova Scotia from Syria, via Jordan, with her family. Not speaking any English, Ayah worked hard to learn the language. She was committed to adapting to her new home and achieving academic excellence.
"The main reason for committing to my goals and working hard is to set a good example for my younger siblings," says Ayah, one of six siblings in her family.
Ayah's inspiration to pursue a career in health care was born out of her family's difficult experience.
During the family's refugee status in Jordan, Ayah's seven-year-old brother was sick with a heart condition. This helped influence the family's decision to come to Canada – so her brother could receive the specialty health care he needed. Sadly, he passed away the day before they were to fly to Canada.
Ayah's family remained in Jordan for another six months, arriving in Halifax in 2016.
A few months later, tragedy struck the family again. The same heart condition took the life of another brother, who was only eight years old.
While navigating her own heartache, living in a new country and learning a new language, Ayah – as one of the oldest siblings – took care of her younger siblings while her parents grieved.
"It was really, really hard," remembers Ayah. "I was in high school during the day and would come home and my twin brother and I would take care of the house and family at night."
As Ayah and her family began to emerge from such unimaginable grief, Ayah was determined to learn English and go to university. Currently a biology student at Dalhousie University, Ayah says she's grateful for the opportunity.
"I'm thankful for everything. I'm really thankful to be in Nova Scotia and to have the opportunity to finish my education."
To gain early experience in health care, Ayah has been working part time at a community pharmacy as a pharmacy assistant for nearly two years. She especially enjoys the moments she's able to translate and help other Arabic-speaking people communicate important information from the pharmacists. Supporting others is Ayah's biggest motivator.
"I like helping other people," she says. "Many people have helped me since I came to Nova Scotia and I want to pay it forward by joining the healthcare system."
In 2022, Ayah received a QEII Foundation Diversity in Health Care Bursary, providing financial support for her education – something that's very important to Ayah and her family.
"Receiving this bursary, along with a few other bursaries and scholarships, is providing me with the necessary finances to finish my education," says Ayah.
Beyond the financial help, Ayah attended a celebration event – part of the QEII Foundation's bursary program – where she was excited to meet other bursary recipients. Having the opportunity to interact with many of the 79 other recipients studying in a variety of healthcare fields, Ayah felt proud of her future career. She also says it felt wonderful to be celebrated.
"It's incredible to know there's other people – like the QEII Foundation and their donors – who care about your work and are trying to support you, it feels really good," says Ayah.
---
To learn more or sponsor a student, visit QE2Foundation.ca/Diversity.