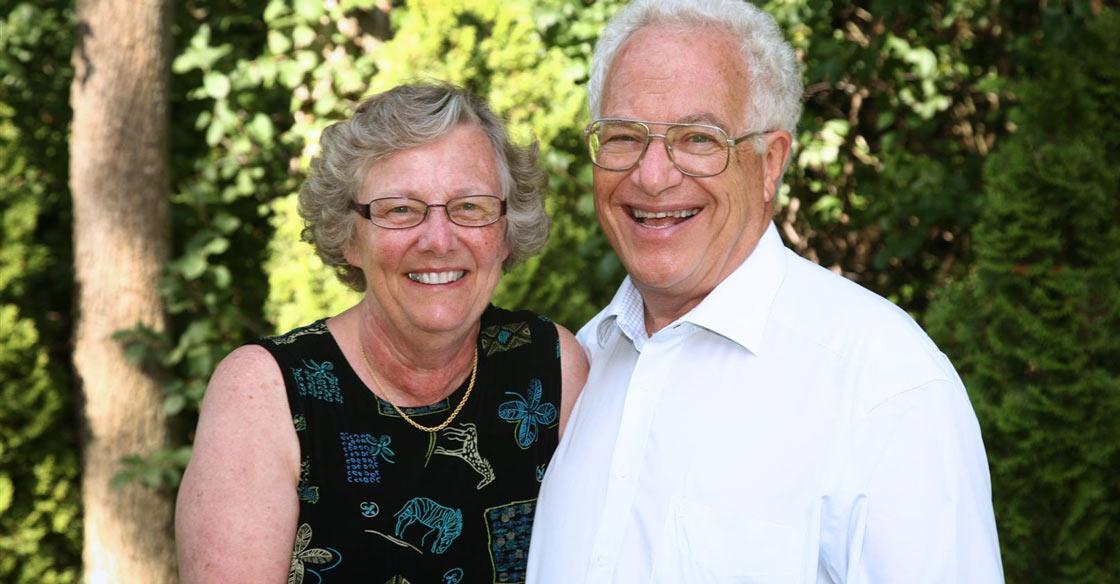 Pictured: Heidi and Michael Steinitz.
Michael Steinitz is a busy man. An emeritus physics professor and world-renowned researcher, the 76-year-old lectures on physics – to students at StFX and peers around the globe – in English, French, German and Hebrew.
As chair of the Antigonish Performing Arts Committee, he spearheads a performing art series of eight to ten concerts each year. It's a longtime passion for Michael, who's been bringing world-class artists to Antigonish for 43 years; a musical series that now continues virtually due to the pandemic.

Michael and his wife, Heidi, are also deeply committed to giving back – giving their time, talent and financial contributions to causes close to their hearts.
This past holiday season, one such cause was the QEII's new interventional radiology (IR) suites. Michael credits the QEII's IR team and head interventional radiologist, Dr. Robert Berry, for saving his life in 2015.
A severe, blocked renal artery is what sparked Michael's first meeting with Dr. Berry at the QEII. For months, the then 71-year-old was experiencing extremely high blood pressure, significant weight loss, fatigue and weakness due to reduced blood flow to his kidneys.
He was referred to Dr. Berry and his team for renal stenting; a minimally-invasive procedure that inserts a stent – or tiny tube – into the blocked passageway to open the clogged artery.
"The night before my intervention, Dr. Berry came to see my wife and me, and spent almost an hour sitting with us and explaining the situation," says Michael.
According to Michael, Dr. Berry suggested there were three possible outcomes following the procedure: "no change, complete cure, or dialysis for the rest of my life starting two days later."

He laughs as he says, "I told Dr. Berry I wanted 'door number two'."
Michael got his wish as the procedure was an overwhelming success. Pandemic aside, more than six years later, the physics professor is as active and busy as ever.
Today, he can't say enough about Dr. Berry and the team who saved his life; a multidisciplinary group that includes IR, nephrology and Dr. Penelope Poyah.
"They were amazingly kind, considerate and understanding," he says. "Truly an example of the best of our medical professionals."
Michael and Heidi's recent donation is supporting the cutting-edge technology that will live in the QEII's new IR suites, enabling the team to continue delivering advanced, lifesaving care from head-to-toe.
Leading up to the end of 2020, radiologists within the Department of Diagnostic Imaging – including Dr. Berry – were matching all gifts to the QEII Foundation's IR suites campaign, up to $200,000.
It's a generous act that inspired many, including grateful patients and families like the Steinitz's.

Susan Mullin, president and CEO of the QEII Foundation, couldn't agree more.
 "These are folks working long hours, delivering exceptional care, who are so committed to that same care that they put their own funds forward to make it happen," says Susan. "It's incredibly moving and it inspired our community to step up in a big way."
Thanks to an entire community of donors, the QEII Foundation surpassed its $200,000 goal for the match – which was then doubled by radiologists within the Department of Diagnostic Imaging.
"We're so grateful to our donors who are allowing us to create an impact of more than $400,000 towards the new IR suites," says Susan. "These suites are changing lives now during the pandemic and will for years to come. It's truly just the beginning."
To learn more about the impact of the new suites, other IR patient stories or to donate, visit QE2IRSuites.ca.  
---
More about Michael Steinitz: A past-president of the Canadian Association of Physicists, for fourteen years Michael was the editor of the Canadian Journal of Physics and presently serves on the steering committee for the United Nations World Year of Basic Science for Development 2022. He also serves on an improvement initiative committee for Nova Scotia Health doing a 'Failure Modes & Effects Analysis (FMEA)" on "Early Warning Signs of a Deteriorating Patient".

For 45 years, Michael has run the concert series at StFX.  He was one of the founders of Debut Atlantic, that brings classical music to all four Atlantic provinces, and for three years he was a judge for the JUNO awards.