 Over the last several weeks, I've been overwhelmed and inspired by the creative ways that our community is stepping up to support patients and healthcare teams through our QEII COVID-19 Response Fund.
Despite signs of COVID-19 slowing down in our province, and certain day surgeries and outpatient clinics beginning to be reintroduced at the QEII, there's a critical need to remain vigilant and prepared. Protecting our healthcare teams and those most vulnerable to the virus and caring for those impacted by the effects of COVID-19 on our communities – today and in the future, as the situation and needs evolve.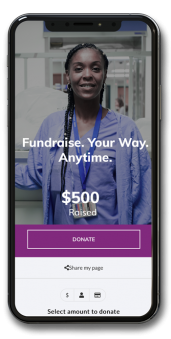 Whether it's an individual collecting donations instead of gifts for a birthday using our new virtual fundraising tool or a local business choosing to donate a portion of their sales, everyone has the ability to advance health care, no matter how much money they raise or how many people rally around them. It all adds up.
There are so many different ways that our community is choosing to give back to the QEII Health Sciences Centre. On this page, you'll find some examples of fundraisers that have recently started within our community. They've been created by individuals and businesses of all kinds, and together, every one of them will help make a huge impact at the QEII. 
If you're looking for a way to send a message to our QEII health heroes, click here to learn how you can share a message of gratitude with those on the front lines.

I hope reading about these community initiatives makes you feel inspired and empowered. If you feel passionate about contributing to health care in Nova Scotia, but you're not really sure where to start, I'd be happy to chat with you further. You can reach me at Jessica.Campbell@qe2foundation.ca or 902 222 7532.
Sincerely,
Jessica Campbell
Community Inspiration Officer, QEII Foundation
If you received a postcard from us and would like to receive communications from us by email in the future, click here to sign up for our newsletter!
My HOME Apparel launched a charitable t-shirt with the message loud and clear: Stay the Blazes Home. The My HOME Apparel team has raised and donated over $100,000 to local charities in need amid the COVID-19 pandemic, including our QEII COVID-19 Response Fund. This initiative has made an incredible impact and helped ignite a spark that kept their business busy during a difficult time.
East Coast Lifestyle stepped up in a big way with another "stay home" themed tee for the community amid the pandemic. With over 1200 units sold, all proceeds from their Stay The Blazes Home and Stay Home tees have been donated to the QEII COVID-19 Response Fund and The Children's Wish Foundation Of Canada, Nova Scotia Chapter.
Nova Coffee has been part of the local business community for 47 years and were inspired by its resilience in the face of COVID-19. With so many of their customers closed, they wanted to do something to keep people working and give back. They launched the Hero Blend with 20% of proceeds from every bag supporting the QEII COVID-19 Response Fund. 
The Flag Shop wanted to support our healthcare heroes on the front lines amid the COVID-19 pandemic. A portion of sales from their Healthcare Hero flags support the QEII COVID-19 Response Fund. 
You might also be interested in...