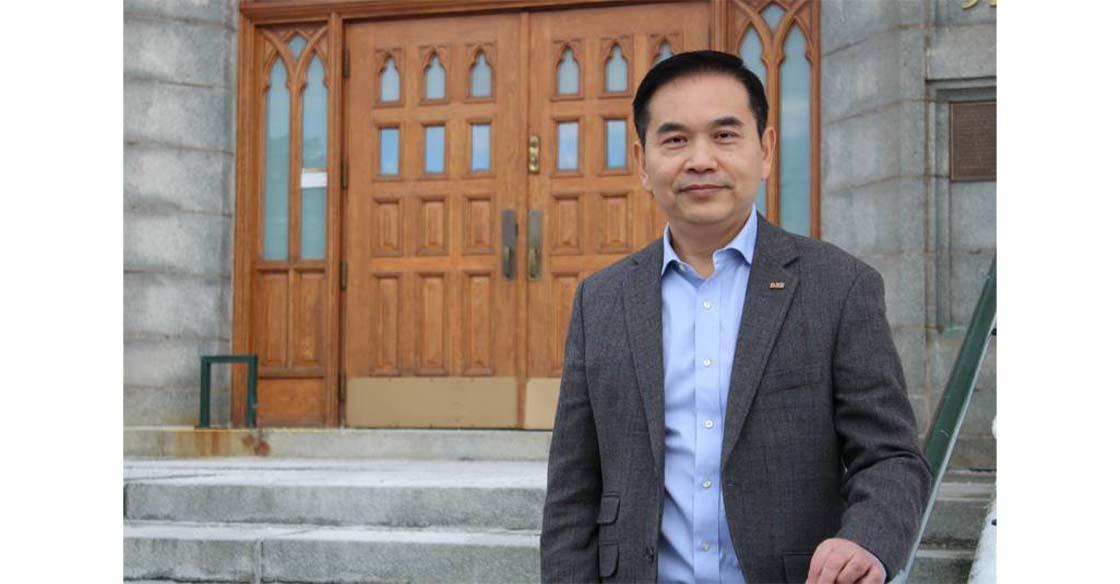 Bill Bu, the regional president of the Hong Kong-Canada Business Association, has led fundraising efforts for COVID-19 response in the Halifax Chinese community since February - Contributed
Originally published on thechronicleherald.ca.
A fundraiser for COVID-19 work at the QEII Health Centre has raised more than $130,000.  
The QEII Health Foundation recently launched the campaign to support the Halifax hospital system's response to the respiratory virus pandemic, which has killed over 55,000 people across the world. More than 240,000 have recovered from infections. 
The foundation hopes to raise $500,000 for the cause. 
QEII staff have identified four key areas as they gear up to treat COVID-19 cases, said foundation CEO Bill Bean, namely care for patients in COVID-19 wards, recovery support for patients and families at home, virtual care, and digital systems to support communication among health-care providers. 
For example, the wards need equipment such as electronic stethoscopes, portable ultrasound machines for guided IV insertions and equipment for bedside diagnostics.
When patients go home, they and their families will need oxygen saturation, heart rate and respiratory support as well as telehealth monitoring.
As for virtual care and digital communications, "more and more we're talking about this in many disciplines for many years but now it's come home," Bean said. 
Communication systems are needed to connect doctors, nurses, pharmacists, nurse practitioners and other health-care providers as they face the challenge of treating patients in the era of social distancing and self-isolation. 
"I think the fact this is affecting every family and every Nova Scotian, we have a vested interest in helping," Bean said. 
In an update provided Friday, a QEII Foundation spokeswoman said thanks to COVID-19 response donors, $100,000 has been given to the health centre to buy 1,000 pulse oximeters, which are clips on a patient's finger that monitor the percentage of oxygen in the blood, along with the heart rate. 
"These pieces of technology are required for patients to be safely monitored at home, as respiratory failure can be one of the more severe symptoms of COVID-19," said Tanya MacLean in an email. "Being able to safely monitor patients from home, builds capacity within the health centre. Self-care and recovery at home is an important piece of the COVID-19 response strategy."  
Chinese community steps up
The campaign has particularly struck home in Nova Scotia's Chinese community.  
"Ever since the start of this outbreak started in China two months ago, we have been watching very closely," said Bill Bu, the regional president of the Hong Kong-Canada Business Association.
Bu has been involved in COVID-19 response efforts since February when he led a fundraiser to help the first communities struck by the virus in the Wuhan district of China, where he once lived. 
He's also been active with the QEII Foundation for many years. 
"I've been involved in quite a few fundraisers," said Bu, who said he's been impressed by the care he and his family has received in Halifax hospitals. "They've been doing a wonderful job in helping the local community."
So not surprisingly, he was quick off the mark when he heard about the QEII fundraiser, reaching out to others using an app popular in the Chinese community called We Chat. 
Their efforts quickly raised more than $13,000 for the QEII COVID response campaign and more pledges were coming in. 
 "This is getting more serious in Canada ... so we wanted to do something," said  Jinyu Sheng, president of the Halifax Chinese Language School, noting that the Chinese community in the Atlantic region is not huge but "the Chinese people are really generous and charitable.  . . . We came up with some ideas how we can contribute,  particularly since it is our home province. It's an urgent need - we need to help the medical staff in our hospital."
Haibo Niu, regional president of the Canadian Academy of Chinese Professors, said the pandemic represents  "a very serious crisis" and the community must step up to make sure health-care providers and patients have the equipment and supplies they need. 
"We are a little bit lucky because this hit our province later it gave us more time," said Niu, an agriculture professor at Dalhousie University.  We do need to get ready or we will face the same challenges other countries have."
Donations to the QEII COVID response campaign can be made here.
You might also be interested in...