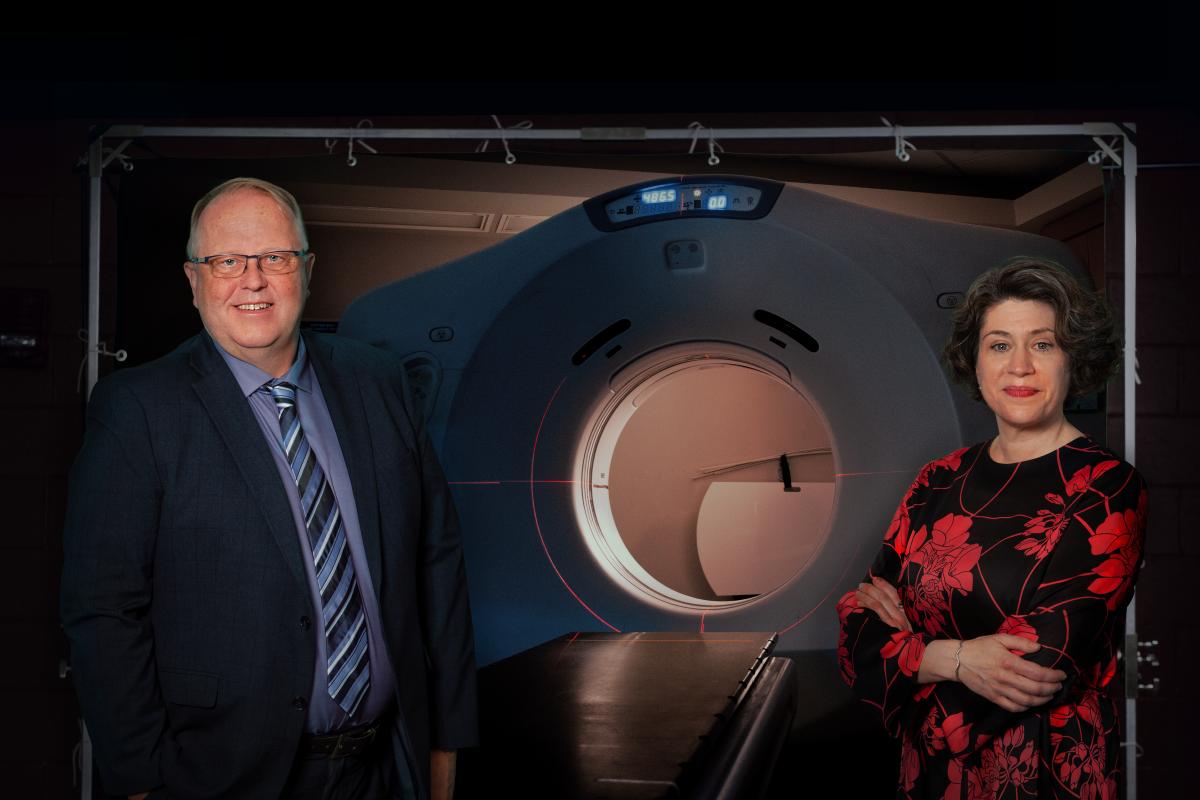 For decades, cancer treatment meant long stays in hospital away from home and family, multiple treatments and uncomfortable side effects. Now, treatment options have vastly improved, with new technologies driven by clinical researchers and medical experts who want the best outcomes for their patients.
Radiation therapy has evolved, with critical equipment like the CT Simulator revolutionizing the way people receive potentially lifesaving cancer treatment, says Dr. Helmut Hollenhorst, QEII Health Sciences Centre radiation oncologist and senior medical director of Nova Scotia Health's Provincial Cancer Care Program.
"For example, historically some patients diagnosed with early stage lung cancer who could not be managed with surgery because of other illnesses like heart and lung disease, would have very little curative radiation treatment options available to them. They simply could not tolerate the doses of radiation using conventional radiation therapy techniques," Dr. Hollenhorst says.
"Now, with the high-precision treatment we are offering, based on advanced imaging protocols and technology supported by the CT Simulator, we are able to target the cancer better while sparing surrounding organs and tissue at the same time. This means that only a few doses of radiation, with a rather high dose per treatment delivered, provides in 90 per cent of the cases elimination of the cancer. With only one to four treatments, our results are almost as good as those achieved with surgery."
Speed and accuracy in radiation treatment are vitally important to clinicians at the QEII as Nova Scotia deals with some of the highest rates of cancer in the country. The QEII, the community hospital for Halifax and surrounding areas, is the most advanced academic and research health sciences centre in Atlantic Canada, with nearly one million visits annually.
The QEII Cancer Centre, which has 170,000 annual visits, not including surgeries, is the largest specialized cancer centre for Atlantic Canadians, most of whom will at some point in their lives be diagnosed with cancer or have a family member or friend who will be. In fact, one in two Nova Scotians will get cancer in their lifetime; 50 per cent of those patients will require radiation at some point in their journey.
Once a decision has been made that radiation will be part of a patient's cancer treatment a simulation appointment in the CT (computerized tomography) Simulator will be scheduled. The appointment starts with reviewing the proposed process and educating patients. This is followed by determining the position that's most comfortable for the patient and most optimal for delivering the prescribed treatment. Often, support devices like cushions are provided and vacuum moulds of the body or individual casts are made to secure the patient's position for the subsequent CT simulator scan. This high-tech machine has a multi-image display, 3-D visual capture and optimization (e.g. scanning 10 phases of a breathing cycle) – all of which allow radiation oncologists to pinpoint the exact location, size and shape of a patient's tumour in space and time, and determine the most effective radiation treatment.
"Our goal is to make patients as comfortable as possible while placing them in a position to be able to safely, reliably and reproducibly deliver the therapy," Dr. Hollenhorst says.
The careful planning and precision afforded by the CT Simulator means health care professionals can pinpoint within millimetres where to deliver the radiation and avoid other tissues and organs.
"The better we can identify the tumor and other organs we need to spare, the safer it is to give a higher dose per treatment, which translates to fewer treatments," Dr. Hollenhorst says.
"As an example, we used to divide the radiation dose prescribed for people with prostate cancer so the normal tissue exposed to radiation could recover. Patients were receiving upwards of 40 treatments, meaning they were away from their homes and families for up to eight weeks." Today, some patients with prostate cancer receive about five treatments using the CT Simulator and subsequent treatment planning algorithms to optimize the treatment plan. As a result, patients are only away from home for one to two weeks to attend appointments.
The demand for the CT Simulator, which is able to scan about 3,000 patients per year, is increasing at the QEII Cancer Centre – with the population aging and cancer rates growing every year, more patients require the technology. At the same time, use of the technology is extensive, with multiple scans required during the simulation consultation. Innovation and clinical trials require time using the CT Simulator as well.
It's this combination of critical patient demand and urgent need to further medical research and innovation that is driving the QEII Foundation to raise $3.6-million to fund two new CT Simulators as part of its $100-million We Are fundraising campaign. Entirely donor-driven, the $3.6-million will be used to replace the current CT Simulator, which at about 10 years old is nearing the end of its life, and acquire a second one to ensure more patients can benefit from this state-of-the-art technology.
"It is so exciting to know we can be cutting edge with the support of donors to the QEII Foundation," says Dr. Amanda Caissie, QEII radiation oncologist and interim head at Dalhousie University's department of radiation oncology.
"By supporting this campaign you're basically touching just about every patient who walks through these doors for radiation. We all know someone with cancer; I think this really strikes a chord for a lot of people who want to make a difference."
Dr. Caissie says she is excited to have returned to the Maritimes after completing her training in Ontario and Quebec. "It's that pride of being here at home and knowing there's no place I'd rather be. When you have cutting-edge technology, you're able to recruit leading experts in the field," Dr. Caissie says. "All of us here are so thrilled about what we're able to do and for the opportunities that lie ahead thanks to this new technology, teamwork and support of our cancer care program on so many levels.
"I really feel the opportunities to advance cancer care and treatment are endless."
To learn more about the CT Simulator and the QEII Foundation's $3.6-million fundraising efforts to support this needed technology and serve more patients, please visit www.qe2foundation.ca/ct-sim