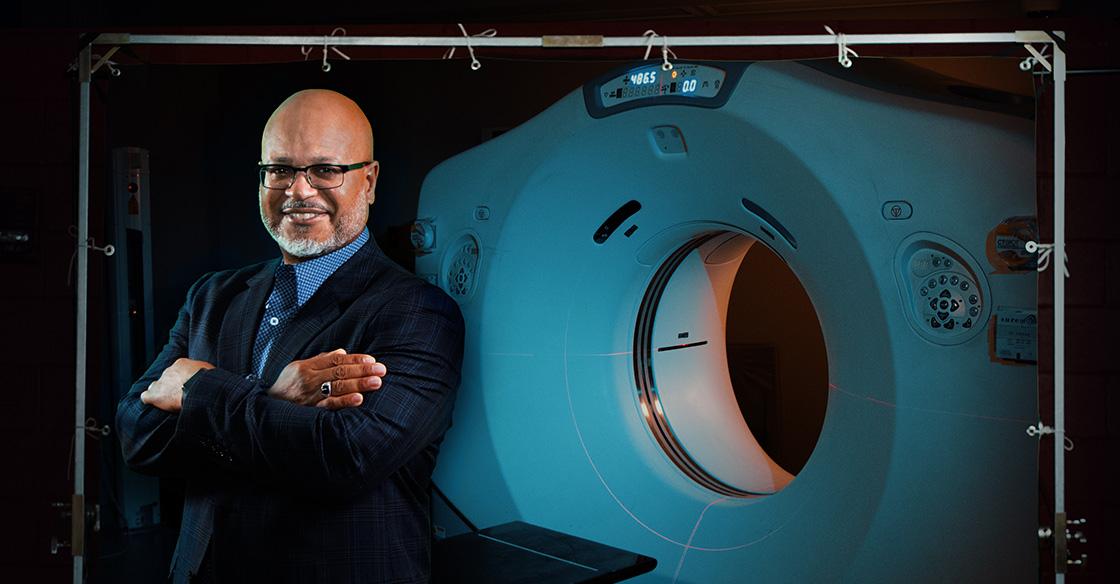 Each year, 7,000 Nova Scotians are diagnosed with cancer. Nearly half of those people will undergo radiation as part of their treatment plan. Every QEII cancer patient who needs radiation must first undergo imaging in a machine called the CT Simulator. The CT Simulator provides the roadmap for cancer care teams to pinpoint the exact location of a patient's tumour, allowing them to plan and deliver the most targeted and personalized radiation treatments possible.
In this Q&A, Raymond Wright, interim director, Cancer Palliative Care, Central Zone, gives insight into this life-saving technology, the role it plays in the journey of the thousands of Nova Scotians who need it each year and why new CT simulation technology is needed today at the QEII Health Sciences Centre.
Q: What's the current situation at the QEII – why is the need for new technology so vital?
A: Currently, the QEII Cancer Centre, the largest and most specialized cancer centre in Atlantic Canada, has one CT Simulator. The machine scans approximately 3,000 people each year, and it's at capacity. Generally, with CT Simulators, the life expectancy is 10 years and ours is nearing that mark. It's like your car – the more you use it, the shorter the lifespan. Our machine was state-of-the-art when we got it, but technology has advanced since then. Replacing our current machine will give us access to the newest technology, meaning better patient outcomes.
The other consideration is redundancy. Cancer never waits, which is why we want our patients to have their CT simulation scans and start radiation as quickly as possible. Delays can weigh heavily on patients and their families. Adding a second CT Simulator will decrease wait times and delays for QEII patients.
Q: How will new CT simulation technology impact patient outcomes?
A: CT Simulators provide detailed images that radiation oncologists need to pinpoint the exact location of a patient's tumour. New technology will give us clearer images and a more defined area during a patient's CT simulation scan. It will also allow us to use newer techniques like IV contrast to highlight the differences between tumour and healthy tissues. That's very important because we want to make sure that we're treating only the tumour and not adding any additional radiation dose to normal tissue, so that way there's less side effects for the patient.
Greater accuracy will allow us to increase the dose, or curative dose, to the tumour. For some patients, this will mean reducing the number of radiation treatment they'll have to undergo.
Q: How does new technology help attract top medical talent?
A: When you have the best technology and equipment, it garners excitement in your field. The QEII Cancer Centre is recognized nationally and internationally for the work we're able to do in Halifax. We always want to be on the cutting-edge and have the latest equipment as it attracts the best teams and enables us to deliver the most advanced patient care to Nova Scotians.
Q: Why should donors support new CT simulation technology at the QEII?
A: Here in Nova Scotia, the care that we provide for our cancer patients is second to none. World class, for sure. That's all in part to the generous donors of the QEII Foundation. By supporting new CT simulation technology, your donation will impact every patient walking into our radiotherapy centre. You can ensure the QEII has two current, most-efficient and up-to-date CT Simulators for our cancer patients.
With cancer rates rising each year by five per cent, we need to ensure we're ready to treat more Nova Scotians each year.
---
Learn more about CT simulation technology from QEII cancer experts: