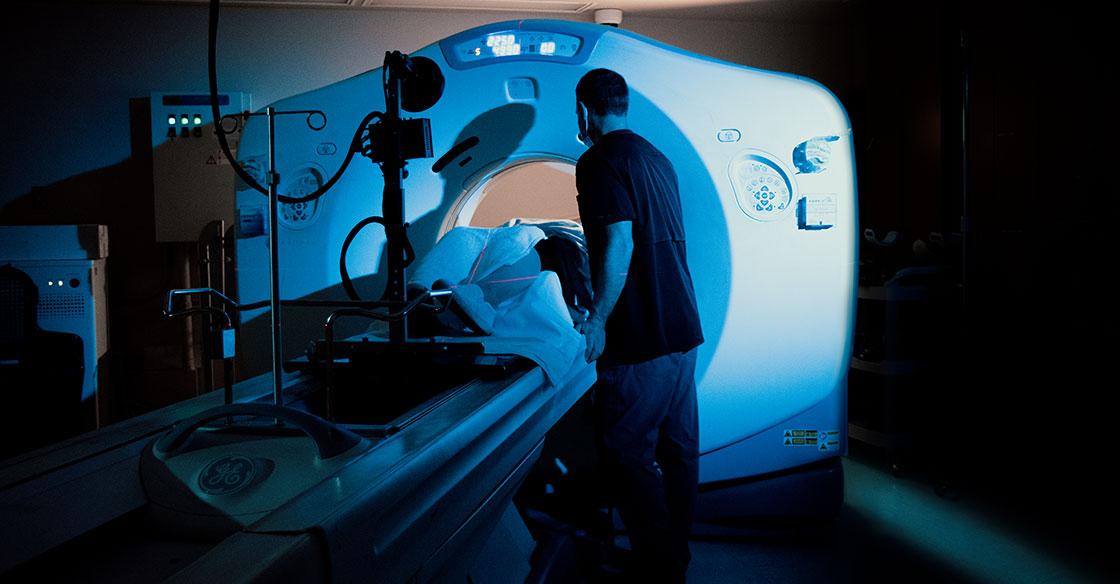 Some people have a way of bringing hope to others even in their darkest days.
That's certainly the case for Bridgewater resident, Ross, who despite suffering the loss of his wife, oldest daughter, and younger brother over a period of 11 months, is continuing his annual tradition of donating via securities to the QEII Foundation, as he has done for the past 20 years.
Ross finds comfort in helping others through the donations he has made to the QEII Foundation, which over the years have supported everything from stroke treatment and tumour ablation in the QEII's new interventional radiology suites, to surgical robotics technology for life-saving cancer surgeries. His donation this year is going towards the purchase of new CT simulation technology at the QEII Health Sciences Centre, to replace the outdated piece of equipment that is quickly nearing the end of its life span and is used to scan every patient who undergoes radiation treatment at the QEII.
This technology provides the images care teams need to pinpoint a patient's tumour, allowing them to plan and deliver the most effective radiation treatments possible. The QEII Foundation is currently raising $3.6 million to fund a second CT simulator machine: a donor-funded initiative that will increase the number of daily appointments and ensure more cancer patients can start their radiation treatment on time.
"This was something new, urgent, and exciting for the treatment of cancer and has the potential to impact so many patients,'' Ross shares. "I'm proud to donate."
His appreciation of the QEII began a few years ago when he had heart stent placement surgery at the Halifax hospital.
"I really appreciated the care that I got and that's why I always say that although we've got problems with the healthcare system, when the chips are down, they come through,'' he praises.
Although his wife opted not to have treatment after being diagnosed with advanced cancer two years ago, the fact the disease took her life makes cancer care a high priority for Ross when it comes to his annual gift of stock.
"So, that's why anything to do with cancer, I'm there to try to support what I can,'' he says. "Every little bit adds up.''
While his donations of stock unquestionably have a direct impact on health care in the region, it has also benefited him at tax time by eliminating capital gains and allowing for a charitable tax receipt for the fair market value.
According to Associate Investment Advisor, Paula Campbell, this advantage is what makes gifting publicly-traded securities such an appealing tax strategy for many individuals, especially those whose securities have appreciated in value. To qualify for the capital gains exemption, the securities must be transferred in-kind to the recipient charity, rather than being sold with the proceeds then donated.
"You're becoming intentional about your giving and you're putting a strategy in place," explains Campbell, who's part of Mary Ellen Byrne Wealth Management at TD Wealth Private Investment Advice, a team of five females who have estate planning strategy conversations with clients every day.
"The donation of securities allows clients to save tax and also have an immeasurable impact with the amount of money they're able to contribute. It's one of many ways you can make a difference, benefitting both yourself and the recipient charity," Campbell adds.
As Senior Director of Gift Planning at the QEII Foundation, Geoff Graham and his fellow charitable giving advisors strive to make the process as seamless as possible for donors interested in gifting securities. He helps them by discussing the advantages and determine the area of care or research they'd like their investment to support.
"It can benefit your taxes, but it also makes such a big difference in so many lives across the Maritimes,'' he stresses.
As we head into the season of giving, Graham encourages Nova Scotians to consider the impact they too can have by investing in health care. "Almost every care area across the QEII has been touched by a gift of securities and the generous donors behind it. We're honoured to work with inspiring individuals, like Ross, who are committed to giving back," he says.
Donations of securities – including stocks and bonds – during the holidays and throughout the year are essential to advancing health care at Atlantic Canada's largest and most specialized hospital. To learn more about giving the gift of securities and how you can make an impact for the 2022 tax year, visit QE2Foundation.ca/securities.