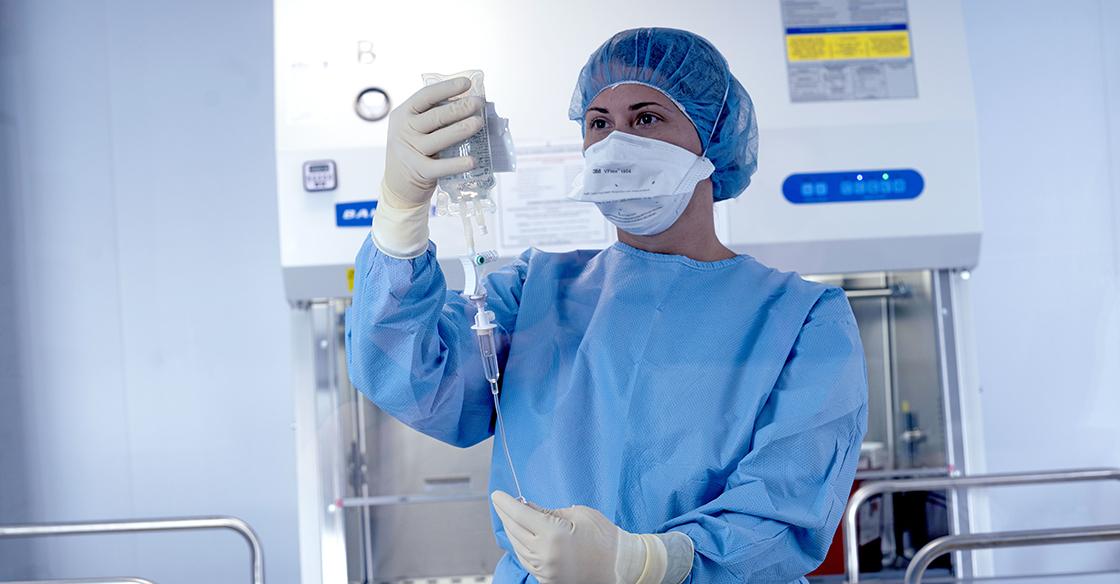 Each year, 7,000 Nova Scotians are diagnosed with cancer. Nearly half of these people will need chemotherapy.
In the QEII Cancer Therapy Preparation Lab, between 100 to 150 life-saving doses of systemic therapy are prepared for cancer patients every day, ensuring the most personalized care possible.
To meet the growing demand for this lifesaving therapy, 14,596 QEII Foundation and BMO Ride for Cancer donors joined together to contribute $2 million, fully funding cutting-edge equipment and technology within the new Cancer Therapy Prep Lab.
The new lab began operations on July 11, 2022, after moving from the QEII's Victoria Building to the QEII's Dickson Building. This new lab has doubled preparation capacity, which means patients can spend less time waiting for treatment.
"Our number of cancer patients in Nova Scotia has certainly increased over time," says Claudia Harding, clinical pharmacy manager for Oncology and Research.
"We've also come up with a lot of new cancer therapies, so patients are living a lot longer with cancer, but this also means we have more doses we have to prepare every day."
While the previous lab had only two fume hoods under which the therapy doses are prepared, the new facility has four. These new donor-funded hoods allow pharmacists and pharmacy practice assistants (PPAs) to teams to deliver lifesaving doses faster and provide new care options for patients and their families.
Another key area that donor generosity has helped improve is dose accuracy.
"What people may not realize is that there's over 200 different types of cancer. And each of these types of cancer impacts patients in a different way," says Susan Mullin, QEII Foundation President and CEO.
In the Cancer Therapy Prep Lab, no two doses are prepared the same. Every dose is highly specialized for each patient's cancer treatment plan, dependent on cancer stage, type, molecular and genetic makeup, and factors such as height, weight, and organ function.
"The goal in all of these treatments is to really target the specific types of cancers and to reduce the impact of side effects for patients," Susan explains.
Since this personalization is essential in systemic therapy, the new lab has additional safety features such as bar-coding, remote cameras and automation, helping to ensure accuracy in treatment plans.
This state-of-the-art space will also improve efficiency and workflow, creating more opportunity for innovation through clinical trials – allowing patient access to the latest groundbreaking treatments and opportunities.
We extend our deepest appreciation to the QEII Foundation and BMO Ride community for making this incredible new space a reality.
"Thank you from the bottom of our hearts," says Claudia. "For all the staff that work here in the QEII Cancer Centre, this is one big positive light over the past couple of years that we've been able to move into this new space and make a difference for our patients.
"It's so satisfying to go in and do your work and know you're able to do the best work possible."
---
EXPERIENCE THE QEII CANCER THERAPY PREP LAB
TAKE A VIRTUAL TOUR