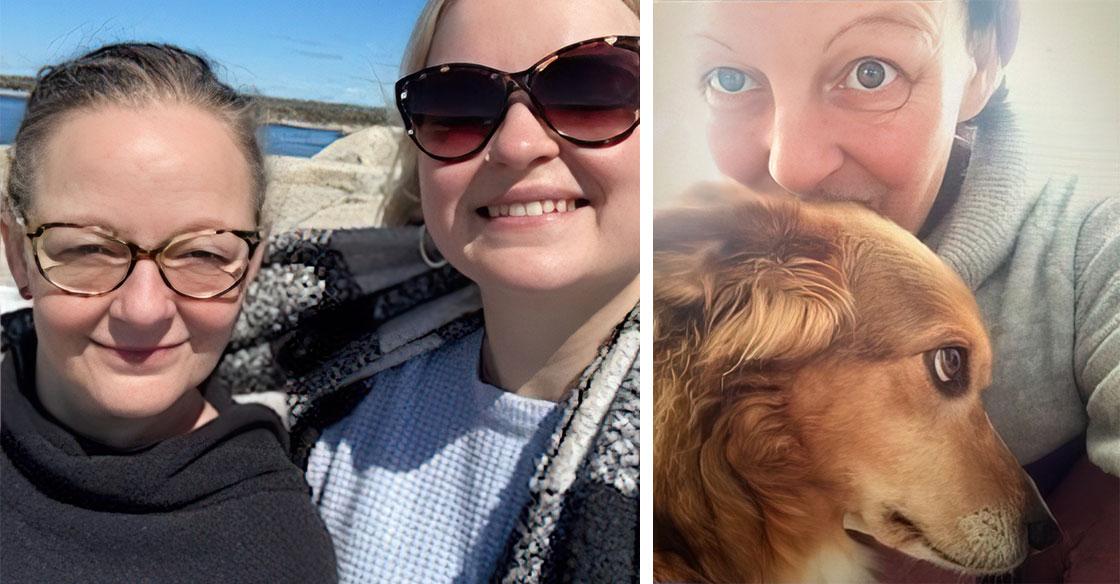 This past July, healthcare history was made as the QEII Health Sciences Centre became the first Canadian hospital to perform a patient procedure using the MAZOR X spinal robot.
But for patients, like Clare Lane, who are directly benefitting from this advanced technology, this milestone is also life-changing — providing access to some of the country's most personalized surgical care.
Clare is 57 years old and teaches English as a second language. For years, the former United Kingdom resident has lived with increasingly debilitating back pain, which she's managed with increasing amounts of medication.
"It eventually came to a head when I woke up one morning and I was unable to move or feel my right foot," says Clare.
A piece of Clare's spinal disc had fragmented off, resulting in nerve compression and foot drop; a condition that causes the leg to drag the front of the foot while walking – impacting balance, feeling and, often, the ability to move and walk freely.
"I went to the QEII's Emergency Department and it led to a referral to Dr. Sean Christie, who also happened to be on-call that day," says Clare. "Just four days later, I was in the OR for my first spinal surgery."
While the procedure initially provided relief, Clare says within 18 months her pain was back and stronger than ever. It soon impacted every aspect of her daily life.
"Bending down to pick up my bag, going to the grocery store, walking my dog or even standing in the classroom all became extremely challenging," she says. "There were so many things I had taken for granted that my pain now limited."
In September 2022, Clare underwent a second surgery; a spinal fusion that was performed by QEII neurosurgeon, Dr. Christie, and guided by the MAZOR X robot.
The robotics technology uses 3D cameras to develop a 3D simulation of the procedure, which can be planned and visualized prior to the actual surgery or in real-time in the OR. This planning allows surgeons, like Dr. Christie, to completely tailor the procedure to the patient and, in some cases, operate in smaller, more precise areas of the spine.
"This increased precision can result in shorter hospital stays, less impact on healthy tissues, quicker recoveries and less pain — all of which can have an immeasurable impact on the patient," says Dr. Christie.
They're also all benefits that Clare experienced firsthand.
"This technology helps guide the neurosurgeons, but it also helps the patients in such a positive way," she says. "I feel incredibly lucky to be among those people who have benefited so far."
The QEII Foundation is currently raising $3 million to fully fund the MAZOR X spinal robot and contribute to the accompanying research and evaluation. Many generous donors have already stepped up to date – creating a direct and immediate impact on patients like Clare.
It's a prime example of the QEII Foundation's $100-million We Are campaign at work, which aims to revolutionize health care in our region through philanthropy.
For Clare, the robotic procedure – and the donor-supported technology that assisted it – has meant she's pain-free for the first time in many years.
"It can really restore quality of life and is such a freeing feeling," she says.
Clare recently had her 12-week, post-op appointment with Dr. Christie; a routine check-in following surgery that reiterated how far she's come.
And Clare's not alone.
According to Dr. Christie, the spinal robot is having a significant and promising impact on post-operative outcomes for both patients and the healthcare system as a whole.
"Although we are still early in our experience with the MAZOR X, we have seen faster discharge times and a high level of satisfaction from our patients," says Dr. Christie. "Moving forward we are expanding its use across the Spine Program and establishing a protocol to further evaluate these outcomes prospectively over a longer term basis."
It's no surprise to Clare, who later this winter plans to board a plane to the U.K. – for the first time in several years – to visit her mother.
"Prior to my surgery, my pain meant that just wasn't possible," she says. "It's amazing that I don't have to think twice about travelling – without pain, I can just do it."
The upcoming trip is one of many bright spots ahead. It's these everyday moments and feats – big and small – that QEII Foundation donors help make possible.
"I'm very grateful to the donors who've put their support and faith into this incredible technology," says Clare. "The impact it's having on patients, like me, is huge."
---
The QEII Health Sciences Centre is no stranger to robot-assisted surgery, with the Halifax hospital currently home to four surgical robots. Nova Scotia leads the way with the largest cluster of medical robots in Canada thanks, in part, to the extraordinary generosity of QEII Foundation donors. To date, 4,395 donors have invested in surgical robotics through the QEII Foundation's We Are campaign; a milestone that has resulted in nearly 1,000 robot-assisted surgeries performed at the QEII since February 2019.
The QEII Foundation is proud to partner with Nova Scotia Health and Nova Scotia Health Innovation Hub on helping to transform healthcare delivery and ensuring high-impact solutions for our region, like access to surgical robotics.