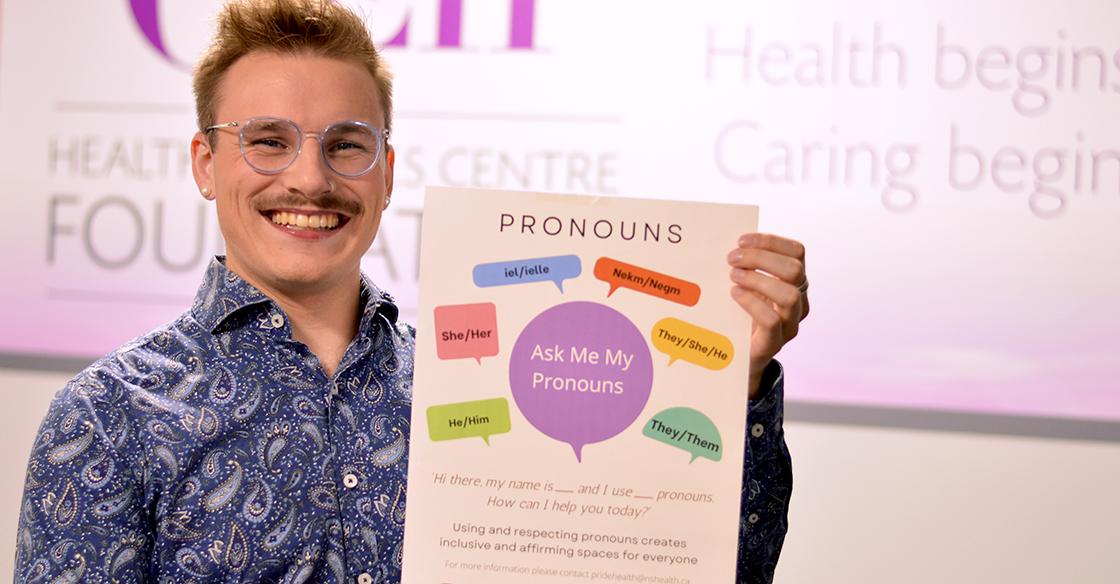 Words matter — particularly in health care.
For doctors and medical staff, knowing the proper terminology for various ailments, anatomy and equipment is an essential occupational requirement. Differentiating between osteoarthritis and rheumatoid arthritis, the spleen and the spine, and scissors and forceps can mean the world to suffering patients.
However, when identifying patients by their pronouns, gender identity and name, the correct words can often be assumed, leading to discomfort for those seeking medical services.
"Almost everybody uses pronouns," says prideHealth coordinator Garry Dart, who identifies with he/she/they pronouns and has worked for years to reduce stigma and barriers to health care, including HIV advocacy. "Some people don't, but most folks do, whether they realize it or not."
In a world that increasingly embraces new and emerging identities, Garry works to improve access to safe, coordinated, comprehensive primary health care for the 2SLGBTQIA+ community, and believes the health care world should follow suit.
"If a trans or gender non-conforming person is misgendered right from admin, it's going to bring up other times that they were treated negatively in the health system," says Garry. "They might not come back or have anxiety accessing health care."
As with all change, it begins with education and awareness. In June, prideHealth began a pronoun campaign to increase 2SLGBTQIA+ clients and patients' comfort, care and safety in healthcare settings.
Distributing nearly 140 packages throughout the QEII with colourful informational stickers and posters about pronouns — including gender-neutral Mi'kmaq and French pronouns — the organization's campaign aims to help 2SLGBTQIA+ folks feel seen, increase patient comfort in coming out to their providers and create safer spaces of belonging through inclusivity and care.
"The discussion around pronouns is about awareness, teaching and education, but it's also about creating those spaces of belonging," says Garry.
"When I feel like I belong in a space, I feel safe and included, like I have a voice that is going to be respected, honoured and believed."
Having a person's gender identity affirmed, recognized, and validated is a determining factor in patients seeking medical help and they benefit tremendously from this inclusive campaign.
"If we start asking for used names — rather than legal names — and pronouns used by the patient from the get-go, in admin spaces through to clinical spaces, patients will realize that staff have received training and maybe feel comfortable asking about gender affirming-hormones, PrEP (Pre-Exposure Prophylaxis for HIV prevention), and other important treatments," says Garry.
While the campaign serves as a welcoming gesture for trans and gender non-conforming people, it also prompts doctors, nurses, and other staff to brush up on their knowledge — creating a comfortable atmosphere for colleagues and patients.
"As we normalize these conversations, it's going to change how people access health care," adds Garry.
Since debuting in June 2022, prideHealth's pronoun campaign has been nothing short of a success. In fact, the QEII, the IWK Health Centre, and hospitals beyond Halifax have approached prideHealth to ask about how they can create their own similar resources.
"I've been blown away by the number of people who want to learn," says Garry. "People are getting the information; they want training, resources, posters and stickers — they're willing to put in the effort and money to do that for their hospitals and clinics. It's been so heartwarming to see that."
As a small-scale organization, prideHealth's mission wouldn't have been possible without the support of the QEII Foundation Comfort & Care grant program.
Funded by generous donors, QEII Foundation Comfort & Care grants were established in 2005 to support healthcare projects that show a direct benefit to patients and their families but don't typically receive funding from health centre budgets.
"When we got the funding, I was so excited because we see such a huge need," says Garry.
"Without this grant, we would have never been able to do something like this," he adds.
"It has not only had a massive impact on the 2SLGBTQIA+ community but the healthcare system as a whole. It's creating conversations and opening people's eyes to something that they maybe hadn't thought of before."
Garry says the conversation and education surrounding 2SLGBTQIA+ individuals in the healthcare system is a continuum. Having surpassed its initial goals, prideHealth continues to educate through the pronoun campaign — which it hopes to make multi-lingual — while expanding the organization's team and reach.
For now, Garry is nothing but appreciative for how far their simple but impactful, initiative has come and those who have helped to spread the message.
"I really want to uplift the voices of the community into our healthcare spaces," says Garry. "Thank you very much to the QEII Foundation for being an actionable ally to the 2SLGBTQIA+ community — it means a lot."
---
For more information about prideHealth's resources, visit https://library.nshealth.ca/TransGenderDiverse/ProviderInfo