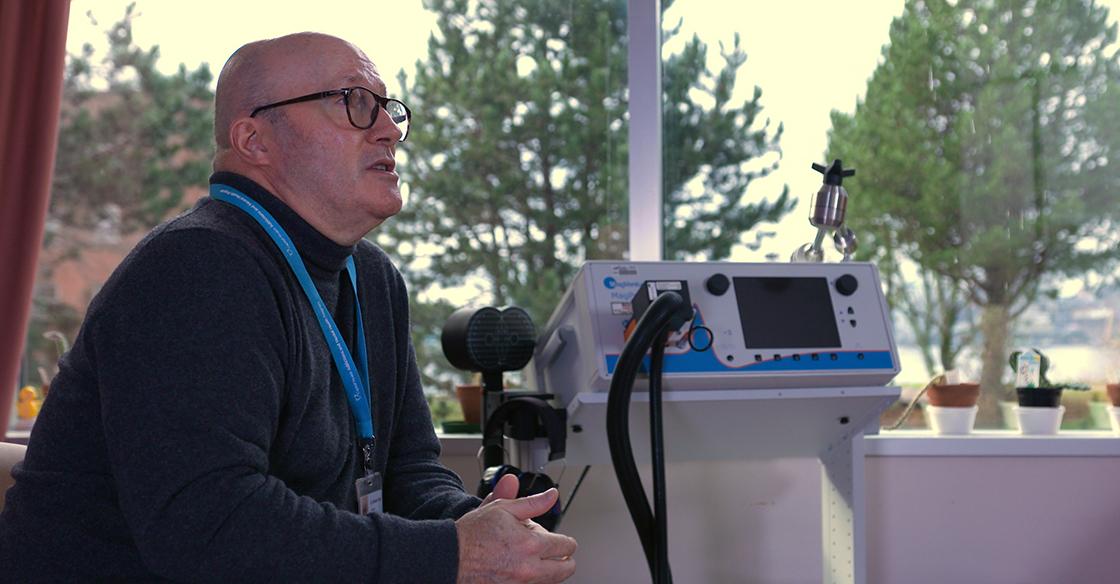 "Depression is almost like the opposite of rose-coloured glasses. Sometimes, it's very difficult to appreciate anything that may be remotely positive in a situation."
When Dr. Michael Flynn, psychiatrist at Nova Scotia Hospital, describes depression, thousands of Nova Scotians can relate to these crushing symptoms. Over the course of a year, five per cent of people will face a major depressive disorder. Of those, one-third will not respond to standard treatments like medication and psychotherapy. This is known as treatment-resistant depression.
For more than 17,000 Nova Scotians facing treatment-resistant depression, a new, hope-filled treatment option is now available – without the cost barrier of private clinics.
Thanks to our donor community and a generous $420,000 donation from Bell Let's Talk that brought the QEII Foundation's $759,000 goal to the finish line, two repetitive transcranial magnetic stimulation (rTMS) clinic locations are now open in Nova Scotia. This leading-edge treatment will offer relief to those living with treatment-resistant depression.
The first clinic opened on April 6, 2021, at the Nova Scotia Hospital in Dartmouth, followed by a second location at Valley Regional Hospital in Kentville on April 4, 2022.
With the help of our donor community, the QEII Foundation is delighted to provide funding for this initiative that goes beyond the walls of the QEII. By extending crucial financial support to other regions in Nova Scotia, we are broadening our reach and impact. Together, we are making a bold difference in the lives of Atlantic Canadian patients and their loved ones. 
Previously, rTMS was only available in Nova Scotia at private clinics, costing over $3,000 for a full round of sessions. Access was sometimes difficult, with some patients travelling out of province for care. 
To-date, there's been over 2,500 rTMS treatment appointments at the Nova Scotia Hospital and Valley Regional Hospital.
 rTMS modifies the way that neurons in the brain work through a series of magnetic pulses that either stimulates or inhibits activity to improve mood and reduce negative symptoms. rTMS treatments can be an incredible relief for patients facing depression, even when other treatments have proven ineffective. 
Another benefit of rTMS is that it's a non-invasive treatment option. Unlike other brain stimulation techniques such as electroconvulsive therapy (ECT), rTMS doesn't require anesthesia or cause seizures. With rTMS, magnetic coils are simply placed on the head, so clients can enter as-is and resume daily activities once their session is complete.
A typical treatment course is approximately four to six weeks, with sessions ranging between five and 40 minutes, five days a week. A psychiatrist's referral is required to undergo rTMS treatment. 
"rTMS gives hope to folks who haven't responded to traditional approaches or who haven't been able to tolerate them," says Dr. Flynn.
"This brings us into a more current position, and allows us to continue to move forward, and to remain at the leading-edge of new treatments as they continue to come on board."
For people facing treatment-resistant depression, access to these local, newly opened rTMS clinics offers hope and relief – for a future filled with new possibilities.