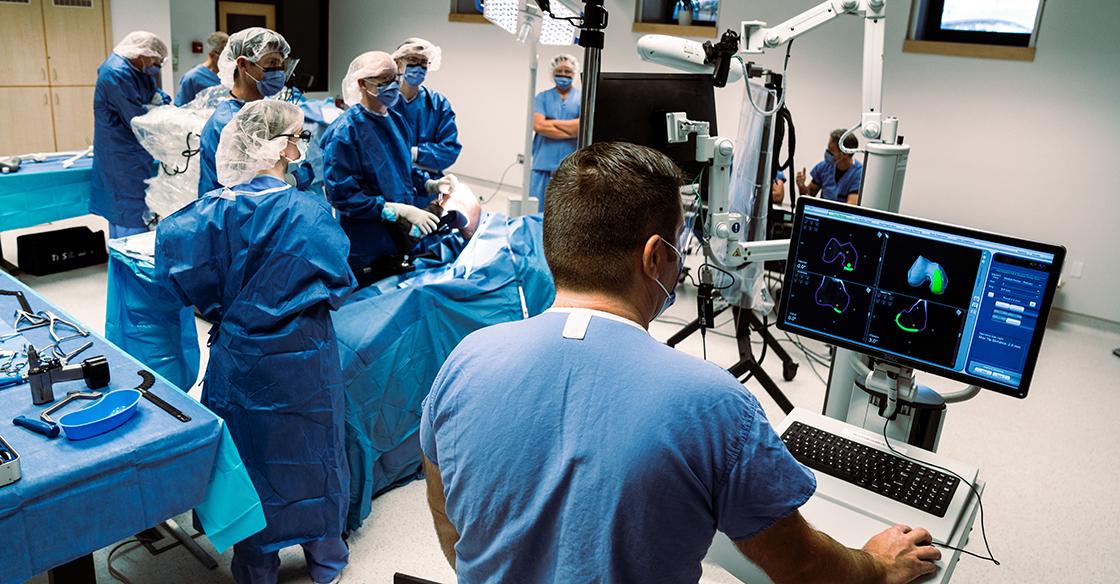 In late 2021, orthopaedic care for Atlantic Canadians was revolutionized with the arrival of Canada's second orthopaedic surgical robot at the QEII Health Sciences Centre. Today, the Mako SmartRobotics system – a robotic arm controlled by a surgeon – has been fully funded by our donor community. 
Nearly 2,000 QEII Foundation donors collectively raised $2.5 million for the robot and affiliated research, including an incredible $1-million donation from TD Bank Group.
Increased precision, decreased pain, faster recovery times – these are just some of the incredible benefits of the QEII's orthopaedic surgical robot.
New technology allows surgeons to plan surgeries in 3D for a custom-made, precise fitting joint for each patient.
Robotic technology empowers surgeons to achieve a level of precision that surpasses what can be accomplished by the human hand alone during surgeries. Safety features ensures that cuts cannot be made outside of a pre-set guideline, preventing soft tissue damage and blood loss.
These advantages mean shorter recovery times, less revisions, and less time spent in hospital, with the hope that patients can achieve more mobility in their day to day lives with less pain and interruption.
Since its arrival, dozens of QEII patients have benefitted from robot-assisted orthopaedic surgery. 
Dr. Michael Dunbar, QEII orthopaedic surgeon and QEII Foundation Endowed Chair in Arthroplasty Outcomes, explains that though the traditional approach to orthopaedic surgery works extraordinarily well, robotics has truly elevated the way orthopaedic surgeons are able to perform in their field.
"Knee and hip replacement surgeries are some of the best surgeries ever developed. What we're talking about now is breaking through the glass ceiling and going to the next level."
The arrival of the orthopaedic surgical robot has also sparked a surge in innovative research. A team of experts led by Dr. Dunbar are conducting research to explore and validate the incredible potential of robotics in orthopaedic surgery.
Bringing the Mako SmartRobotics system to the QEII is a prime example of our $100-million We Are campaign at work and the role philanthropy can play in elevating health care to new heights. 
"It's the generosity and vision of our donors that empowers the QEII Foundation to invest in the extraordinary so that surgeons, scientists and collaborative researchers can make major advances in how we deliver care," says Susan Mullin, president and CEO of the QEII Foundation.
This innovative advancement is just one of the many priorities that QEII Foundation donors have now proudly funded for patients and their families through We Are.