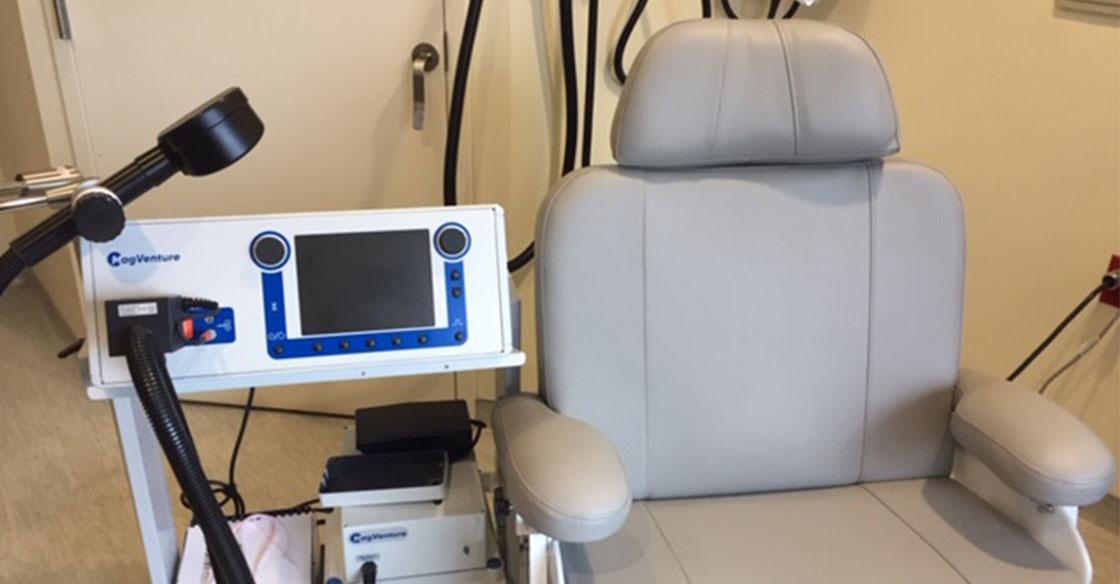 Nova Scotia Health's Mental Health and Addictions Program is opening the province's second repetitive transcranial magnetic stimulation (rTMS) clinic at Valley Regional Hospital, in Kentville on April 4, 2022.
rTMS is used to stimulate or inhibit nerve cells in the brain to alleviate symptoms of depression. The therapy is intended for the one-third of people with major depressive disorders who don't respond to medication.
The first location opened in January 2021 at the Nova Scotia Hospital site in Dartmouth. Both locations were made possible through a Bell Let's Talk donation of $420,000 that helped the QEII Foundation reach its goal of $759,000 to launch the program in Nova Scotia.
rTMS is a new and less disruptive option than electroconvulsive therapy (ECT), which while highly effective also involves the use of general anesthesia and muscle relaxants. rTMS treatment helps people living with depression who are not experiencing improvement with medication.
"We are incredibly grateful for this generous donation from Bell Let's Talk to the QEII Foundation," said Dr. Ahmed Saleh, psychiatrist at Valley Regional Hospital. "Until last year, rTMS treatment had only been provided through a private clinic. This is a great step forward in expanding access to this life-changing treatment at no cost to Nova Scotians."
rTMS patients are able to return to normal daily activities immediately following treatment. A typical treatment course is approximately four to six weeks, with treatment sessions ranging between five and 40 minutes, five days a week.
"rTMS offers hope to those facing treatment-resistant depression and visionary donors, like Bell Let's Talk, are playing a critical role in ensuring this option is available to even more Nova Scotians," said Susan Mullin, president and CEO of the QEII Foundation. "The addition of a second rTMS clinic in Western Nova Scotia is a significant milestone for our province and I feel a deep sense of pride knowing our donors are supporting this treatment option in both HRM and beyond."
"Bell Let's Talk is excited to see the latest expansion of rTMS within Nova Scotia," said Mary Deacon, Chair of the Bell Let's Talk initiative. "Improving patient access to non-invasive treatment options is critical and we're proud to partner with mental health care professionals across the province to help ensure that's a reality."
Patients must be referred to a psychiatrist through their primary health care provider to receive rTMS treatment. The provider can make a referral to Mental Health and Addictions Intake Service at 1-855-922-1122 and from there a psychiatrist will then meet with the patient to determine if this is the right course of treatment.
Nova Scotians can call the Mental Health and Addictions Intake Service Line (toll-free) 1-855-922-1122, to be connected to a clinician Monday to Friday, 8:30 a.m. to 4:30 p.m. This line has voicemail only on evenings, weekends and holidays. The Provincial Mental Health Crisis Line is available 24/7 for anyone experiencing a mental health crisis or someone concerned about them. Call (toll-free) 1-888-429-8167.
Visit Mental Health and Addiction's Program website, http://MHAhelpNS.ca, to learn more about services, resources, and tools.
---
About the QEII Foundation
The QEII Foundation is a non-profit charitable organization established to strengthen the QEII Health Sciences Centre's ability to provide health care of the highest quality. With financial support from all levels of the community, the QEII Foundation helps fund new technologies, medical research, innovation and professional education that contribute to life-changing moments experienced every day by patients and their loved ones at the QEII.

The QEII Foundation recently launched Atlantic Canada's largest healthcare fundraising campaign, We Are. The province's two new rTMS clinics – at both Nova Scotia Hospital and Valley Regional Hospital – are part of the QEII Foundation's $100-million campaign to transform health care through the QEII. Learn more or donate at QE2Foundation.ca.
About Bell Let's Talk
The largest-ever corporate commitment to mental health in Canada, Bell Let's Talk is focused on 4 key action pillars – Anti-stigma, Care and Access, Research and Workplace Leadership – and is a driver of Bell for Better. Since its launch in 2010, Bell Let's Talk has partnered with more than 1,300 organizations providing mental health services throughout Canada, including hospitals, universities, local community service providers and other care and research organizations. To learn more, please visit Bell.ca/LetsTalk.