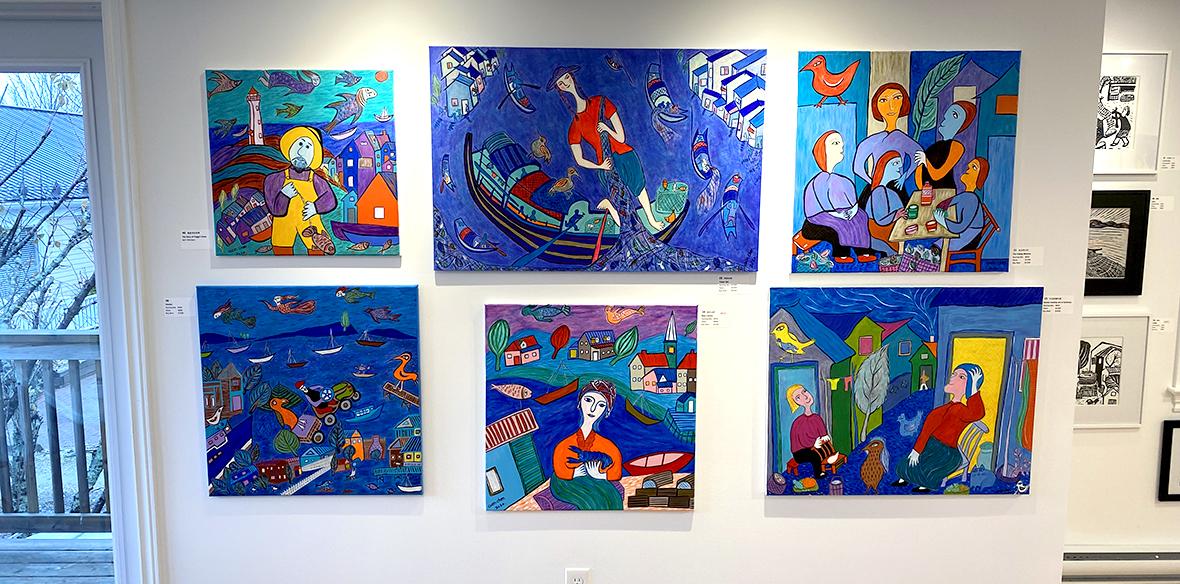 Colin Chen, a Halifax artist, has raised more than $30,500 through an art auction fundraiser, with 100 per cent of the proceeds going towards heartfelt community causes. In November 2021, Colin auctioned off 52 of his original paintings to help fund the QEII's orthopaedic surgical robot, also sharing the funds raised with the QEII Thyroid Cancer Fund and the Chester Art Centre.
Colin, who immigrated to Halifax in 2009, has a beautiful, vibrant art style that represents contemporary Chinese folk art. His artwork often depicts scenes from his hometown in Zhejiang province on the East China Sea, and people and experiences from his time in Nova Scotia.
In his childhood, Colin never dreamed he'd one day be an artist. "I wanted to go to art school, but when I was growing up, my family was very poor," he says. Instead, he first learned how to paint by practicing on his own. Today, he works as a hairstylist, and has honed his skills by taking online painting lessons from an artist in his home country. 
"Painting feels like a peace inside me. I really enjoy it," Colin says.
Colin was inspired to merge his love of painting with philanthropy after an experience he had during one of his first Maritime winters. One day, while driving from Halifax to Saint John, Colin's car hit an icy patch and slid off the road.
Soon after, a kind stranger pulled over with their truck and helped Colin and his passengers get back on the road safely. When Colin tried to pay the stranger for their help, they kindly refused and insisted that it was no trouble at all, but Colin was determined to pay it forward to the community. He decided to make a donation to the local hospital where he had his accident.
Since then, Colin has been involved with the QEII by making regular donations through the QEII Foundation, and has now stepped up in an even bigger way with the Colin Chen Art Auction Fundraiser.
The impact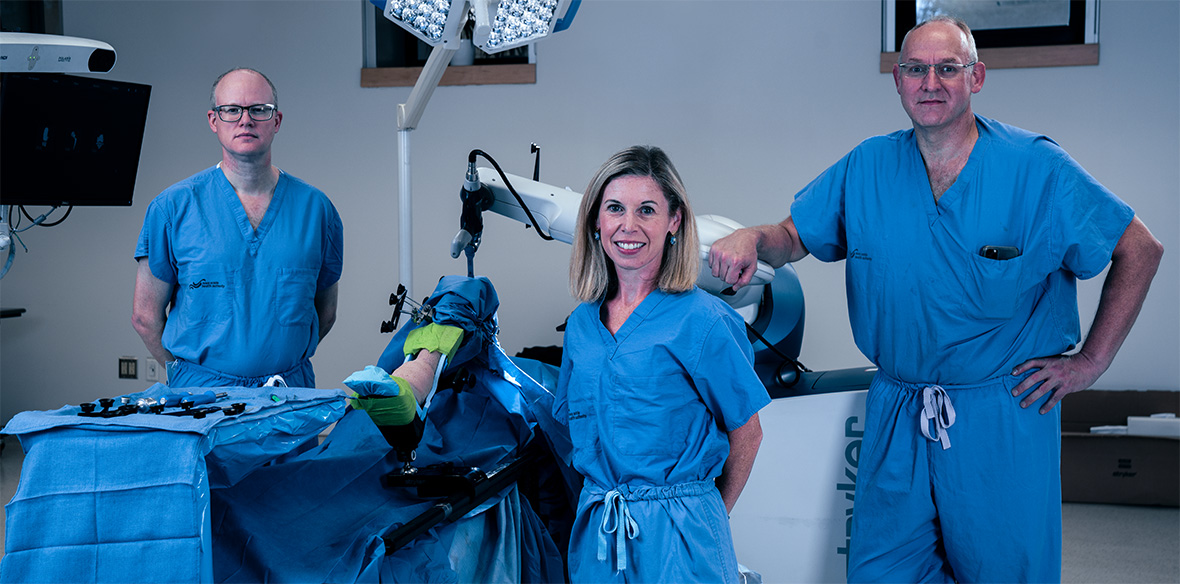 The QEII's orthopaedic surgical robot, the second in all of Canada, arrived at the QEII in fall 2021. The QEII Foundation has been on a mission to raise $2.5 million to fully fund the robot and the research required to offer the next standard of excellence in orthopaedic care to Atlantic Canadians.
The first orthopaedic surgeries with the surgical robot have now taken place, with some QEII patients already sharing their incredible results.
Funds from the art auction donated to the QEII Thyroid Cancer Fund will be supporting the purchase of a radio frequency oblation device that could help certain thyroid cancer patients avoid unnecessary surgery.
Recognizing our community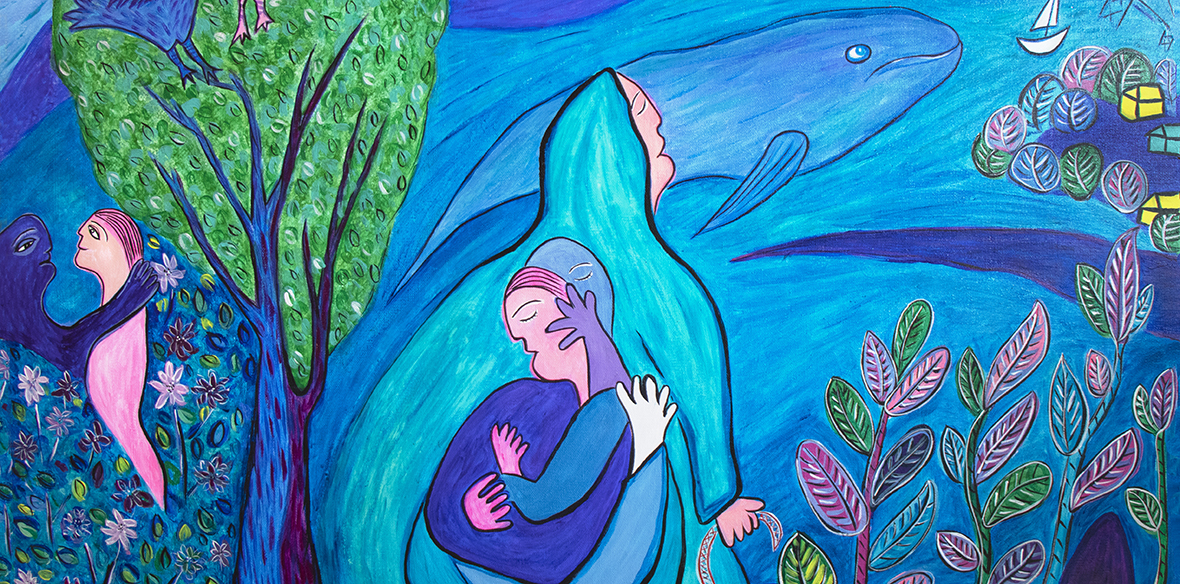 Many people came forward to help make the Colin Chen Art Auction Fundraiser a resounding success.
The Chester Art Centre, which aims to foster and share creative self-expression within our community, graciously hosted the in-person art fundraising event – an initiative that took lots of time and effort to make a reality.
Bill Bu, the regional president of the Hong Kong-Canada Business Association, volunteered to help organize the art auction at the Chester Art Centre. Bill, who's previously championed QEII Foundation initiatives such as our QEII COVID-19 Response Fund, once again went above and beyond with this fundraiser – working many late nights to bring the event to life.
Another longtime friend of the QEII Foundation, Carol Dodds, also brought her time and expertise to help organize this fundraiser. Carol, a thyroid cancer survivor, has previously helped raise hundreds of thousands of dollars with the event Blue Butterfly Evening – with funds supporting the development of the largest thyroid cancer database in the Maritimes.
The contributions of Daisy Wu, Sean Yang, Cora Cao, and Greg Randall also helped make the event one to truly remember.
"On behalf of our entire QEII Foundation team, thank you all for your extraordinary leadership and support of the Colin Chen Art Auction Fundraiser," says QEII Foundation President and CEO, Susan Mullin. "With more than $30,000 raised to date, it's a prime example of what can happen when our community's most passionate champions dedicate their time and talents and truly rally behind a cause."
We also extend our sincere thanks to everyone who donated and helped raise awareness about the Colin Chen Art Auction Fundraiser – either by bidding on a painting, attending the event, or by sharing the fundraising link. It's thanks to your enthusiasm and participation that this fundraiser was such a huge success!  
---
Interested in making a difference at the QEII by hosting your own fundraiser? Start a QEII Foundation community fundraising campaign with us!
Fundraising events and activity possibilities are creatively endless, and can be customized to support a cause you care about. These heartfelt initiatives bring communities closer together, inspire generosity, and are a meaningful way to recognize QEII care teams and individuals.
To learn more about starting a campaign, visit my.qe2foundation.ca