Ortho robot

Transforming joint replacement surgery through the QEII
Hip and knee surgeries are evolving. Support the second orthopaedic surgical robot in Canada – here at the QEII Health Sciences Centre.
MICHAEL DUNBAR, MD, FRCSC, PhD, FCAHS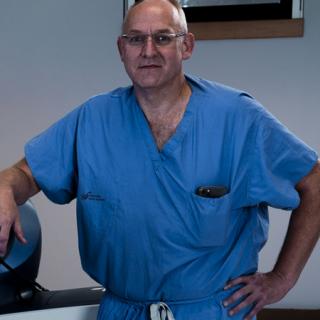 Dr. Dunbar is an orthopaedic surgeon specializing in arthroplasty – joint replacement – surgery at the QEII. He is a professor of Surgery at Dalhousie University.
A seasoned medical researcher and expert, Dr. Dunbar is considered a thought leader in knee and hip arthroplasty. The orthopaedic surgical robot marks a personal career highlight.
At the forefront of innovation in his field, Dr. Dunbar has published more than 200 articles in medical journals around the world. He was named one of the "Top 22 North American Knee Surgeons" by his peers and one of "10 Orthopedic Surgeon Tech Entrepreneurs to Know" by Becker's Spine Review.
GLEN RICHARDSON, MD, FRCSC, MSc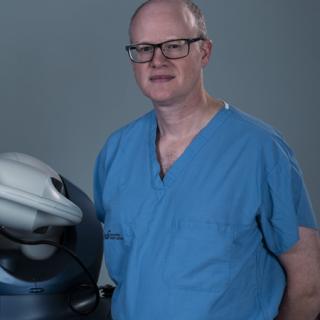 Dr. Richardson is an orthopaedic surgeon at the QEII. He is also an associate professor of surgery at Dalhousie University, shaping future surgeons in our region.
Dr. Richardson is recognized as an expert in his field. Presently, Dr. Richardson's research interests include using RSA to evaluate knee and hip implant fixation as well as studying the application of innovative technology to improve surgical outcomes of total hip and knee replacements.
JANIE WILSON, PhD
Dr. Wilson is the director of the School of Biomedical Engineering at Dalhousie University. She recently returned to Halifax to continue her research at home.
Dr. Wilson has spent decades studying orthopaedic biomechanics, including a focus on the changes in how people walk before and after knee replacement surgery.
A biomedical engineer herself, Dr. Wilson will be at the centre of QEII research surrounding the orthopaedic robot.
You may be interested in…