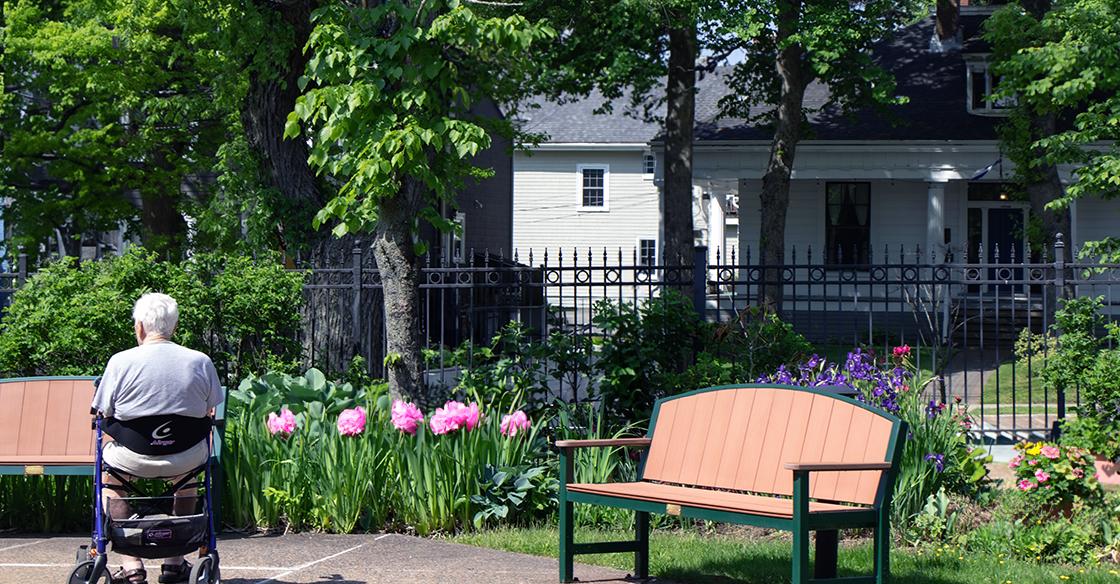 With Father's Day quickly approaching, it's the perfect time to show the father figure in your life some love and appreciation. We've got you covered with our QEII Better Care Gift Catalogue, filled with gifts to show how much you care.
Here's the exciting part – when you choose an item from our catalogue, it's not just about honouring Dad. It's about creating a genuine impact in the lives of QEII patients and their families. Your choice goes beyond a simple gesture and contributes to making a tangible difference.
We'll even send a beautiful e-card to your loved one, telling them of the special gift you've chosen on their behalf and the impact it's making at the QEII Health Sciences Centre.
One of our featured items is a gift to Support the QEII Veterans Memorial Garden – a special place for the veterans who call the QEII Camp Hill Veterans Memorial Building their home.
A garden oasis for veterans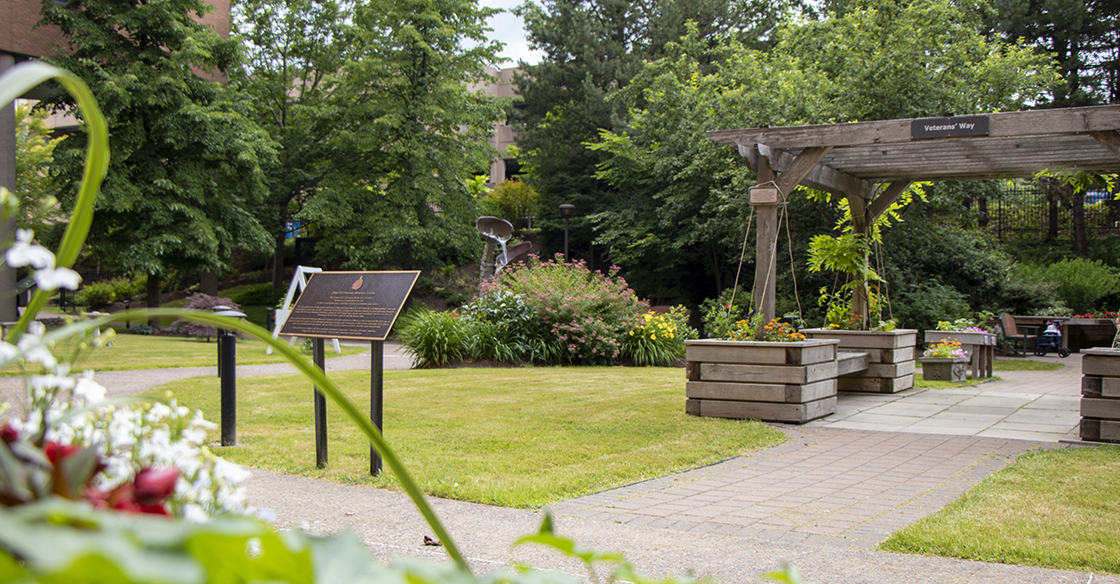 Tucked within grounds of the QEII Camp Hill Veterans Memorial Building is a beautiful outdoor oasis known as the QEII Veterans Memorial Garden. This enclosed sanctuary is for the 175 building residents and their families to enjoy.
The garden is filled with greenery and flowers, towering trees for shade and beauty, and various sculptures, fountains and monuments, many with a commemorative theme to honour veterans.
The garden is wheelchair-accessible, with large, wide paths for residents to explore, and has tables, chairs, and benches for people to relax and socialize. Throughout the year, the foliage changes, and the space is decorated for the holidays.
"The garden was originally the vision of the spouse of a resident who lived here over 20 years ago," explains Heather White, the health services director for Veteran Services and Geriatric Health Services at the QEII Camp Hill Veterans Memorial Building.
"She looked at the space, which was originally a parking lot, and said we needed a spot to go outside and enjoy nature's health and healing."
The mental and physical benefits of being outdoors are extremely important – but can be challenging to access for those living in long-term care with a variety of health needs. Thankfully, the veterans at Camp Hill can enjoy a dedicated safe, outdoor area in the QEII Veterans Memorial Garden.
"The garden is an enclosed, private space for our residents," Heather explains.
"Some may be living with health challenges like dementia. This area allows our residents to safely wander and be outside to socialize with family, friends, and other residents. They can enjoy nature – they can listen to the birds and the wind in the trees."
Heather explains that the garden creates a lot of natural opportunities for residents to be physically active, as they have a destination to go explore and enjoy each day.
Residents enjoy recreation therapy activities in the garden like barbeques, socializing, and harvesting crops such as grapes and cucumbers.
The surrounding community is also invited into the space to entertain and enrich the lives of the residents, including several music performances.
Currently, thanks to the generosity of QEII Foundation and community donors, a new wheelchair-accessible activity pad is being constructed so that residents and their families can play games together like lawn bowling and bocce-ball.
"This garden adds an extraordinary amount of quality to people's lives," Heather explains. "It's a truly special place."
Generosity makes the garden grow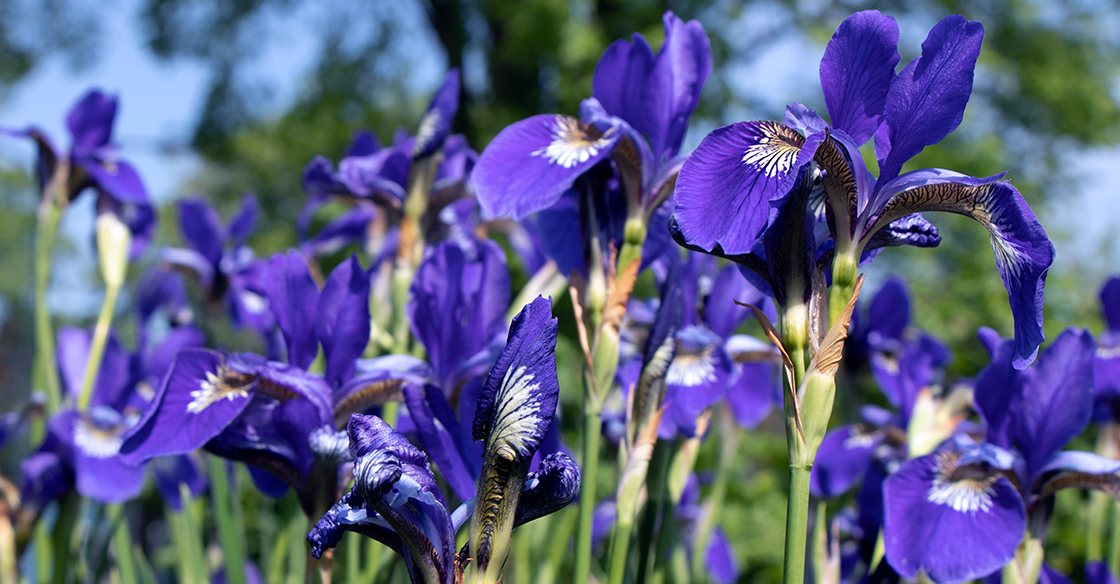 Heather explains that the QEII Veterans Memorial Garden is sustained and continues to grow solely based on the generosity of our community – including incredible QEII Foundation donors.
"The garden only came to be because of visionary donors in the first place, and that's how it continues to thrive," she says.
"From the big things to the maintenance and upkeep, your support makes a big difference, and every little bit helps. Your donation allows the garden to continue to be a safe space but also for us to add to the space and help it grow."
This Father's Day, your gift to Support the Veterans Memorial Garden can help sustain and grow this outdoor sanctuary for the veterans who live at the QEII Camp Hill Veterans Memorial Building, all while showing Dad you care. It makes a lovely gift for the father figure in your life with a green thumb, or someone who wants to show support for veterans.
"This really does make a great gift for any occasion," says Heather. "The commemorative aspect of the garden is a great way for us to reflect and remember our veterans – all year round."
---
Browse our QEII Better Care Gift Catalogue to find the perfect gift to match your loved one's unique interests. You'll brighten their day, and improve health care – here at home, for Atlantic Canadian patients.
With each QEII Better Care Gift Catalogue item directly impacting care areas across the QEII, it's a meaningful way to make a difference this Father's Day, or for other upcoming special occasions. Browse our catalogue, choose a special item that speaks to you, and spread smiles with each gift.