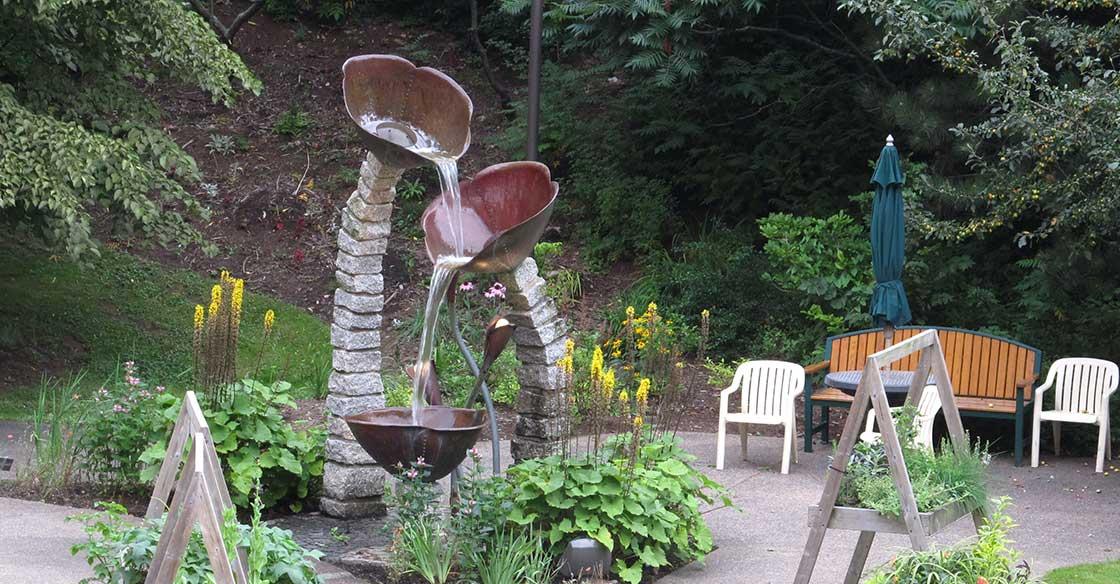 For the veterans who live in Camp Hill Veterans Memorial Building at the QEII Health Sciences Centre, visits from family and friends are an important source of emotional support and overall wellbeing. Over the past few months, the current visitor restrictions at Camp Hill have been challenging for everyone, especially veterans and their loved ones.
In the current COVID-19 environment, veterans at Camp Hill continue to rely on social distancing for their safety. Now more than ever, the garden at Camp Hill is integral to the care, compassion, and quality of life for the veterans who reside there. The garden has provided veterans with an opportunity to safely enjoy the outdoors and see loved ones while adhering to social distancing guidelines, something that would not be possible without this space.
A dedicated team of volunteers have launched a campaign to raise funds to enhance the garden and veterans programming at Camp Hill. The team is selling "virtual tulips" online and has a goal to raise $20,000. Funds raised will help purchase a multi-purpose outdoor activity court that will be used for activities like bocce ball, a favorite among the veterans. With a multi-purpose court, the garden will become an even more engaging space for veterans to spend time being active and outdoors.
The fundraiser is being organized by Camp Hill's longtime supporters in the Canadian Forces and Halifax Mooseheads, in collaboration with Heather White, Director Veterans Services at the QEII and with support from the QEII Foundation – all with a mission to honour veterans and ensure their quality of life.
With the uncertainty of the last few months and knowing that the usual annual fundraising initiatives would need to look different this year, this team along with Jessica Campbell, QEII Foundation Community Inspiration Officer, began to explore virtual opportunities to continue raising these important funds for the veterans' spaces. This special project offers the opportunity for individuals, far and wide, to join a community of supporters online and help to ensure that the QEII's Camp Hill Veterans Memorial Building is able to continue providing excellent resources, programs, equipment and care.
Watch the full story: