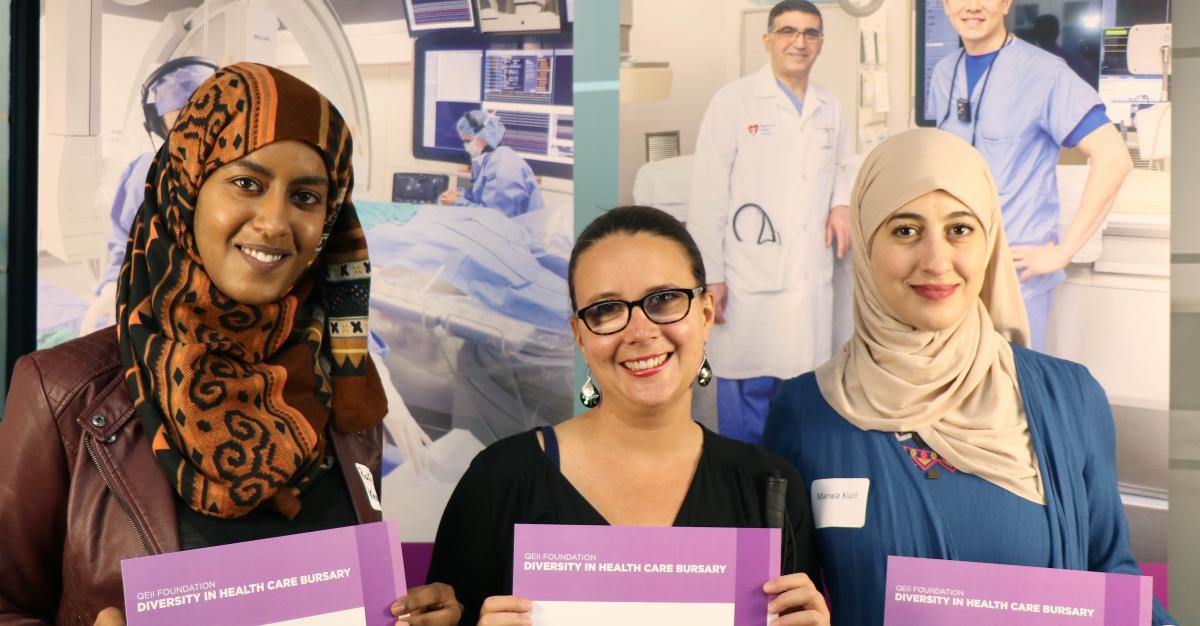 It's so important that our local hospitals and healthcare teams reflect the communities they serve. That's why we created the QEII Foundation Diversity in Health Care Bursary – a program that supports students from diverse backgrounds who are pursuing careers in health care.
Offered to students who identify as African Nova Scotian/Black, Indigenous, Racialized, Immigrant, 2SLGBTQIA+, living with a physical, mental health or learning challenge – or have intersectionality of these identities, these bursaries give students extra financial support to study in a wide range of health care related fields. Recently, thanks to donor support, each bursary was increased to $1,250 to help cover the rising costs of education and living expenses.
Bob Mussett, Executive Vice President at CBRE and QEII Foundation board member, sees the importance in supporting diversity in our communities.
He's been a Diversity in Health Care Bursary donor for two years, a program he's committed to supporting long-term.
"I was looking for something to support with a regular donation, and the Diversity in Health Care Bursaries really resonated with me and my family," Bob explains.
"Health care needs to reflect and address representation from the broad spectrum of our community. And the individual student stories are just so inspiring."
He's even had the unique opportunity to meet the students he supported at a celebration for their achievements.
"It's pretty interesting and inspiring when you when you get to see how your funds affect an individual's life – how it's helped someone get in the position to better their own career and how it's going to help our own healthcare system," Bob says.
Bob shares that he finds the growth of the Diversity in Health Care Bursaries program a testament to the kindness and support of our surrounding community.
This year, thanks to the incredible support of our donors, we're awarding 80 bursaries for a total commitment of $100,000. This is a significant increase from 2021, where we were only able to award 51 bursaries at $1,000, far less than the number of applications received.
"The ongoing growth of the Diversity in Health Care Bursary program is fantastic news," Bob says. "So, let's keep doing more. Whether it's language, culture, or religion, it's so important to have representation from every part of our population – for a better, more resilient healthcare system."
"Think of 10, 20 years down the road, how many medical practitioners will have been assisted by these bursaries. Just think of all of the amazing things they might be contributing as a result."
---
By supporting a QEII Foundation Diversity in Health Care Bursary, you will be welcomed as a QEII Innovator, a new community of supporters, like you. Our Innovators receive exclusive updates and invitations to virtual tours, presentations and more.