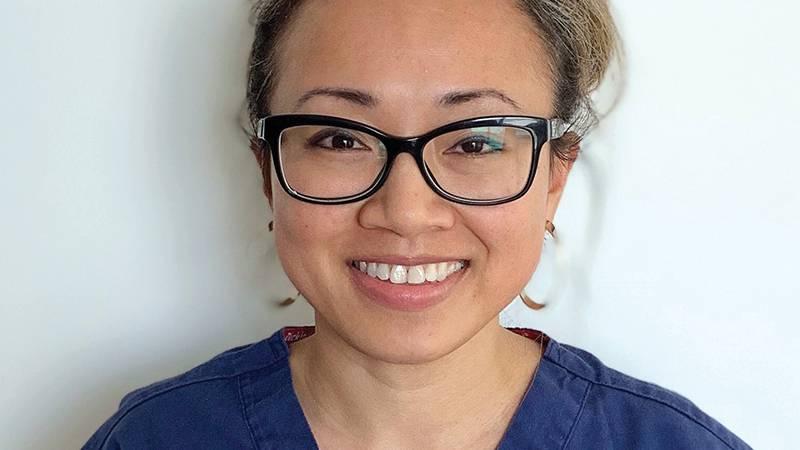 Phuong Nguyen, a QEII operating room nurse and simulation expert, was called to co-lead COVID-19 training for nurses. – Contributed
Simulation learning prepares QEII teams to respond to the pandemic
Originally published on qe2times.ca.
When Phuong Nguyen got a call to co-lead COVID-19 training for operating room nurses at the QEII Health Sciences Centre, she jumped at the opportunity.
An experienced operating room nurse, Phuong co-ordinates training and educates medical professionals as part of the QEII Simulation Program. When COVID-19 reached Nova Scotia in March 2020, QEII simulation teams cancelled all non-urgent sessions. In those early days of the virus, protocols were constantly evolving, as information unfolded at the expert level.
QEII experts rallied to organize teams to care for COVID-19 patients, as well as those at risk of contracting the virus, including care providers and surrounding patients.
Phuong teamed up with dedicated nurse educator Beth Kingsbury to develop a simulation session for nurses caring for COVID-19 patients. The session focused on every detail, from donning and doffing personal protective equipment (PPE), to the safe transfer of patients into the treatment area, providing care to patients and communicating with staff.
The team relied on equipment funded by QEII Foundation donors to host the sessions, including high-fidelity simulators that support lifelike healthcare scenarios. This is critical, especially in an unprecedented health environment.
"Anxiety was high among staff because, in any working environment, if people don't know what the plan is, this could cause confusion," says Phuong. "By having a simulation session, it allows staff to have an open space to learn and share information. It's also a safe environment to ask questions — a forum for discussion."
Social distancing meant only five nurses could attend a unique session. With 50 to 60 OR nurses, the team spent a few weeks completing training.
Every detail was considered — where a binder was placed, the air exchange rate of the room, how much time had to pass before opening a door after a patient goes to sleep and surgery can commence. This process involved support from QEII engineers and infection control to ensure the safety of all involved.
Dr. Nick Sowers was part of a team of clinician educators at the helm of COVID-19 training in the emergency department. Their focus was on airway management and resuscitation.
From the time a patient places their call to 811, to EHS paramedics being dispatched to assess and treat COVID-19 patients prior to their arrival at the Charles V. Keating Emergency and Trauma Centre, every step of the process was evolving and transforming as new research-based information emerged.
Both Dr. Sowers and Phuong credit donors for opportunities provided to improve patient care through simulation learning. Doctors, nurses and respiratory therapists alike grow in these spaces. The skills acquired with a dedicated, risk-free space for learning are unmatched.
An integral part of the QEII Simulation Program, QEII Sim Bay was critical in helping teams prepare to face the pandemic. It may not have been business as usual in the donor-funded facility, but its value was highlighted more than ever.
Here, training sessions were hosted for multidisciplinary teams including paramedics, respiratory therapists, nurses and physicians. In addition to learning the appropriate method to don and doff PPE, staff underwent extensive airway management training.
Procedures such as intubation are complex on the average patient. Now, imagine a COVID-19 positive patient; it's a whole new world. Intubation increases the concentration of droplets in the air, which is exactly how COVID-19 spreads. So, additional measures, including PPE, come into play.
At QEII Sim Bay, teams have a safe space to prepare to face the unknown — like treating COVID-19 patients. Access to clinical-grade cadavers offers an experience that imitates real life.
"The short answer is that this facility saves lives," says Dr. Sowers.
---
Funded entirely by donors, QEII Sim Bay opened its doors in November 2018 at the Charles V. Keating Emergency and Trauma Centre. Part of the QEII's simulation learning ecosystem, QEII Sim Bay allows learners to refine their skills in emergency, trauma, airway and surgical skills. The advanced equipment in this space, including high-fidelity simulators, played a critical role in COVID-19 training for QEII staff.
On behalf of every patient at the QEII and those who care for them, the QEII Foundation is grateful for the community of donors who made this space possible.