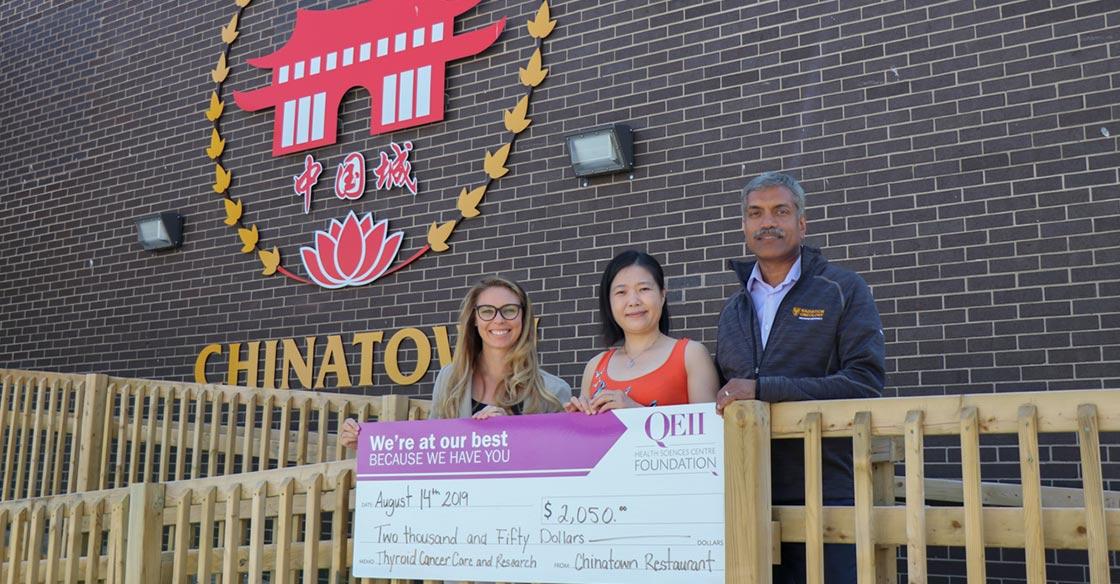 Pictured: Jessica Campbell, Jane Chen, Dr. Mal Rajaraman.
The new Chinatown restaurant is serving generosity – one meal at a time.

For every order placed at the new Chinatown Restaurant location on the Bedford Highway, one dollar is donated to support patients facing thyroid cancer at the QEII Health Sciences Centre. Since their grand opening, where costumed dragon dancers, music, and festivities lit up the Bedford Highway, Chinatown has raised over $2000 for this cause. Motivated to continue making an impact, they're extending the fundraiser for another two months!
Jane Chen, the owner of Chinatown, was moved to start a fundraising initiative after attending the Blue Butterfly Evening, an annual fundraiser in support of thyroid cancer care. Carol Dodds, a thyroid cancer survivor and chair of the event, inspired Jane to get involved with this cause. Thrilled to accept Chinatown's support is radiation oncologist Dr. Mal Rajaraman, who treats thyroid cancer patients at the QEII's Interdisciplinary Thyroid Oncology Clinic. "The rate of increase is rising more rapidly than any other cancer and it happens in relatively younger people," says Dr. Rajaraman. The Canadian Cancer Society confirms that it is the number one cancer in those aged 15 to 29.
Jane's mission is to build stronger community connections and for Chinatown to become a gathering place, especially for the Chinese community. She welcomes and encourages international students, new immigrants, and the elderly to think of Chinatown as their own kitchen table, a place for conversation, strengthening bonds, and gathering. "Restaurants in the neighborhood have been really welcoming and supportive," says Jane. She hopes to continue building these relationships and igniting community spirit in other business owners.
Proud to be setting an example for businesses, her children and other community leaders, Jane affirms that giving has enriched her life. You can support Chinatown's fundraiser by enjoying a meal at their new location at 213 Bedford Highway, which boasts impressive views overlooking the Bedford basin.
If Jane has inspired you to get involved for a cause close to your heart, you can learn more about starting your own a fundraising initiative here.

---
Dr. Mal Rajaraman was originally quoted from the QEII Times Shining a Spotlight on Thyroid Cancer article published June 14, 2019.