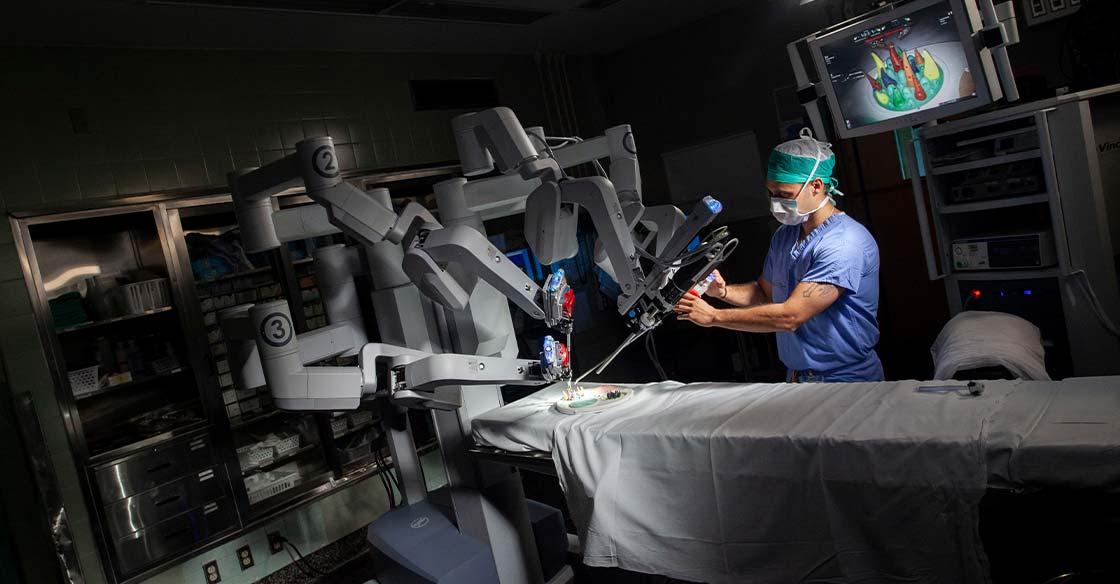 QEII Foundation donors have always rallied behind projects that transform patient care and wait times – and Atlantic Canada's first surgical robotics technology is no exception.
At a time of social distancing - and when many non-urgent surgeries were postponed - donor-funded surgical robotics technology enabled teams to continue operating.
When COVID-19 first struck Nova Scotia in March, all but life-saving and time-sensitive surgeries and services were cancelled. This played a crucial role in limiting the spread of the virus and ensured healthcare teams were ready to care for those who experienced the most serious effects of COVID-19.
The QEII's surgical robotics team continued to treat cancer patients whose cases were urgent and time-sensitive. And thanks to the robot and the efficiencies it enables, it quickly became a solution during COVID-19 response.
While the many benefits of robot-assisted surgery – like faster healing and recovery times – have always been a game-changer, they've proven to be critical during this pandemic.
"Our patients benefited from significantly shorter hospital stays during COVID-19," says Dr. Ricardo Rendon, QEII urologist and robotic surgeon. "Because they go home a lot faster, it limits potential exposure to the virus for both patients and staff."
For Dr. Rendon, he says the proof is in the numbers.
When compared to standard open procedures, average stays for robotic prostatectomies to treat prostate cancer decrease from 2-3 days to 1-2 days, while partial nephrectomies to treat kidney cancer decrease from a 4-5 day stay to two days.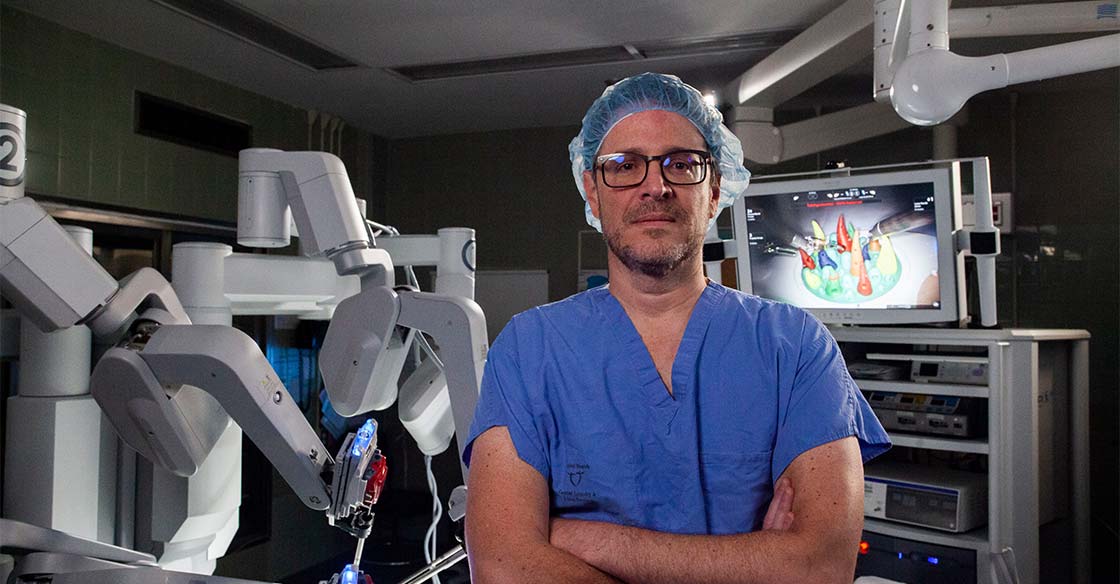 "These reduced hospital stays not only help our patients, but also decrease the rate of bed utilization, which was and continues to be a significant problem during this pandemic," says Dr. Rendon. "Additionally, the decreased need for post-op care following robotic surgery means patients are less likely to require follow-up care or additional surgery once they return home."
Facing a cancer diagnosis and undergoing surgery is a stressful and scary experience at the best of times. A global pandemic only compounds that.
Access to surgical robotics means cancer patients are home much faster, protecting them from unnecessary exposure within the heath centre and improving their overall care journey.
As many surgeries and healthcare services resume at the QEII, surgical robotics will continue to play a significant role in reducing wait times and enhancing care efficiencies.
This innovative technology will not only impact patients who require the advanced capabilities of the robot, but build additional surgical capacity within the system as teams treat patients whose procedures were postponed and delayed due to COVID-19.
According to QEII Foundation president and CEO Susan Mullin, she's incredibly proud that Atlantic Canada's first surgical robotics technology will be 100 per cent funded by the QEII Foundation and donors in our community.

"This technology is saving lives and we're so grateful to the many donors who've helped make robot-assisted surgery a reality here," says Susan. "Their impact is felt during this global pandemic and with every robotic surgery performed."   
To date, the QEII Foundation has raised more than $7.1 million towards our $8.1 million fundraising goal for surgical robotics. To learn more or donate today, visit QE2Robotics.ca. 
You might also be interested in...