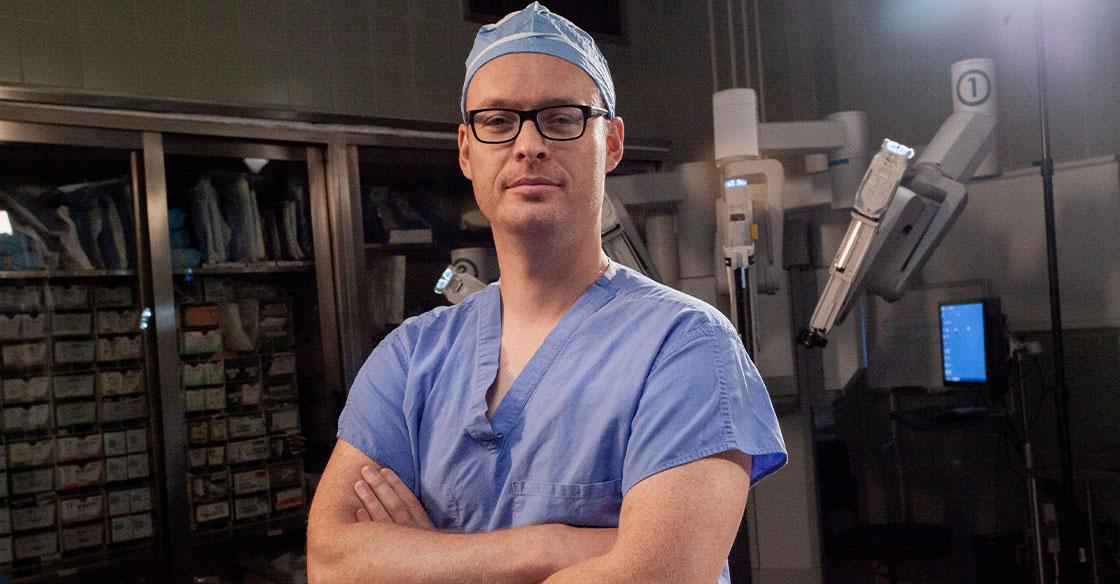 QEII urologist Dr. Ross Mason was first introduced to robot-assisted surgery while completing a training fellowship at the world-renowned Mayo Clinic, located in Rochester, U.S. During this training, Dr. Mason specialized in robot-assisted surgery.
According to Dr. Mason, access to this innovative technology is critical to recruiting and retaining the country's best surgeons.
"Most surgeons who specialize in complex, cancer surgeries are now being heavily trained in robotics," he says. "They've got those skills and they want to use them, so they'll be more attracted to centres where they're able to offer that."
The opportunity to trial – and hopefully one day expand – robot-assisted surgery at the QEII Health Sciences Centre is a big reason why Dr. Mason chose to return to his home province of Nova Scotia and practices here, following his training in the U.S.
With a fellowship in urologic oncology and a Masters of Science in Clinical and Translational Science under his belt – both from the Mayo Clinic – Dr. Mason's clinical and research specialties include cancers of the prostate, kidney and bladder.
"One of the most exciting days of my career was when I entered the operating room and the QEII's first surgical robotics technology was there. I was so excited to offer this treatment option to my patients."
There's no question that robot-assisted surgery helps bring medicine's best and brightest, like Dr. Mason, to the healthcare centres where they choose to make their careers.
Dr. Mason was part of the QEII team that performed the first-ever robotic surgery in Atlantic Canada; a prostatectomy to treat prostate cancer.
With 63 men in Canada being diagnosed with prostate cancer every day, and 1 in 7 men facing a cancer diagnosis in their lifetime, we need to ensure Atlantic Canada has the best treatment options for patients.
This is why it is so critical to keep this technology here at the QEII.
You can change the lives of families touched by cancer, like mine, by making a donation at QE2Robotics.ca
You might be interested in...