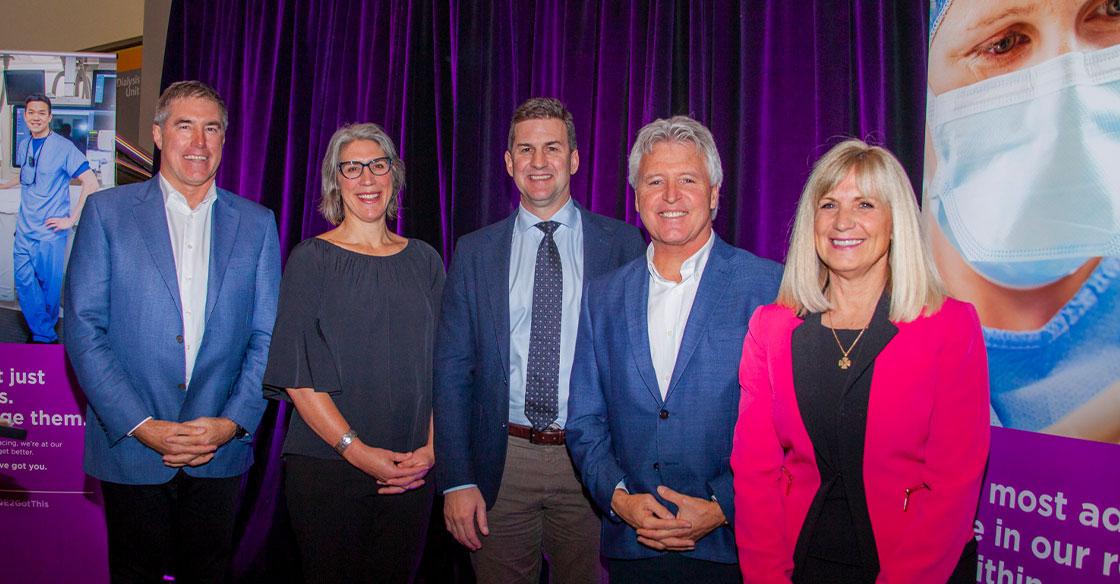 Pictured: Donnie Clow (Volunteer Chair, QEII Foundation Surgical Robotics Campaign), Dr. Katharina Kieser (Head of Gynaecology-Onocology, QEII), Dr. Greg Bailly (Chief of Urology, QEII), Bill Bean (CEO, QEII Foundation) and Dr. Gail Tomblin Murphy (Vice-President, Innovation and Research, NSHA)
Entire project to be funded by QEII Foundation donors with $2.8 million left to raise.
Today, Nova Scotia Health Authority and the QEII Foundation announced that the QEII Health Sciences Centre is now home to Atlantic Canada's first surgical robotics technology.

Since February 2019, the QEII has had the opportunity to trial robot-assisted surgery for prostate, gynecological and kidney cancer treatment. This trial was made possible by QEII Foundation donors, who have donated $5.3 million to-date towards the QEII Foundation's $8.1 million fundraising goal. This $5.3 million fundraising total includes a $3 million visionary donation from the Sobey family.
The QEII Foundation is funding the entire surgical robotics project, which includes raising the remaining $2.8 million (of their $8.1 million goal) to keep the technology for the long-term and expand its use to other cancer surgeries at the QEII.

As of November 20, 88 robotic procedures have been performed at the QEII, including more than 40 prostatectomies, 30 hysterectomies and 14 partial kidney removals.
Robot-assisted surgery is one of the most effective tools to treat some cancers and is quickly becoming the standard of care for many procedures across Canada.

Some results of this game-changing technology that surgical teams are already seeing patients benefit from include:
faster healing and recovery times;
shorter hospital stays;
fewer post-operative complications and less risk of infection;
less blood loss;
reduced pain and reduced reliance on opioids to manage pain;
quicker return to work and normal, day-to-day activities;
less impact to delicate nerves that control bladder and sexual function within prostate cancer patients; and
the ability to operate on patients who weren't previously candidates for minimally invasive surgery.
The presence of robot-assisted surgery has a significant impact on patient care, however, it is also a driving force in attracting the country's best and brightest surgeons to the QEII.

The QEII's new surgical robotics technology has played an integral role in the successful recruitment of four new surgeons, who all previously trained with and/or practiced robot-assisted surgery at other health centres.
One recent recruit includes QEII urologist Dr. Ross Mason, who specialized in robot-assisted surgery while completing a fellowship in urologic oncology at the Mayo Clinic. The opportunity to trial – and hopefully expand – robot-assisted surgery at the QEII is a big reason why Dr. Mason chose to return to his home province of Nova Scotia and practice here, following his training in the U.S.
 
Quotes
"One of the most exciting days of my career was when I entered the operating room and the QEII's first surgical robotics technology was there. Most surgeons who specialize in complex, cancer surgeries are now being heavily trained in robotics. They've got those skills and they want to use them, so they'll be more attracted to centres where they're able to offer that." – Dr. Ross Mason, QEII urologist who was recently recruited to the QEII thanks, in part, to robot-assisted surgery
"This is a project that will be 100 per cent funded by the QEII Foundation and donors in our community. With $2.8 million left to raise of our $8.1 million goal, this is a prime example of how philanthropy transforms health care and unlocks treatment options that otherwise wouldn't be available." – Donnie Clow, QEII Foundation board trustee and chair of the surgical robotics campaign
"We are experiencing a growth in innovation within Nova Scotia Health Authority.  This, along with our increased provincial support for research will foster a future that reflects this priority in new developments for better care and improved health for all Nova Scotians." – Dr. Gail Tomblin Murphy, vice-president, Research and Innovation, Nova Scotia Health Authority
"Our family is so proud to be a part of funding Atlantic Canada's first surgical robotics technology at the QEII Health Sciences Centre. This technology is already having a significant impact on the lives of patients and their families and we're honoured to be a part of this exciting initiative" – Frank Sobey, Chair of the Sobey Foundation, who donated $3 million to the QEII Foundation in support of surgical robotics
"People receive excellent treatment at the QEII, and a big part of that is recognizing the importance of funding advances in technology and medicine. We're so grateful we're able to offer surgical robotics to our patients – and need this technology to stay in our region." – Dr. Greg Bailly, QEII chief of urology and professor and co-chair of the surgical robotics council

Quick Facts
In a robot-assisted operating room, the surgeon sits at a computer console a few feet away from the operating table and patient. From that distance, the surgeon controls the surgical instruments and 3D camera attached to robotic arms.

These robotic arms have a superior degree of dexterity compared to a surgeon's hands, providing better accuracy, flexibility and control – and, ultimately, driving more minimally invasive procedures and enabling the most precision possible.
 

Trialing robot-assisted surgery in prostate, gynecological and kidney cancer treatments at the QEII is already impacting patients and their families. Planning is underway to expand robot-assisted surgeries to thoracic cancer surgeries in 2021, with the potential to add some general cancer surgeries and ear, nose or throat cancer surgeries in the coming years as well.
 
Health care is always evolving and as a teaching and research facility the QEII has a responsibility to explore and evaluate new technologies and approaches to care that can benefit patients.

The QEII was presented an opportunity to trial surgical robotics as part of its planning for the QEII New Generation project. Support from the QEII Foundation and donors will allow this innovation to continue.
 

The QEII Foundation is $2.8 million away from reaching its $8.1 million goal to fund the entire project – moving away from trial to a permanent program.

To learn more about surguical robotics, visit QE2Foundation.ca/surgical-robotics
You might be interested in...