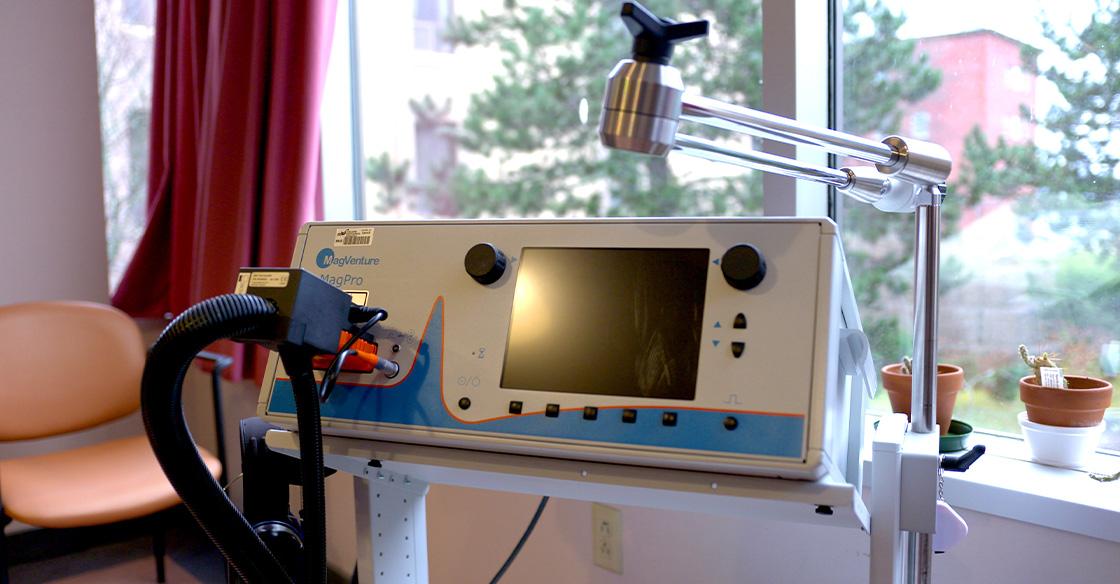 Nova Scotia's first hospital-based rTMS clinic opened its doors on April 6; an incredible milestone made possible by Bell Let's Talk and their recent $420,000 donation.
On April 6, 2021, the Nova Scotia Hospital in Dartmouth proudly opened its repetitive transcranial magnetic stimulation (rTMS) clinic. This leading-edge treatment will offer relief to the many Nova Scotians living with treatment-resistant depression – without the cost barrier of private clinics.
rTMS modifies the way that neurons in the brain work through a series of magnetic pulses that either stimulates or inhibits activity. A series of rTMS treatments can work wonders to ease symptoms for patients facing depression, even when other treatments such as medications and psychotherapy have proven ineffective.
"It gives hope to folks who haven't responded to traditional approaches or who haven't been able to tolerate them," says Dr. Michael Flynn, a psychiatrist at the Nova Scotia Hospital.
The Nova Scotia Hospital's new rTMS clinic launched much more quickly than anticipated after an incredible $420,000 donation from Bell Let's Talk brought the QEII Foundation to its fundraising goal of $759,000.
The news of the donation set an excited team in motion to quickly and precisely prepare for the clinic's grand opening. The clinic's nurse educator, who had been trained in person on rTMS at the Center for Addictions and Mental Health in Toronto, re-connected with them for a virtual refresher course. Staff then rigorously trained to prepare to treat their first patients.
"There were hours and hours of work put in [by numerous staff] to really get proficient with handling the equipment," says Kelly Barry, the clinic's health service manager.
The clinic's current location is a serene, roomy space that's welcoming and calming to clients. One state-of-the-art rTMS chair overlooks the harbor out of a spanning picture window.
rTMS is a minimally-invasive procedure that involves simply placing magnetic coils on the head, so clients can feel at ease entering the clinic as-is: "When folks come in, they don't need any excessive medical prep, they can just come in and sit in the chair," Dr. Flynn explains. Treatments last anywhere from three to 40 minutes, and patients can return to normal daily activities immediately after a session.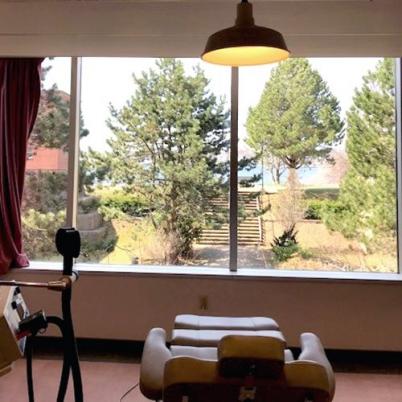 Dina Koutroulakis, a licensed practical nurse at the clinic, says that she's seen positive changes throughout the course of a patient's treatment.  
Koutroulakis also explains how important free, local access to rTMS is for some patients: "A patient mentioned that they'd been interested in rTMS for a while, but it just wasn't accessible here without the cost."
Until now, the only rTMS treatment in Nova Scotia available was at a private clinic in Halifax, costing over $3000 for a full round of sessions.
"They were really excited to hear that it was coming to the hospital," says Koutroulakis.
Dr Flynn strongly believes that everyone should have ready access to free health care, and rTMS is no exception. He also believes that local access is important, as it can be daunting to travel long distances to receive treatment for depression, or to face treatment alone without one's established support networks.
 "I see this first clinic as a first step towards a network of clinics across the province," Dr. Flynn says. "It should be available at centers close to everyone."
Another location is already slated to open at the Valley Regional Hospital in Kentville, also funded by the Bell Let's Talk donation and donors to the QEII Foundation.
As for this first clinic, interest in registering for treatment is soaring. A psychiatrist's referral is required to undergo rTMS treatment, and things have been bustling along since April 6.
"Dozens more people are really excited. Their psychiatrist mentioned rTMS as a treatment option, and they're really looking forward to trying it because a lot of the medications they tried just aren't working," says Martina Haas, the clinical nurse leader.
For the 17,000 Nova Scotians facing treatment-resistant depression, this newly opened rTMS clinic offers hope for a brighter today and a hopeful future.
"rTMS has been available and recognized by Health Canada as a treatment for depression since 2002. The clinic brings us into a more current position, and allows us to continue to move forward, and to remain at the leading-edge of new treatments as they continue to come on board," Dr. Flynn excitedly explains. "Thanks to Bell Let's Talk, we are well on our way towards realizing our treatment goals."
---
As our province grapples with a third wave of COVID-19, it's clear that, now more than ever, the need for innovative and accessible mental health care services are crucial.
On behalf of those whose lives and treatment journeys will be touched by Nova Scotia's first hospital-based rTMS program, thank you, Bell Let's Talk, for your incredible leadership and generosity.