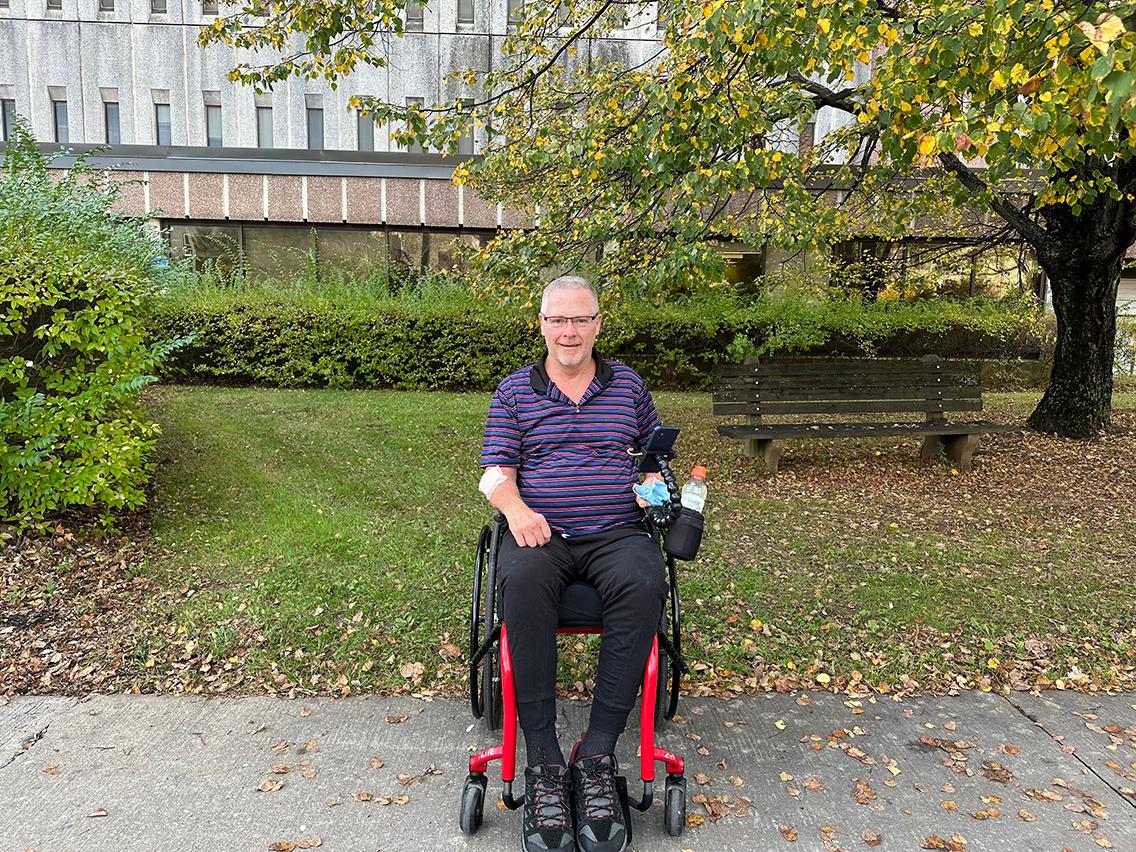 Robert (Rob) Patey has never shied away from a challenge. In fact, he's the type of person who turns one into an opportunity.
So, when Rob's life changed after a fall at home in 2021, he did what he's always done: faced the challenge head on and found a way to make the most of the situation for himself, and for others. Specifically, patients at the Nova Scotia Rehabilitation and Arthritis Centre (NSRAC) at the QEII.
As a result of the fall, Rob suffered an acute incomplete spinal cord injury. It caused him to lose major function in his upper and lower body.
"Essentially I am a quadriplegic, but I don't see myself that way," says Rob. "I am determined to walk again. I don't see this wheelchair in my future."
Rob's positive attitude and determination have been critical throughout his rehab journey, including the eight months he spent at NSRAC after his injury. Today, he continues to go to rehab twice per week. But that's not the only reason he spends time at the QEII facility.
Giving back
Eager to get involved and help make a difference at NSRAC, Rob took on the role as a Patient Family Advisor. It gives him an opportunity to advocate for patients and families all in the name of advancing care and enhancing the patient experience.  
Rob describes NSRAC as "a special place," mentioning the high quality of care from healthcare professionals. "Whether it's the nursing staff, management, physiotherapy or occupational therapy, everybody is outstanding."
The quality of care was one of the main reasons he wanted to find a way to contribute to the place that has meant so much to him throughout his journey. 
"I've always been the type of person to get involved and volunteer," says Rob, who enjoyed a 30-year military career and 13 years as an Halifax Volunteer Fire Chief in his communities of Lake Echo and North Preston. "I wanted to find some way to give back, and since time is philanthropy, I thought this would be a good way to make a difference."
Identifying opportunities
Rob says his role as a Patient Family Advisor allows him to talk to patients to find out what's working well and what needs improvement, while collaborating with NSRAC management to provide feedback. As a member of the Spinal Cord Injury Quality and Patient Safety team, he's able to bring the patient perspective to the committee. One area that Rob says is frequently mentioned is equipment functionality or access to new tools and resources.
"In the movies we see modern rehabilitation equipment, but unfortunately NSRAC lacks some of that modern equipment. Patients really want to be able to access the best equipment to help with their rehab," he says.
Citing his own experience as an example, he says there was one piece of equipment out of commission that he felt would have been helpful. "Devices like the functional electrical stimulation needs an update and isn't usable," he says. "That's something that would have been beneficial to me during my early days of rehab because the device basically stimulates several muscles at the same time, helping with musical activation and movement."
Rehab refresh
As the province's only specialized rehabilitation centre, each year 500 patients are admitted to NSRAC, while there are more than 30,000 visits for outpatient care. And having access to leading-edge equipment is vital for their rehabilitation.
Today, NSRAC has a need for enhanced spaces and technology that will impact patients' ability to regain skills and independence. And QEII Foundation donors can play a critical role in making this happen.
Together with donors, the QEII Foundation is supporting NSRAC in creating two new labs: the Upper Extremity Function Lab and the Balance and Mobility Lab. Donor funds will also support advancing fluoroscopy technology and updating the current functional electrical stimulation technology, which could have benefitted Rob during his rehabilitation journey. 
Building on a strong foundation
Over the years, QEII Foundation donors have played a critical role in patient care and outcomes at NSRAC. In 2016, the Grace Hansen Therapeutic Pool opened thanks to donor funding, impacting more than 20,000 patients to date. In 2018, two modernized donor-funded Independent Living Simulation Suites opened — providing a safe space for patients to practice everyday skills as part of their recovery, and in preparation to return home.
Now, donors can play a role in the next wave of enhancements at NSRAC. Helping to create state-of-the-art spaces and tools that will enable healthcare teams to focus on each patients' individual needs, abilities and unique potential.
For Rob, he sees it as an opportunity for the NSRAC team to have access to the best tools and technology that match their "outstanding quality of care," all in the name of helping patients regain their independence.
---
To learn more about the Rehab Refresh project or to find out how you can get involved, visit QEIIFoundation.ca/current-priorities/rehab-refresh.