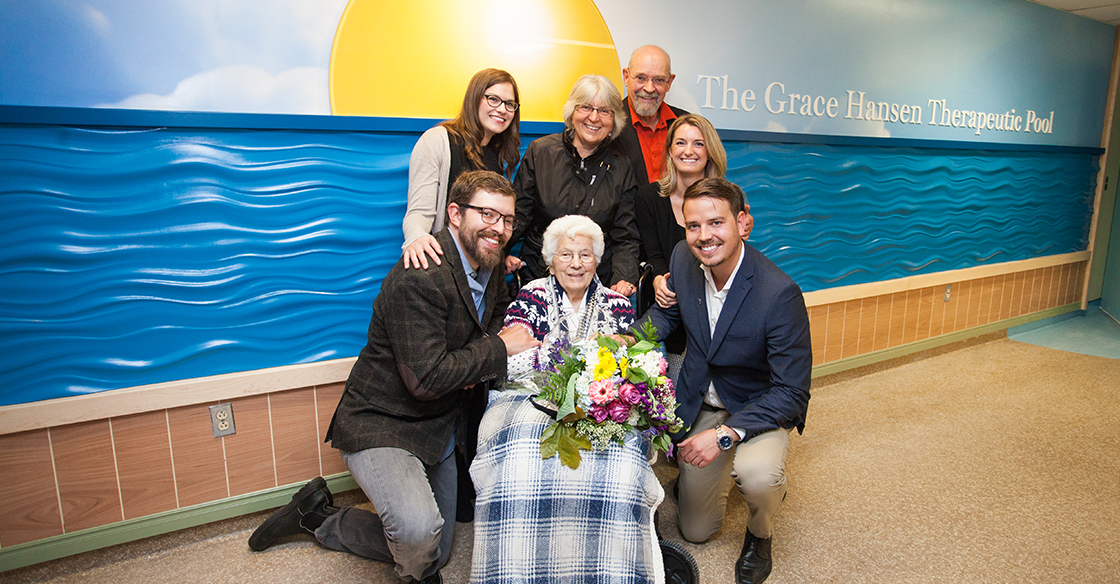 The community surrounding the QEII's Nova Scotia Rehabilitation and Arthritis Centre was proud to celebrate the completion of The Grace Hansen Therapeutic Pool on June 16th, in the company of staff, donors, and friends of the QEII Foundation.
The pool would not have been possible without donors, in particular, Carol Hansen-MacDonald and Colin MacDonald, along with sons Nicholas and Luke, who generously contributed $1-million toward the new structure. QEII Foundation supporters came together to raise a total of $2.6-million to develop the pool and to construct two new Activities of Daily Living suites.
The pool was named in honour of Carol's mother, Grace, who will be celebrated each time someone enters the healing waters of the pool, bringing hope to those who have lost so much to illness and injury.
The QEII's rehablitation centre has changed many lives for the better, reconnecting patients to their independence and preparing them to re-enter the world after experiencing debilitating illness and/or injury. The centre treats those experiencing difficulty due to neurological or musculoskeletal conditions, traumatic brain injury, the loss of a limb or stroke. When patients arrive at the centre, many have lost their mobility and basic motor functions, such as speech.
Aquatic therapy is instrumental in moving along the recovery process, and also plays a role in soothing stiff muscles and easing pain. Patients like Michael Coady, who benefitted from the former pool during his stay at rehab, thanked donors at the celebration for their ongoing support. "You've improved your community and the lives of others," Michael says.
The updated pool features improvements that reach beyond the structure of the pool. Updates include diffused ceiling lights with a softening effect, varying wall panels in rich colours, and change rooms built to maximize independence. Many donors came together to make this dream a reality for all of those touched by the rehabilitation centre.
Download PDF version