A calming presence can make all the difference during difficult times like illness or injury.
And during the healthcare journey, it can be especially important for patients and families to have a calm, private space when they spend an extended period in the hospital.
Now, thanks to the generosity of the late Barbara Hadley, who left a gift in her will to the QEII Foundation, 27 family rooms at the QEII Health Sciences Centre's Halifax Infirmary have been rejuvenated, directly impacting patients and families. 
"Every major family room in all inpatient units at the Halifax Infirmary has been updated because of this generous gift," says Kitty Connell, QEII health services director & site lead at the Halifax Infirmary. "These spaces are well used, and it is important that people have a private space when they need it."
Connell describes family rooms as private spaces designated for families who have loved ones in the hospital.
Family rooms play an important role in a patient's care journey depending on their situation. For example, the rooms may be where a family member takes a break from the bedside or sleeps in end-of-life situations, where a patient sits quietly away from hospital activity, or where a physician needs to have a sensitive conversation with loved ones and patients.
And the design and functionality of the spaces make a difference. The 27 family rooms had varying needs. Some needed a complete renovation, including new paint, floors, ceiling tiles, and furniture, while others simply needed a refresh.
To ensure a sense of calm was achieved in every space, all of the rooms have been painted a soft, soothing colour and items like furniture and decorative pieces were selected with the same goal. Each room has been updated with comfort in mind while following health and safety protocols.
Connell says that speaking directly with people who use these spaces — primarily families and healthcare teams — influenced the renovations.
"We would walk around each floor visiting the spaces and asking people if they would be open to giving feedback. People were very helpful and wanted to share their experiences. We were able to identify the needs for each room based on that insight," she says.
"One piece of feedback we received from family members was that people want chairs to put their feet up. So, now each room will have a recliner chair."
For Sandra, the wife of a QEII patient receiving care on the neurology unit, the family room provides a quiet space where she can have a bite to eat in private or simply charge her phone.
"It's very helpful to have this space when I take a small break from the bedside daily. I'm glad it's available."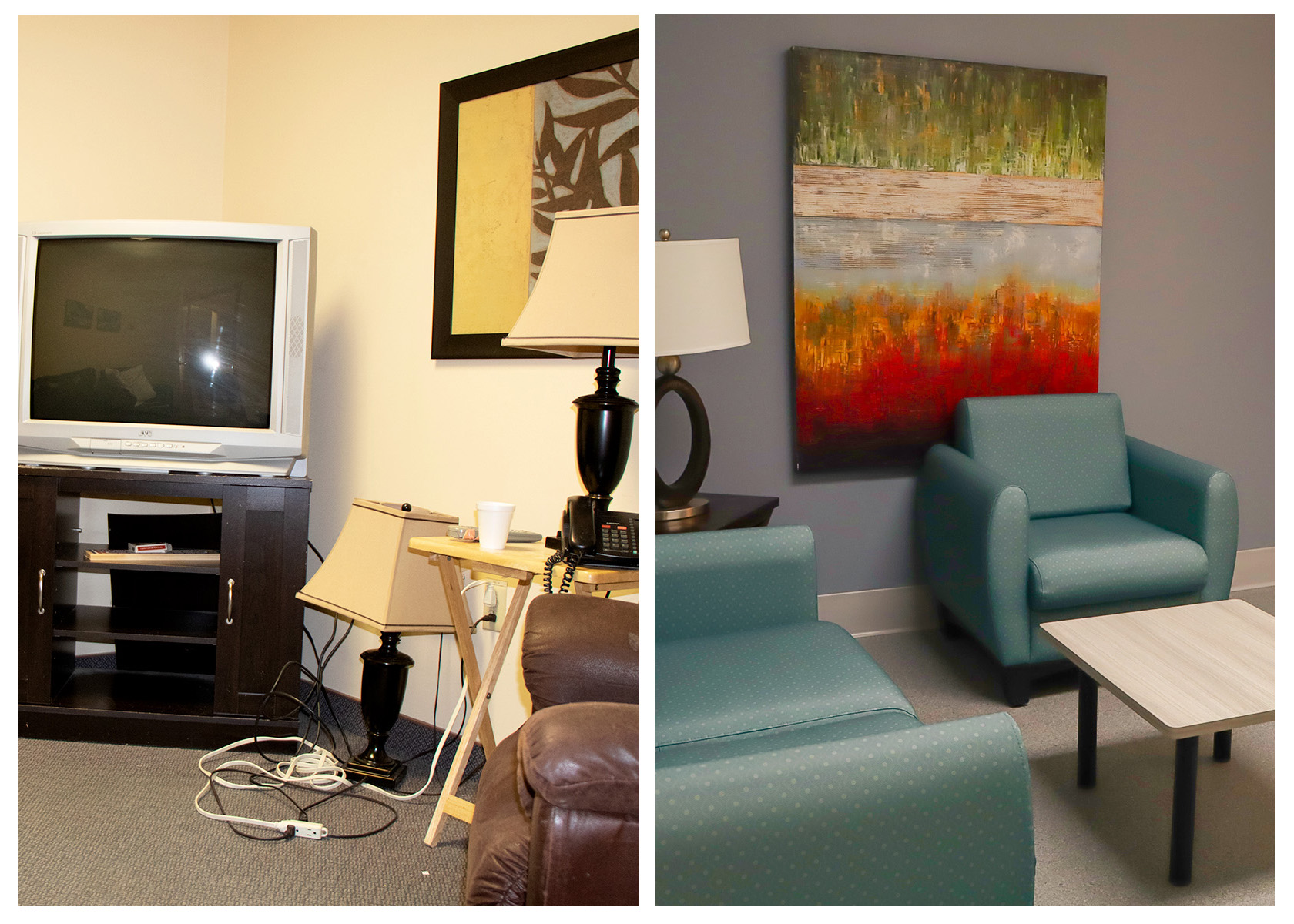 Patient-centered care
Jasna Jamshidi, a QEII health services manager at the Halifax Infirmary, states that family rooms are essential in patient-centered care, and creating spaces with patients and families in mind is a benefit to all.
"The reality is hospitals are noisy and can be chaotic," she says. "Family rooms are safe, calm spaces that provide a break from what is happening on the floor and a location for important conversations between healthcare providers, families and patients," she says. "These conversations are critical to patient-centered care to ensure patients and families are involved in decisions. So, in that way, family rooms do have a direct impact on care."
Legendary gift  
Ultimately, Barbara Hadley's gift in her will to the QEII Foundation will make a difference to every person — patient, loved one or healthcare provider — who steps foot in one of the 27 rooms at the Halifax Infirmary.
For Geoff Graham, a charitable giving advisor with the QEII Foundation, it's an incredible example of the tangible impact legacy gifts can have on health care and QEII patients.
"A gift in your will cements your mark in the future, impacting many people now and for years to come," he says. "It's a wonderful act of generosity with far-reaching impact."  
---
Become a QEII Legend
When you think of legends, your mind may jump to legendary athletes — the big names and history makers — who redefined the sports they played and influenced the world. But what if your generosity inspired legendary changes? What if your legacy was changing health care for those who follow?
 When you commit to make a gift in your will to the QEII Foundation, you join a very special group of individuals — your fellow QEII legends — who share your vision for better health care. A gift in your will — even as little as one per cent — helps to ensure the best, most innovative care is available for future generations. To join us or learn more about how your generosity can inspire legendary changes for patients and their families, visit QE2Foundation.ca/wills or call 902 334 1546.