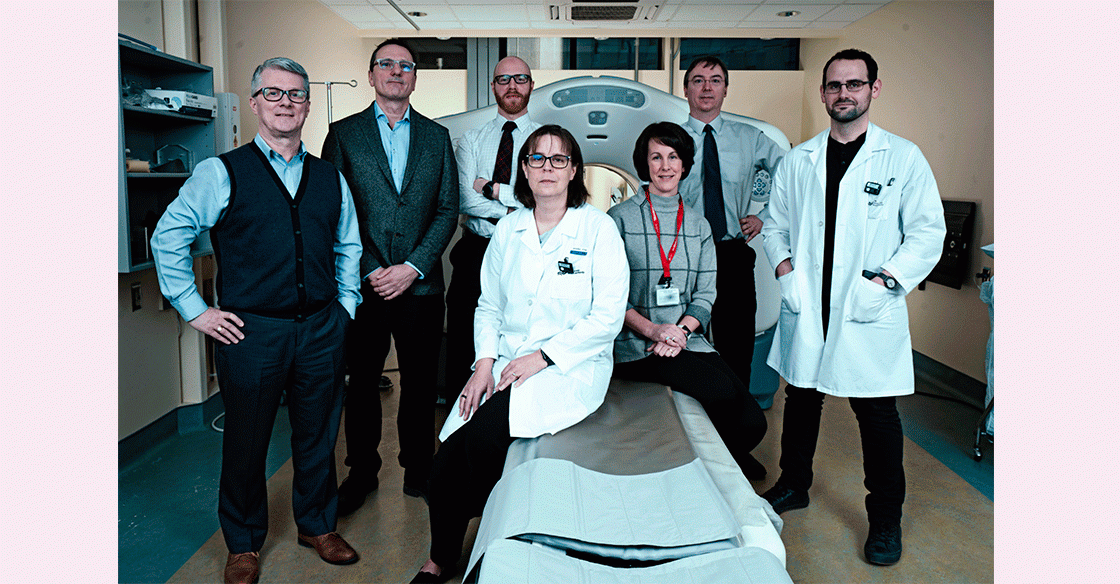 Some of the QEII's Diagnostic Imaging team members
The COVID-19 pandemic has shown us that when times get tough, Atlantic Canadians selflessly band together to ensure the wellbeing of our community. The team at the QEII Health Sciences Centre's Department of Diagnostic Imaging are no exception.
Not only have they worked tirelessly to ensure that the QEII's PET-CT program continues to serve patients from across the Maritimes during COVID-19, but they also devised an innovative way to ensure the PET-CT program at the Health Sciences Centre in St. John's, Newfoundland could remain open and operational.
"When COVID-19 interrupted direct flights from Toronto to St. John's, the Health Sciences Centre in St. John's, Newfoundland was unable to reliably acquire the radioactive substance that a PET-CT uses to operate," says Brian Martell, Senior Director of Diagnostic Imaging at Nova Scotia Health.
The radioactive substance that the PET-CT uses to operate is known as FDG, fluorodeoxyglucose. The QEII uses FDG that is created using a donor-supported cyclotron within the QEII. FDG will decay within a matter of hours, meaning the time spent from production to medical use is limited, making every second critical.
Because of the generosity of QEII Foundation donors, a new extended field-of-view PET-CT arrived at the QEII in spring 2020. It has since scanned over 1,000 patients, without any disruptions due to the pandemic. This advanced technology requires less FDG to operate than the previous model, meaning the team had additional resources to spare for patients in Newfoundland.
"Just over two months ago, we were able to begin sending FDG to the hospital in St. John's three times a week. This prevented their program from being shut down and allowed them to continue scanning local cancer patients," Brian says.
This meant that Newfoundlanders could continue their care at home and prevented them from having to fly to Halifax and visit the QEII during the peak of the pandemic - something that would be a risk for any individual, but particularly for a cancer patient.
Transporting the FDG to Newfoundland wasn't as simple as calling an airline and finding an available flight. It required significant consultation and partnership with Health Canada and Transport Canada.
"What we would expect to happen in 18 to 24 months happened in 14 days. It was nothing short of a miracle, really," Brian says.
"The team at the QEII was truly amazing in helping to make this happen," says Brian. "Everyone from the Diagnostic Imaging team, to the cyclotron team, to the manager and director, radiologists and the medical physicist. We also worked very closely with the team from Newfoundland every day to make this happen. It really took incredible commitment from every single person on each healthcare team to make this work."
Not only does the new extended field-of-view PET-CT provide a tremendous number of benefits to patients who visit the QEII, but it makes life-changing possibilities, like providing FDG to other provinces, a reality.
"We would not be able to support our colleagues in Newfoundland if we were using our previous PET-CT," says Dr. James Clarke, radiologist and Chief of Diagnostic Imaging at the QEII Health Sciences Centre. "We are looking forward to other unique possibilities that will come to life with the extended field-of-view PET-CT, especially with regards to cancer research opportunities."
While flights from Toronto to St. John's will soon begin again, the team at the QEII says they will be proud and ready to continue to help their new friends in Newfoundland – no matter what the rest of the year brings.
To learn more about the benefits of extended field-of-view PET-CT, visit QE2PETCT.ca. To support crucial cancer care during these unusual times, donate today and select Cancer Care as your designation.