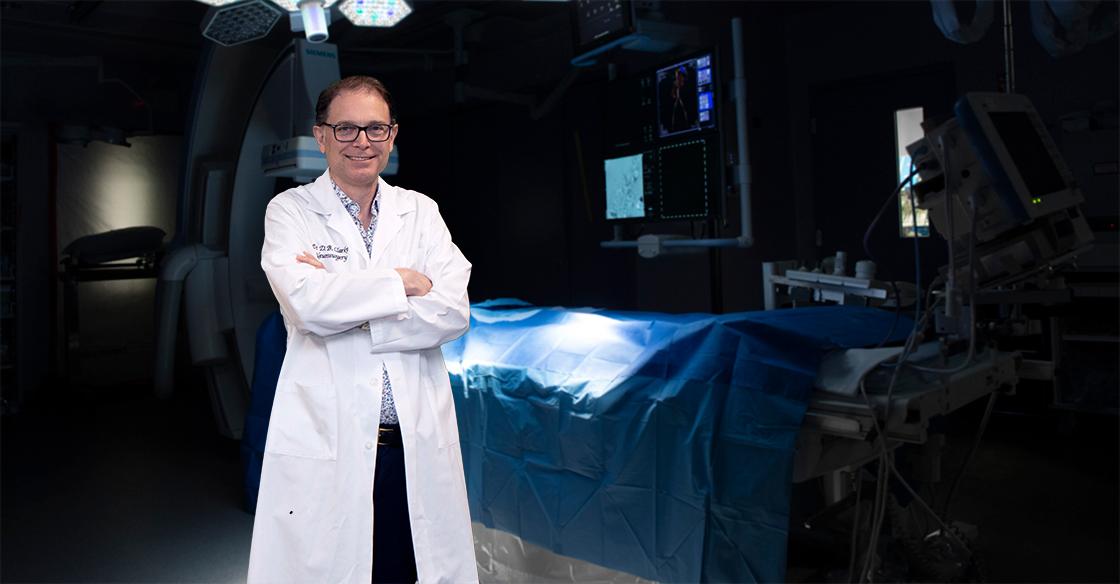 The QEII Health Sciences Centre will soon be home to new, life-changing technology for Atlantic Canadians living with uncontrolled epilepsy. A $1.13-million neurosurgical robotics system has been fully funded thanks to a charitable gift made possible by Clarence and Marjorie Anderson, prior to their passing.
This advanced surgical neurological robot – the first of its kind in Atlantic Canada – will have a transformational effect on patients facing uncontrolled, debilitating seizures.
Dr. David Clarke, QEII neurosurgeon, professor, and Head of Neurosurgery at Nova Scotia Health and Dalhousie University, explains some of the incredible benefits that this new surgical robot will bring for patients at the QEII.
"Just under 1% of our population will develop epilepsy; 30 per cent of those patients will not be well controlled with medication. This robot will be used to help pinpoint exactly where those seizures are coming from, and potentially offer patients a cure for their epilepsy," he says.
For patients undergoing surgical intervention for epilepsy, the traditional approach involves manually inserting electrodes deep into the brain to monitor brain activity. This process involves an extensive amount of planning to minimize damage to sensitive structures like blood vessels.
Currently, QEII neurosurgeons spend several hours preparing for this specific surgery using stealth planning stations that were previously funded by generous QEII Foundation donors.
"At the time of surgery there are more than a dozen measurements we have to manually adjust," explains Dr. Clarke. "This not only takes time, but whenever something has to be adjusted by a human, even though we check and recheck, there's always the potential for human error."
The addition of this new neurosurgical robot to the surgical process will be a game-changer – greatly reducing that margin of error and decreasing surgical time.
"One of the greatest advantages of this robot is that it eliminates the element of human error entirely," Dr. Clarke explains.
The new neurosurgical robotic system would integrate with the currently existing stealth stations.
The robot's incredible time-saving features will empower surgeons to perform more efficiently, allowing patients to move through the operating room faster.
"The neurosurgical robot will reduce time spent in the operating room for this kind of procedure by 30 to 40 per cent, which is quite considerable," Dr. Clarke says.
"What this ultimately means is that we will be able to get more patients through the system – and provide this potentially life-saving treatment to more patients."
This translates to approximately 50 to 60 patients a year, whose lives may be changed dramatically by this cutting-edge surgical technology – all donor-funded by a kind gift in wills.
Before their passing, Clarence and Marjorie Anderson had been QEII supporters for 24 years, with their very first gift made back in 1992. Their generosity has benefitted many QEII care areas – from Atlantic Canada's first hybrid operating room to advanced colposcope equipment to help detect and prevent deadly cervical cancers.
The couple had been married for 62 years, and enjoyed a life filled with wonderful trips to different parts of the world. Both Marjorie and Clarence had received care from the QEII for which they were immensely grateful. As a veteran of the Royal Canadian Navy, Clarence resided in the QEII Camp Hill Veterans Memorial Building in his later years until his passing, predeceased by Marjorie three years earlier.
When the Andersons first chose to leave a gift in their will to the QEII Foundation, they joined an incredibly special group of individuals known as QEII Legends — all who share a vision for better health care. Clarence and Marjorie's investment will continue to play an integral role in neurosurgery for years to come – a truly inspirational legacy to leave for the future of health care in our province.
Dr. Clarke expresses that the incredible generosity of our community is what allows the QEII to advance patient care to the next level.
"We could not deliver the high quality of patient care without the support of our community. I am humbled because of the trust our community continues to put in us, and what we do," he says.
"As a healthcare provider, I am profoundly grateful for the generosity the Andersons have shown."
The neurological robotics system, funded as a part of the QEII Foundation's We Are campaign, is a welcome addition to the QEII – the latest addition of five surgical robots.
"This technology really strengthens our position in terms of how we embrace robotics technology in neurosurgery," Dr. Clarke says.
Dr. Clarke, along with his QEII neurosurgery colleague Dr. McNeely, are currently assessing robotics models and planning to have the new technology in place for patient use in early 2024.
"The use of this neurosurgical robot will mean more people will have surgeries. It will be done in a safer way for each patient. It will increase our ability to positively alter the lives of many patients," Dr. Clarke says.
"This generosity will absolutely change lives. These contributions really do make a difference."