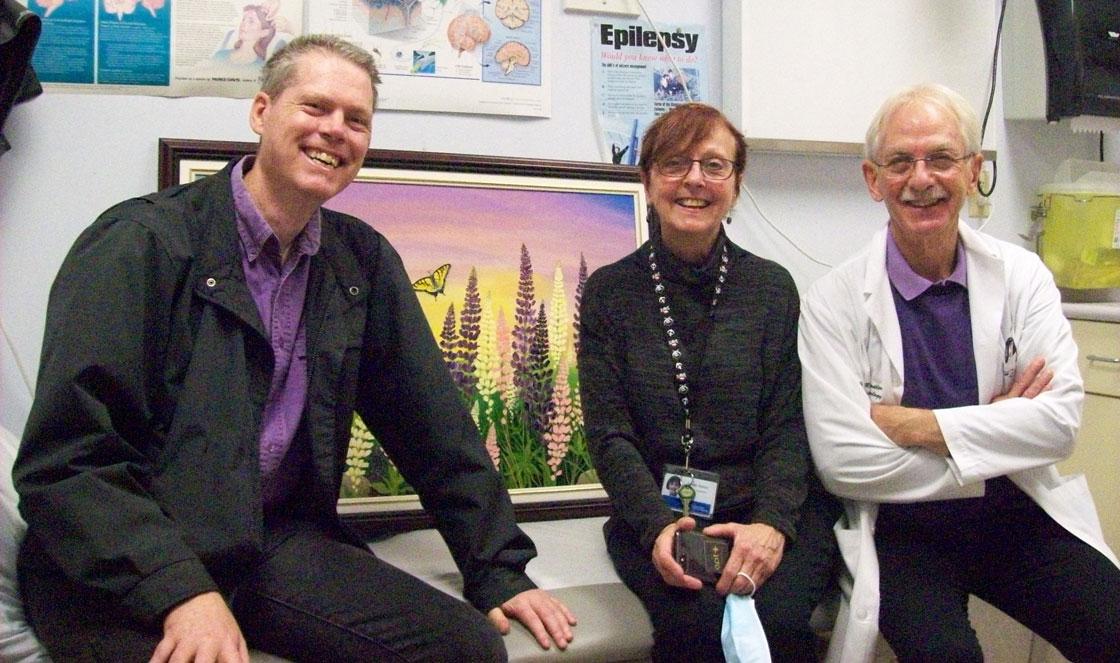 Epilepsy patient, Greg Van De Moortele, pictured with Susan Rahey (centre) and Dr. Mark Sadler (right).
Greg Van De Moortele is many things: an artist, a poet, a published author and a passionate advocate for epilepsy awareness.
For the Bridgewater resident, epilepsy has been a lifelong journey.

At just nine years old, Greg's first seizure struck – seemingly without warning. What followed was years of appointments, extended hospital stays and 15 surgeries – all of which occurred during his 28+ years as a patient of the QEII's neurosciences team.

At its peak, Greg was experiencing up to 111 seizures a year; roughly 3-4 seizures a week.
It's an experience that's difficult for any of us to imagine, but Greg – ever the optimist – has always found a way to uncover and embrace the positive. Whether he's lending his voice to raise awareness or using his own experiences as creative inspiration – in his poems and paintings – to shift others' perspectives of this often-misunderstood disorder.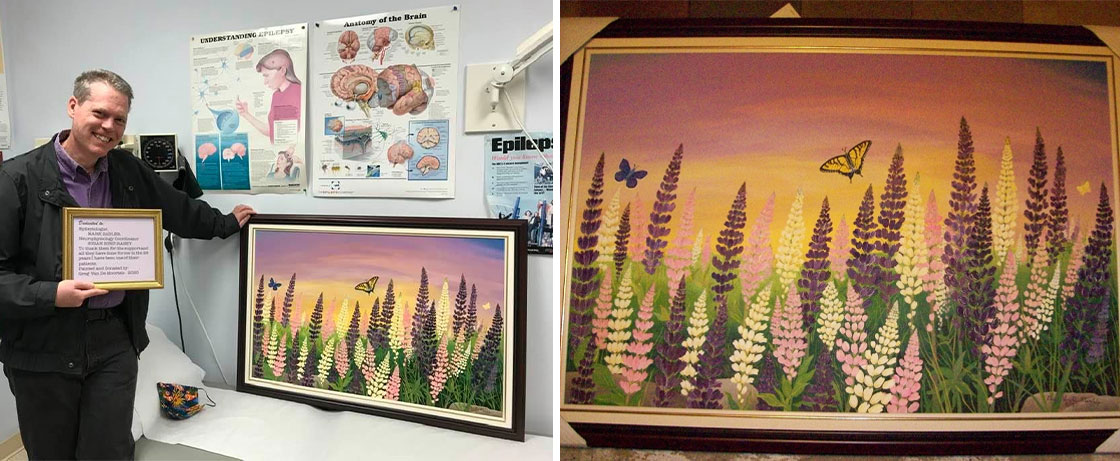 For Greg, a recent bright spot occurred in July 2020 when he became the first patient in the Maritimes to undergo deep brain stimulation (DBS). A type of neuromodulation therapy, DBS involves surgically implanting a pacemaker-like device within the brain to help control seizures.
It's a life-changing innovation that can offer hope to some patients, like Greg, whose seizures don't respond to medications or other surgeries.
While he isn't seizure-free, it's made a remarkable difference in his day-to-day life.

"Since my procedure, all of my seizures are shorter and have only lasted for approximately a minute," says Greg. "I feel so fortunate to be one of the first to access DBS in our region and grateful to my QEII team who made it possible."

Gratitude is a common theme with Greg.
When you've been a patient for more than 28 years, you get to know and really appreciate the people behind the care.
When describing his core care team – which has consisted of the QEII's Dr. Mark Sadler, Susan Rahey, Dr. David Clarke, Dr. Lutz Weise and many others – words include 'experts', 'kind' and some of the 'fiercest advocates' for their patients.
"I don't think I'd be here without them," says Greg.

He recalls many times when Susan and Dr. Salder would "go above and beyond" to help treat his seizures.
"They always pushed to ensure I had access to the latest clinical trials and new anti-seizure medications," says Greg.
Given his longtime battle with the neurological disorder and the severity of his seizures – both in number and length – Greg feels his QEII team, "truly saved my life."
He's also grateful to the many QEII Foundation donors, whose generosity has touched the care areas that have played an integral role in his epilepsy journey.
Donor-funded spaces like the QEII's new and expanded Epilepsy Monitoring Unit, which treated its first patients in August 2017.
This world-leading unit was specially designed and customized for patients living with epilepsy and equipped with state-of-the-art technology to investigate and diagnose seizures. Doubling the size of the unit from two beds to four, the increased capacity enabled the QEII to significantly reduce wait times – treating and diagnosing more epilepsy patients.
"Without support from our community, these teams would never be able to be do as much for all the patients," says Greg. "It makes such a difference."

~*~*~*
Greg Van De Moortele is the author of 'Poetic Epilepsy: One Patient's Experiences Put into Poems for All'; a collection of over 50 epilepsy-related poems. His works aim to help fellow patients and their loved ones, as well as "give the general public a better understanding of epilepsy and the obstacles which can accompany the disorder."