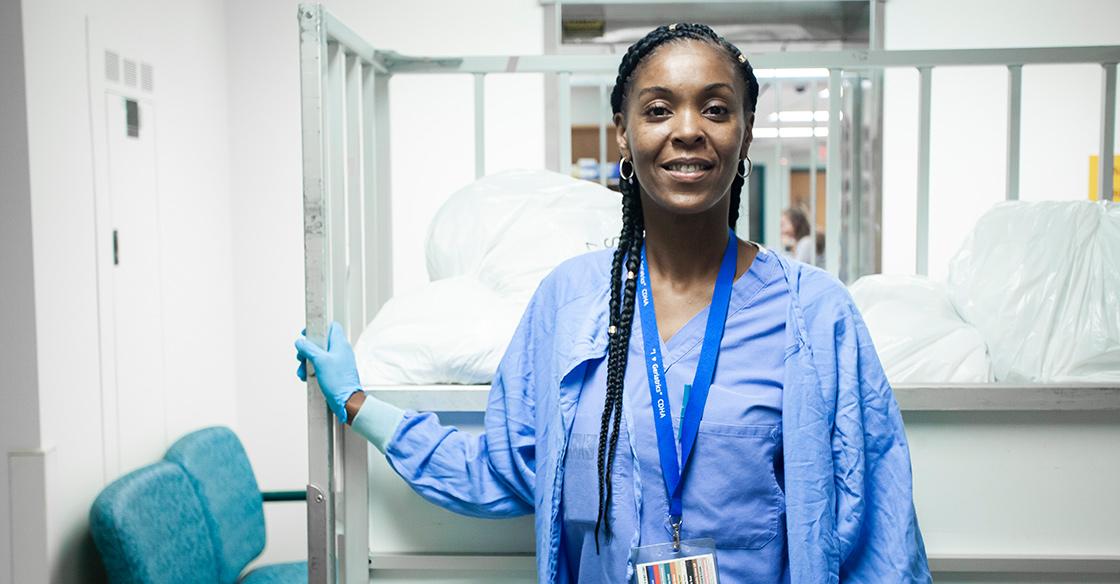 Star Taylor, Porter Services, QEII Health Sciences Centre
We wish our donor community health and safety during this uncertain time and hope that our stories can serve as a positive reminder of all that you make possible at the QEII Health Sciences Centre.
Now more than ever, we are grateful for the brilliant minds and caring hands at the QEII who continue their critical work in keeping our loved ones safe.
Every day, thousands of healthcare workers, like Star Taylor at the QEII, continue to show up, step up and scrub up for Atlantic Canadians when we need it most – working to keep us well. We will continue to hear many wonderful and inspiring stories of teams going above and beyond during these unprecedented times.
COVID-19 has brought a new reality to our province, our country, and the world.
The QEII Foundation is still dedicated to advancing health care and supporting teams at the QEII, no matter how trying the times. We are committed to helping where we can to ensure our healthcare teams have the resources they need to navigate this uncertainty.
Over the coming weeks, you may receive a call or email from a member of our team. We're here to be a connection, to listen and to share some of the ways that your generosity is touching the lives of patients and their families. As a donor, your impact is felt far and wide at the QEII – and during these changing times, we want to remind you of that.
Our website will remain up to date with the latest Foundation news, office updates and donor impact stories.
On behalf of the entire QEII Foundation, we look forward to connecting with you virtually. Stay safe, stay well and we'll see you again soon!