Innovation Catalyst Grants

Apply now for funding to push healthcare innovation forward.
The QEII Foundation is working with Nova Scotia Health to accelerate health transformation with a focus on patient impact. The Innovation Catalyst Fund will rapidly fast-track innovative concepts into practice.

This Fund will provide strategic financial support to QEII leaders for their ideas that have the potential to transform local care and provide global solutions that will improve the lives of patients. Solutions centred around refining systems, building prototypes, performing beta trials and simulations, launching field studies, and demonstrating proof of concept.
Awarding of Grants
Applications are now open and must be submitted by Friday, September 22, 2023.
All completed and eligible submissions will be reviewed, with six finalists selected to live pitch their idea at the inaugural QEII Foundation's Innovation Den, taking place on November 23, 2023, at the Nova Scotia Health Innovation Hub. Detailed event information and requirements will be provided to the six finalists selected.
A panel of Den Judges will decide on the order of winners, with each finalist receiving funds. Grants available are: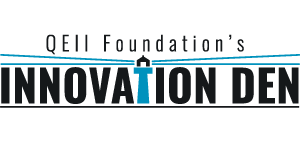 ACCELERATOR AWARD FOR HEALTH INNOVATION
$50,000

NEW PATH AWARD FOR
HEALTH INNOVATION
$100,000
RISING INNOVATOR
AWARD FOR HEALTH
$20,000
Ones to Watch, three awards of $10,000 each
When we combine the ingenuity of science and breakthrough thinking with the power of philanthropy, anything is possible.
Completed applications must be submitted by Friday, September 22, 2023, and emailed to Natasha Breward at natasha.breward@nshealth.ca with the subject line "Innovation Den Application".