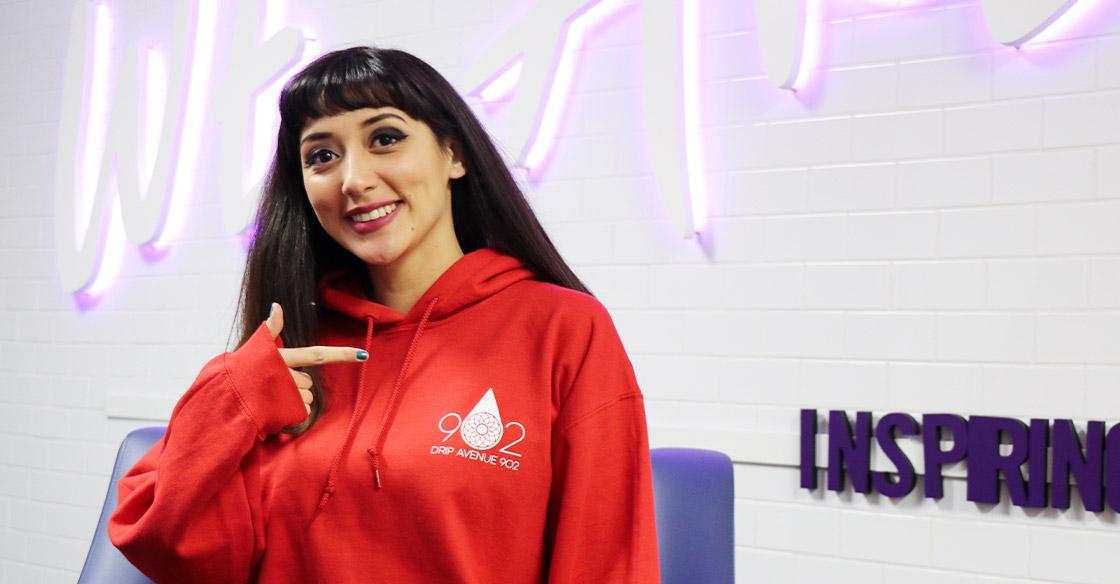 If you met Tyra Paul you'd experience a vibrant, young woman bursting with energy. 
What's impossible to know, as with any of us, is what she's been through. That within her pocket a recovery app is ticking, indicating the months free of drugs and alcohol. 
"Even saying the name of the drug is like saying 'Voldemort' in Harry Potter," Tyra says.
So, we won't name it. It's not important.
What matters is that Tyra is still here. And not only that, she is thriving.
But the road to arrive here wasn't easy.
Tyra grew up in Pictou landing, two hours outside Halifax, N.S. toward Prince Edward Island.
"We're a strong, close-knit community," she says. "If you see somebody on the side of the road, you pull over – we're always down to help each other."
Tyra's childhood is full with warm memories of exploring the woods, riding bikes and making mud pies (water mixed with dirt, formed into a ball with dandelions on top.)
As a teen, her rebellious nature took over.
"I smoked my first joint when I was 12," Tyra says. "It was laced with something and I ended up in the hospital," she says. "I remember having wires stuck to my chest. I believe that experience changed my brain," she says.
When she was 16, Tyra arrived at her grandmother's house to find her face down on the kitchen floor. "I knew right away that she was gone. She was the glue to my entire family," she says.
Cannabis became a regular part of Tyra's life. She used it to ease her anxiety, but as she got older and entered new relationships, she was exposed to, and engaged with, other drugs.
More dangerous substances, relationships deteriorating, and a car accident stacked trauma on top of trauma, leading to a personal rock bottom.
At her absolute breaking point Tyra called her mom from a Halifax residence in December 2018.
Today, Tyra is warm, bright and full of life – but you might not have recognized her that day, at just 90 pounds and not at all herself.
Tyra's mom picked her up and she entered treatment at Abbie J. Lane, of the QEII Health Sciences Centre – where she would spend the next month in recovery.
"That year, I was diagnosed with bi-polar disorder," Tyra says. For the first time, Tyra got the medication and therapy needed to move forward.
"The people at Abbie J. are amazing," she says, "the roles they play – my care providers were like, six jobs wrapped into one."
Healing isn't linear – and Tyra's journey reflects that. She has experienced many ups and downs.
She later received care at Valley Regional Hospital – which she also described as exceptional and important on her path to getting better.
Today, Tyra, who identifies as Indigenous, has reconnected with her Mi'kmaq culture through her recovery.
"Once I stopped smoking cannabis I had, and still have, high anxiety in the mornings," she says. "So, I started smudging. Every day, smudging – to get all the bad energy out, pray, and practice deep breathing."
Smudging is a cleansing of energy, as Tyra explains it.
"We believe in energy. If there's any bad energy linked to you or following you, when you smudge, it goes away."
This practice has been part Mi'kmaq culture for generations.
"Even the smell of sage helps my anxiety," Tyra says. "It's cool because it connects me back to my roots."
Another thing that really helps Tyra is listening to Mi'kmaq conversations.
"I will sometimes just look up Mi'kmaq dialogue on YouTube," she says. "It takes me back to a time when life wasn't so hard – reminding me of my grandparents."
A key to recovery for Tyra has been creation. She started tie-dying t-shirts in the summer for fun, and got more than she expected in return.
"It was so therapeutic," she says, "I was thinking, I'm going to make something out of my story. I'm going to come out on the other side. I want to be successful. I want to have a family. And so, I started to tie-dye shirts and I came up with the name drip as in dripping tie dye."
And soon after, Drip Avenue 902 was born.
Tyra saw an ad on social media for Indigenous creators. She entered a Pow Wow Pitch – a one-minute pitch about her product.
She stood in the yard outside her grandmother's house, recorded a one-minute video, sharing her story and desire to help others.
Tyra was a semifinalist. Through this competition, she connected with other Indigenous entrepreneurs. "It was really exciting to be part of something bigger than myself," she says.
One entrepreneur who took Tyra under his wing is Travis Francis, of Lucrative Apparel. He helped her connect with the people she needed to create her brand.
As the summer weather came to an end, so did the tie dye. As the weather grew colder, Tyra developed a brand to put on her sweatshirts with the help of Jay MacLeod from Maritime Design.
"This brand is all about shifting the stigma on mental health and addictions. I'm sharing my story so I can help others feel less alone in this pandemic," she says.
Tyra searched online for funding opportunities for Indigenous artists and found a funding partner in Futurpreneur Canada. For months, Tyra met with Noah Wilson, her mentor at the time. Together they formed a plan for Tyra's success.
Today, Tyra meets with her current mentor, Jennifer Menard-Shand, owner of Staff Shop, every week to discuss business.
"I knew from the beginning that I wanted to use part of my proceeds to support mental health initiatives. I thought – what a great way to start the conversation."
– Tyra Paul, @DripAvenue902
Earlier this year, Tyra partnered with the QEII Foundation and donated 10 per cent of her proceeds to support critical e-Mental health services. She is among a community of donors who, together, are helping to ensure all Nova Scotians have free access to online and text-based e-Mental health tools for those experiencing mild to moderate distress or symptoms.
It's just one of many ways the inspiring entrepreneur is giving back.
Tyra is grateful for every person who has helped her along her journey – her mother and father, who never left her side, her sister, who always knew that Tyra was capable of more, her friends, who never gave up on her and always visited her when she was sick, and the team at Abbie J, Valley Regional and others.
She has a special connection to her counsellors, psychologist and psychiatrist through Nova Scotia Health.
One counsellor in particular has been with Tyra from the beginning.
"She's seen my ups and downs. She's seen everything. She's honestly, so relieved because over that time we've grown a relationship and she hopes for the best for me. And I think by me coming out on the other side, she can lay her head down at night and say, 'I've done my job.'"
"I'm really proud of where I'm at today," Tyra says, "I feel I can be a role model for those who have lost their way."
---
We're proud to work with inspiring partners, like Tyra and her company Drip Avenue 902, on cause-related marketing opportunities and other innovative ways to raise funds for the QEII Health Sciences Centre. Inspired by Tyra's story? Learn more about making an impact in a care area that's important to you.