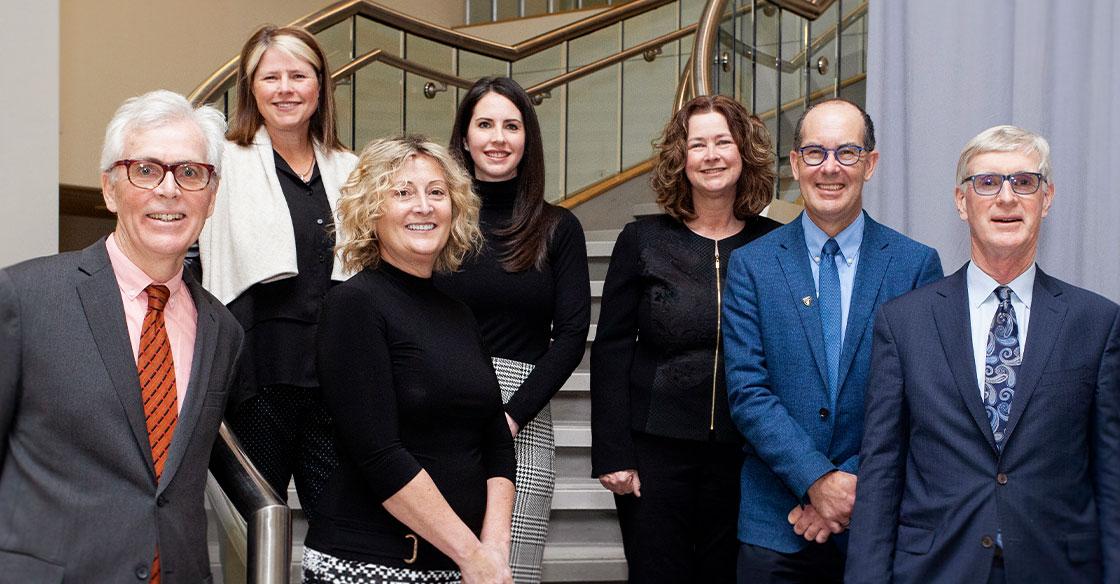 A family's game-changing support of palliative care research and Hospice Halifax
Originally published on qe2times.ca.
On February 26, the QEII Foundation announced that the Murphy family — on behalf of the J & W Murphy Foundation — made a $4-million donation to help transform palliative care in our region. $3 million will be the catalyst in creating an Endowed Chair in Palliative Care and $1 million will provide critical funding for Hospice Halifax.
When people think of the terms 'palliative' care and 'hospice', it is common to associate them with end-of-life care. However, although they are inextricably linked, Dr. Rob Horton believes that this generous gift from the Murphy family will help shatter some of the misconceptions surrounding palliative care and raise awareness of its importance for patients facing a life-limiting illness and their families.
Dr. Horton, a palliative care physician at the QEII Health Sciences Centre, knows too well the assumption that hospice and palliative care is nothing more than an individual's choice between spending their last moments in the hospital or at home.
"It's a form of care that focuses on the patient, preparing them and their families for tasks associated with dying – ranging from complex decision-making to bringing resources in the community together to try to make the best of one of the most profound times of our lives," says Dr. Horton.
According to Dr. Horton, palliative care can include managing pain and symptoms, planning for the future, and addressing the physical, emotional, social, and spiritual needs of patients and their families.
Dr. Horton is a longtime board member of Hospice Halifax, who got involved in the local non-profit after years of working in the system with a front row seat to where and how improvements can be made.
"I think that's where the Murphys are coming from," he says. "They have experienced palliative care from a personal standpoint more than once and they've seen the good in the system — what can be done well — and they've also experienced some of the gaps."
The Murphys lost three family members in painfully quick succession a few years previous to their monumental gift — the largest one-time donation of its kind to the QEII Foundation to help ensure exceptional palliative care for all Nova Scotians.
"To take that experience and step forward with a gift like this, is not only extremely generous, it carries with it a lot of foresight in terms of what can be done to make the system better. It's very much a community-minded gift and I'm very excited to be part of the whole thing," says Dr. Horton.
With their transformational gift, the Murphy family funded the furniture, equipment, design and architecture needs within the new Hospice Halifax, which recently opened to its first patients.
Hospice Halifax, like other hospices across the country, provides state-of-the-art palliative care and support services to individuals and their loved ones in a beautiful home-like setting. The 10-bed residence, located near the Northwest Arm in Halifax, features a family kitchen, outdoor terraces and garden, overnight accommodation for families, and more. The new hospice will welcome about 150 patients a year, whose palliative care needs cannot be met at home and who do not require care in a hospital.
In addition to their game-changing support of Hospice Halifax, the Murphys chose to invest in groundbreaking research by helping to establish an Endowed Chair in Palliative Care. Endowed research chairs at the QEII are world-renowned experts in their field who are cross-appointed at the QEII, Nova Scotia Health Authority (NSHA) and Dalhousie University.
"When donors invest in the creation of an endowed chair position, they are doing so much more than supporting the role of an additional researcher in that field," says Dr. David Anderson, Dean of the Faculty School of Medicine at Dalhousie University. "They are ensuring that from this point forward, long-term, stable research funding for palliative care is available indefinitely."
At its heart, the Endowed Chair in Palliative Care will be dedicated to leading palliative care research at the QEII and, ultimately, translating evidence-based findings into best practices, policies and training that will be adopted here at home — and both nationally and internationally.
Research conducted around the globe has already demonstrated that quality palliative care improves patient and family quality of life and well-being, reduces healthcare costs and, in many instances, even prolongs life.
"The Endowed Chair in Palliative Care will build upon these findings and help establish the QEII as a true centre of excellence in this area," says Bill Bean, president and CEO of the QEII Foundation. "On behalf of all Nova Scotians, we're incredibly thankful to the J & W Murphy Foundation and the entire Murphy family for their visionary commitment to transform palliative care in our region."
It's a sentiment echoed by Dr. Anderson: "The importance of this cannot be overstated. It's really a transformational gift that will allow us to practice the kind of informed care that is necessary to meet the needs of patients in this province," says Dr. Anderson.