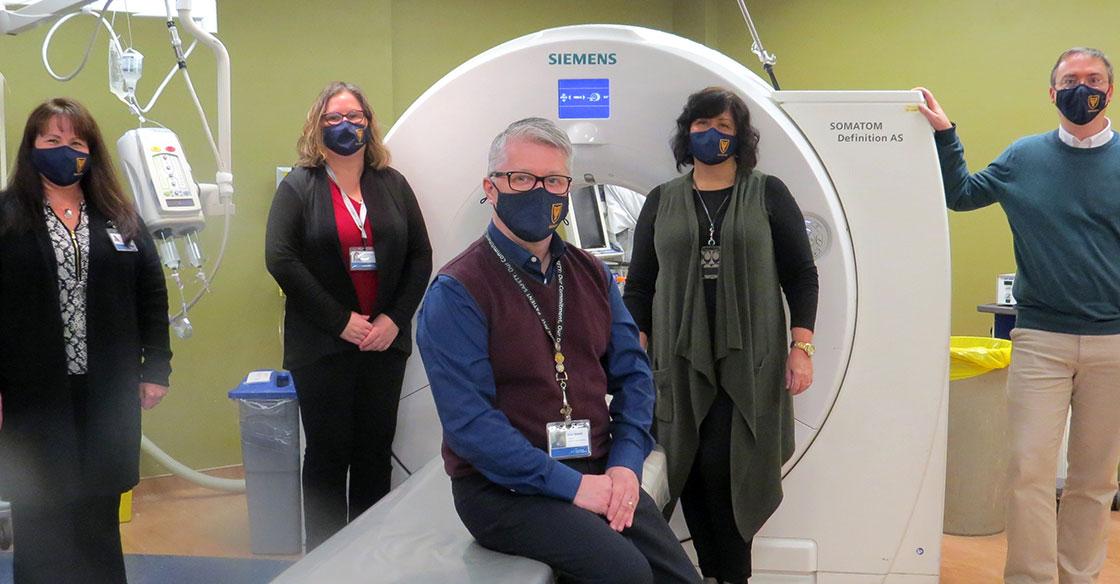 Originally published via QE2Times.ca. 
QEII Foundation donors are making a substantial difference when it comes to tackling wait times and the backlog for diagnostic imaging services caused by the COVID-19 pandemic.
With $1.2 million from the QEII COVID-19 Response Fund, additional technologists, sonographers and appointment booking staff were hired to extend the hours of operation of CT-scan, ultrasound and MRI services at the QEII Health Sciences Centre and the Dartmouth General Hospital.
"This will help us get back on track, so patients aren't experiencing delayed diagnosis," says Dr. James Clarke, a QEII radiologist and head of the Department of Diagnostic Radiology for Dalhousie University and the Nova Scotia Health Authority's Central Zone.
By opening appointments to patients on weekends and up until 11 p.m. on weeknights, as many as 275 patients a week are now receiving a diagnostic image, whether it is an MRI of an arthritic hip or an abdominal scan.
As part of a COVID-19 recovery strategy, the current backlog of outpatients waiting for diagnostic imaging will be cleared and changes will be made to meet the 60-day standard of providing elective CT and ultrasound services to patients. The diagnostic imaging team is well on its way. During the first month of increased capacity, more than 900 elective patients came off the backlog list.
"The QEII COVID-19 Response Fund is providing a service to patients that is needed," says Brian Martell, director of diagnostic imaging for Nova Scotia Health's Central Zone. "It's giving us an opportunity to deal with a major issue."
A total of 28,000 CT, ultrasound and MRI appointments were cancelled in the months following March 2020, when COVID-19 hit the province. Although urgent and semi-urgent appointments — including cancer care — were not cancelled, the wait times for elective scans increased and remain longer than they should be.
"It is not just the 28,000 people affected," Dr. Clarke says. "It is everyone. Everyone is going to keep waiting until we get the backlog cleared."
The backlog of CT and ultrasound appointments is expected to clear in just over one year, and improvements in access to MRI appointments in the next 14 to 16 months, with the help of additional technologists, clerks and resources.
Timely access to diagnostic imaging is critical for providing the best care to patients. It not only gives healthcare providers detailed information about structural or disease-related changes in a patient, but also plays a key role in diagnosis. Dr. Clarke knows that early diagnosis can save lives so the need to clear the current backlog is crucial. He is seeing patients show up sicker because of the time they waited to access a diagnostic imaging service.
Bev Barrios, manager of MRI and CT services, is happy to see the improvements in the system. She knows waiting months for a scan and a diagnosis is stressful.
"The patients are so grateful," says Bev. "They are thankful to staff."
With funds from the QEII COVID-19 Response Fund, the diagnostic imaging team is also working with the organization's Health Innovation Hub team and data analytics team to create a tool to better mitigate future wait times. A new wait time dashboard will allow the team to collect data and book patient appointments more efficiently and tackle wait times more effectively.
Data is being collected and analyzed according to patient conditions, to allow the team to see clearly how long it takes for a patient to move through the healthcare system, from the day a request for a diagnostic imaging exam is made to the day the exam is performed.
"We are getting a better understanding of where the wait times are and what is causing them," Dr. Clarke says.