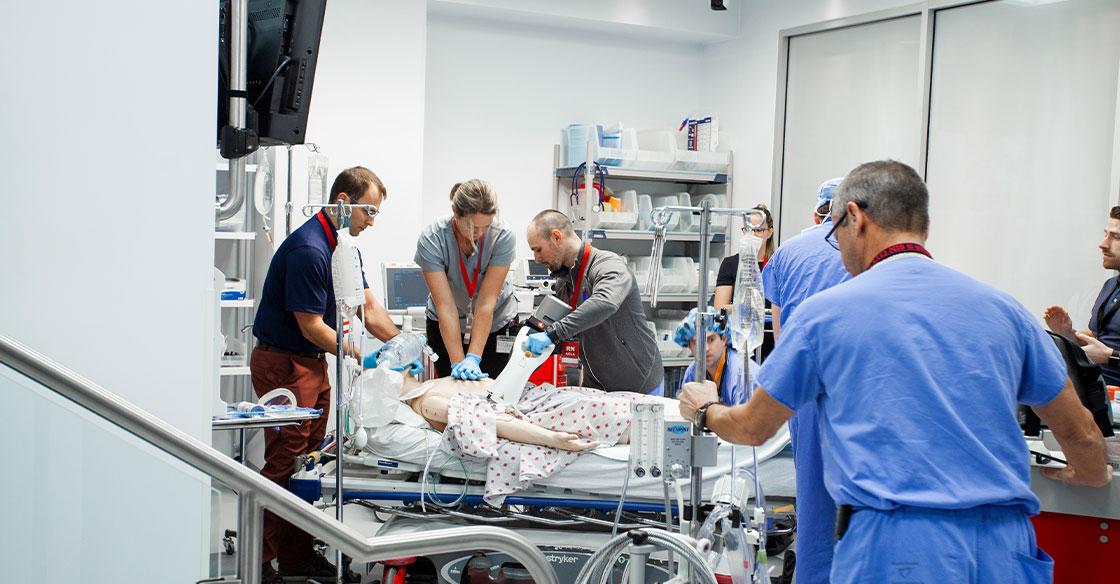 Originally published on qe2times.ca.
When Dr. Brock Vair trained as a surgeon in the 1970s and 1980s, he relied on textbooks and the fruit stand.
"Every technical skill that we acquired was learned and refined on real people. The only models we had in medical school were orange rinds for practising our suturing," Dr. Vair says.
As co-director of the QEII Health Sciences Centre's Simulation Program, he's celebrating the new Simulation Bay (Sim Bay). The fully functional simulated medical facility is located next to the QEII's Emergency Department (ED) and comes complete with a high-fidelity patient simulator and an operating space for cadaveric skills training.
"The simulation environment accurately recreates a clinical situation. Learners can learn and practise a wide variety of technical skills without the concern of causing patient harm," Dr. Vair says.
Just outside the Sim Bay, a sign on the wall pays tribute to Don Horne, who donated $100,000 to the QEII Foundation's campaign to upgrade the space and required technology. As a pilot, Don knows the importance of being prepared for the unexpected and how critical simulation and training is to medical practitioners.
Donna Warren, coordinator for the Sim Bay, says training starts in the Sim Bay's debrief room.
Learner groups meet there to talk about the upcoming simulated scenario before heading into the simulation. These groups can include multiple healthcare staff — from first year students to experienced physicians — and they get to experience a range of scenarios, from fairly frequent medical events to rarely-seen medical traumas.
"We try to recreate this simulation space as close as possible to a clinical setting," Donna says. "So when the learner leading the simulation says 'please start an IV,' the other team members need to know that it's going to actually take them three to four minutes to get an IV and set it up. We don't want skills to happen in 'simulation time.' We want it to happen in real time."
During the simulation, Donna operates the patient simulator from the control room with the facilitator, adapting the scenario based on activities they see through the one-way glass or via the three camera views of the simulation space. If a learner makes a mistake, the patient simulator's vital signs can be adjusted to reflect their actions and decisions.
"Maybe the simulator patient was completely awake when they were talking to them two to three minutes ago, but the learners gave an abnormal amount of a certain medication that altered their level of consciousness, and now the patient doesn't respond.
"We can change all of those patient parameters and vital signs on the fly."
The learners have an opportunity to work through their decisions made during the simulation. The duration of a typical learning session is usually 10 to 20 minutes and is followed by a debrief session that lasts twice as long. The facilitator and learners can review a recording of the scenario, discuss the various treatments and refine interventions by clarifying anything that they may not have understood during the simulation.
"During simulation, making mistakes isn't discouraged because mistakes are opportunities for learning," Donna says.
The Sim Bay's second simulation room is used for cadaveric training.
"There is no higher fidelity than practising your skills on a real person," Donna says. "Rather than practise skills for the first time on a real patient, such as inserting a chest tube, the learner has the ability to practise that skill repeatedly, which helps to build muscle memory. It is important to practise high risk skills in this type of setting, where the completion of these skills is not time dependent, and using the cadaver allows us to facilitate this."
Dr. Vair says the $1.8-million project was entirely funded by the QEII Foundation and its many donors.
"The QEII Foundation recognized that this is the future of medical education," he says.
Donna says the new Sim Bay will greatly improve training, which will lead to better results for patients.
"The QEII Foundation has been an unbelievable champion for the QEII Simulation Program and this project. It doesn't matter if you give $5 or $50, you can see it all adds up to an amazing end result," Donna says. "It really does make a difference."
It's a long way from putting sutures in an orange rind.
For a virtual tour of the QEII's Simulation Bay, visit bit.ly/QE2SimBay.