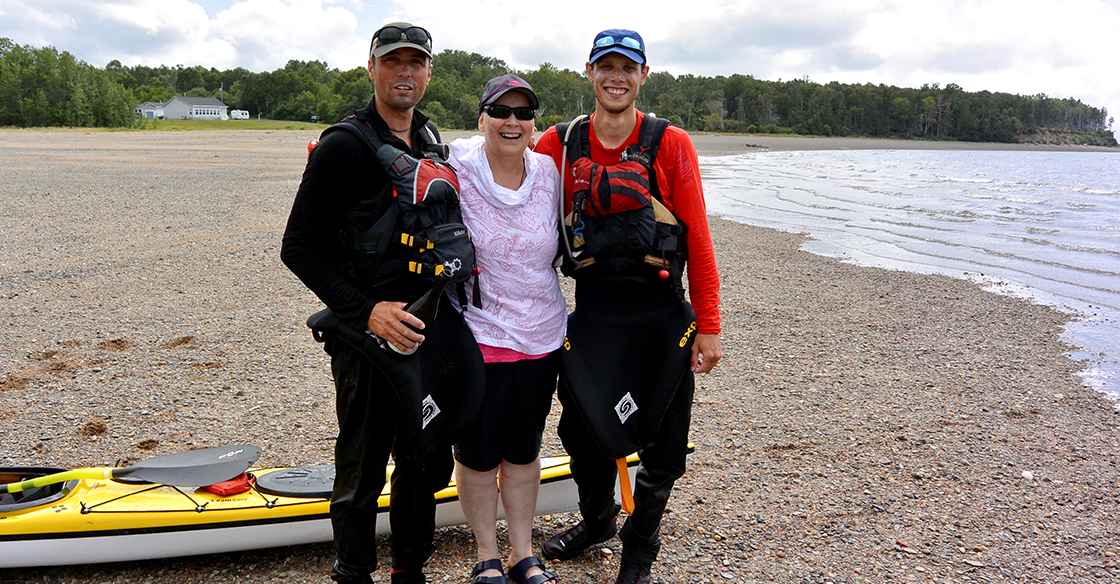 In the early morning hours of August 4, 2018 — 3:30 a.m. to be exact — two kayaks slipped into the harbour of Saint John, N.B., quickly vanishing into the fog. Christopher Lockyer and Daniel Archibald, along with their support boat, the Distant Thunder, captained by Dave Taylor, began their epic 86-kilometre journey across the Bay of Fundy to raise awareness – and money – as Daniel's mother, Margaret, continues her journey through breast cancer.
And so began A Paddle Fer Me Mudders Udders.
"It was a surreal experience and very fulfilling," Christopher says. "It was a personal challenge for me, and a chance to support Daniel the best way I knew how."
While entering such a large body of water in the dark sounds daunting, these two experienced paddlers were more focused on their end goal rather than their lack of visibility.
"The night paddling didn't bother me because I have faith in the navigation systems and faith in my ability," Christopher says, no doubt echoing the sentiments of many people facing cancer. "It's pretty amazing to be able to paddle from the dark into the light."
As a QEII Foundation community fundraiser, 100 per cent of the funds raised through A Paddle Fer Me Mudders Udders will support breast cancer research and patients in the Atlantic region.
A community fundraiser is a third-party initiative organized and managed by an individual, group or organization in support of the QEII Health Sciences Centre. These community fundraisers differ in size and scope but together, these events raise thousands of dollars each year and take care of patients and their loved ones at the QEII.
For Christopher and Daniel, their paddle also gave everyone a positive challenge to focus on. Margaret Archibald, a recently retired teacher, was diagnosed with breast cancer in December 2017 and started treatment in January.
"I believe in research and education. It's the research of dedicated individuals that is giving me an improved quality of life as I travel on my cancer journey. Their continued efforts will assist in the surpassing of existing survival rates of breast cancer patients and will support increased awareness of the disease," Margaret says.
In the last 500 metres of their journey, the fog finally lifted, letting them see the shore.
The last of their 11,000 strokes brought them to Deep Brook, N.S., nine hours after they left Saint John. They landed on the beach to cheers from their families. A blue sky shone though the clouds and Margaret embraced her son.
"We were almost speechless," Daniel says.
One journey has been completed.