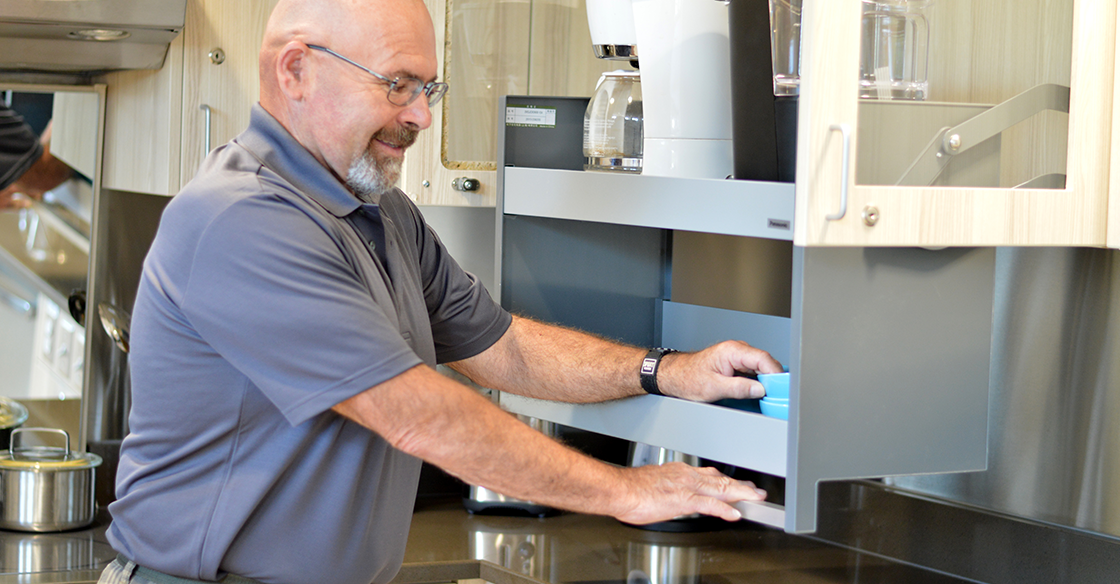 QEII's new ILS suites open to first patients
At the start of 2018, Brian Dimmell was working as a foreman, building affordable and accessible housing on Nova Scotia's south shore. On March 16, he had a stroke that paralyzed his left side and pushed him into a frightening place.
"I wondered where I was going to be in six months," he says. "I wanted to go home but didn't know what kind of a burden I was going to be on my family, who were my caregivers."
Brian began his recovery with the staff at the QEII's Rehabilitation and Arthritis Centre. He got to use the new, state-of-the-art Independent Living Simulation (ILS) suites. The two learning suites, opened in summer 2018, were created as part of the QEII Foundation's $2.5-million Revitalizing Rehab campaign.
"The whole point of rehab is to get you home," Brian says. "Your family is also experiencing fear or anxiety, wondering how you're going to be able to function when you get home. By your family being able to see you doing it here, it relieves a lot of anxiety of actually going home."
The ILS suites showcases a range of home accessibility and technology solutions that people can use to maximize their independence.
Kim Parker, a rehabilitation engineer at the QEII, demonstrates by telling Alexa, the smart technology device, that "it's dinner time." Alexa turns on the kitchen lights, plays music and lowers the stove to an accessible height. "Start my day" prompts the device to open blinds and turn on the radio. Through voice commands, you can also open the front door.
The ILS kitchen sink has a slanted, smooth bottom, letting people who use wheelchairs get up close. The oven opens sideways, not into your lap. An induction stove only heats its elements when a pot is touching them and cools as soon as it's removed. A stove guard uses motion detection to automatically turn itself off if it's left untended. A mirror backsplash shows seated people what's happening inside the pots. The counter top can be lowered and raised, kind of like adjusting the driver's seat of the family car.
Open the lower cabinets and a fancy Lazy Susan pops out, granting easy access to even the back shelf. The higher cabinets have shelves that lower so people, like Brian, don't have to risk trying to grab things over their head.
"It's a big relief for people who come in and actually see light at the end of the tunnel. I can function, I can go home. I can be a person again."
-Brian Dimmell
In the bathroom, you can walk straight into the shower and pop down a safe seat, greatly reducing the risk of falling as you climb into a tub. An overhead hoist system helps less mobile people move from station to station.
The adjustable bed can be controlled with sip-and-puff technology: you puff through the adjustable options, and then sip on the one you want to raise the head of the bed. Shirts hang in the closet — but just pull on a pole and they bend down to meet you.
QEII occupational therapist Natalie Thornley says almost everything in the simulation suites can be bought in regular stores. Patients get to explore the full range of options and decide which will help them resume their lives. They can even stay overnight with their family to really get a feel for it. "It is part of our job to help people connect with suppliers and funding sources," Natalie says.
Some patients might buy a few standard devices to make life easier as they recover. Others might tap into the full smart home to improve their life long term. "This suite is set up to give people the opportunity to discover a good match for them," Natalie says.
Brian says he was back to 70 per cent health by August, but struggles to lift things over his head. He plans to use the devices that lower things to bridge that 30 per cent gap as his recovery continues. "It's a big relief for people who come in and actually see light at the end of the tunnel. I can function, I can go home," he says. "I can be a person again."
Natalie agrees. "Our job is to get you back to what you want to be — and need to be doing— from the time you wake up in the morning to the time you go to bed at night."
For a virtual tour of the ILS suites, visit bit.ly/ILS-suites.