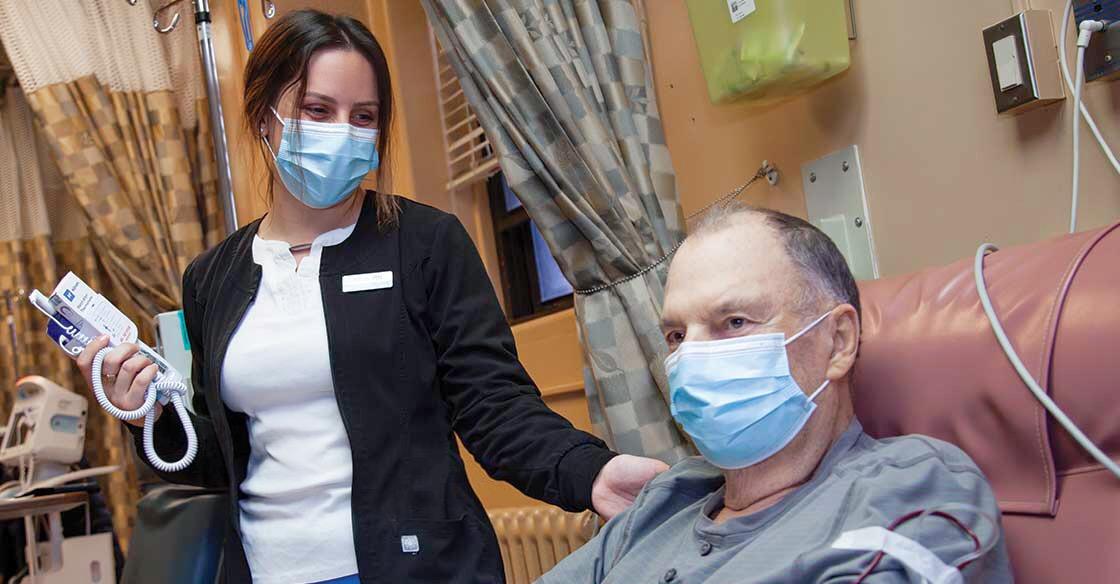 Photo Caption: Registered nurse, Alicia Jacquard, with Jack at the QEII's Medical Day Unit.
A serious illness or injury can dramatically impact our ability to work and care for ourselves and others. Now more than ever, these needs have been amplified by COVID-19.

That's why the QEII Foundation is proud to launch the new QEII Patient Essentials Fund; a first-of-its-kind pilot program that supports QEII patients with urgent, essential needs during their care journey.

With the support of our donor community, together we'll award a minimum of $50,000 in gift cards – for gas, groceries and personal care – over the next year. These gift card categories will continue to expand and evolve with donor support.
Your donation, your impact.
Without our generous donors, the QEII Patient Essentials Fund wouldn't be possible. Here are some of the key benefits your support will have:
Supporting QEII patients and families during moments of crisis with a minimum of $50,000 in gift cards – for gas, groceries and personal care – in the first year.
 
Addressing urgent needs as eligible healthcare teams can immediately distribute gift cards to their patients, when and where they need it most.
 
Flexibility to meet patients' unique circumstances – whether they're purchasing items required for their treatments or offsetting other expenses, like groceries for their family, due to competing medical costs.
 
Opportunity to impact patients across all care areas of the QEII Health Sciences Centre – from cancer care and heart health to dialysis and rehabilitation.
 
Less financial stress for patients as these gift cards can help with the everyday expenses patients face when dealing with a life-changing illness or injury.
 
Immediate impact during COVID-19, helping patients whose financial needs are even greater during a global pandemic due to rising costs and expenses.
How the QEII Patient Essentials Fund works.
APPLY: Frontline healthcare providers – including nurses, social workers, health services managers and more – see the need and apply for gift cards on behalf of their QEII department or care area.
AWARD: Each quarter, a minimum of $12,500 is awarded through the QEII Patient Essentials Fund, creating a total impact of $50,000 or more in gift cards during our first, pilot year.
DISTRIBUTE: Healthcare teams then give gift cards – in denominations of $25 – to QEII patients and their families who need it most at their own discretion, with no delay in application processing.
SHARE IMPACT AND EVOLVE: QEII teams complete an impact form and evaluation survey to improve processes and identify more, potential needs where our QEII Foundation donors, like you, can help.
Get involved. Give the gift of groceries, gas and personal care today.
The QEII Patient Essentials Fund officially launched this spring with the first healthcare teams completing their online applications this May. When you donate today, you'll fund the next round of quarterly gift cards – available to QEII teams and their patients as early as August 2021.
To learn more about the QEII Patient Essentials Fund or to donate today, visit QE2Foundation.ca/essentials.