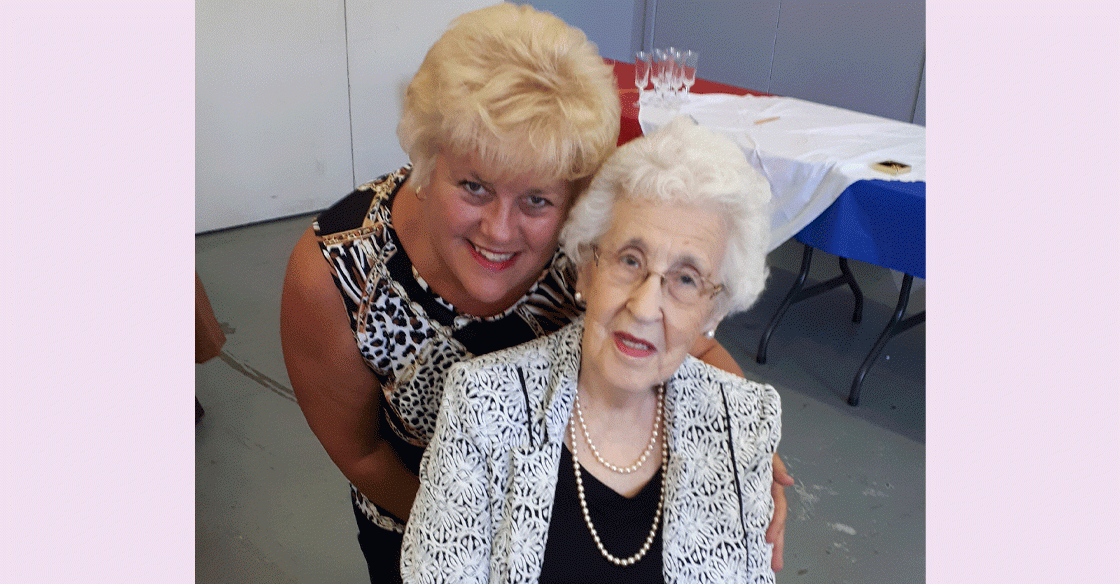 Melanie Mader never imagined that she'd be celebrating her mother's 99th birthday through a video call, on an iPad and during a pandemic.
With thanks to QEII Foundation donors and the QEII COVID-19 Response Fund, 62 iPads have been distributed across the QEII to support patients and families, like Melanie's, who have been impacted by COVID-19 restrictions.
"My mother lives in seniors assisted living, so we hadn't been able to see her when the restrictions came into place in March," Melanie says. Melanie's situation became even more challenging in June when her mother fell and required surgery at the QEII Health Sciences Centre.
"We thought we'd be able to have a socially distanced celebration for her birthday at her home, but when she was admitted to hospital, that was no longer possible."
Melanie, who currently works as an Administrative Assistant at the Rehabilitation Centre at the QEII, found out about the generous donation of iPads from her colleagues. She says arranging a video call with her mother was incredibly easy, with thanks to the incredible healthcare teams who were providing her care.
"Our first video call was truly amazing," she says. "Not only for me and my mother but also for my six brothers and sisters who were able to join in as well."
"It was such a huge relief and very emotional," Melanie says. "Our family is incredibly close, so being separated from our mother was truly heart wrenching. Not only did the iPads allow us to hear her, but to actually see her - we could see that she really was okay and it meant so much to us."
The video call was not only a relief for the siblings, but it made a huge impact on Melanie's mother as well.
"Our mother was absolutely thrilled. We knew that she was feeling down and alone, and talking on the phone just wasn't the same," she says. "COVID-19 and being isolated is difficult for everyone, and these video calls are really what helped our family get through it."
Melanie says the video calls continue to lift her mother's spirits and have made a very challenging situation a little easier for everyone. She says QEII Foundation donors are providing an incredible sense of relief to patients and positively impacting the mental health of families who are experiencing stress and isolation as these restrictions continue.
"To everyone who was involved in getting these iPads to the QEII, from the bottom of my heart, thank you so, so very much."
The QEII Foundation extends a sincere thank you to Bell Canada for being a friend to the QEII and helping ensure, along with QEII Foundation donors, these iPads were in the hands of patients and families.
The QEII COVID-19 Response Fund has raised over $511,183 as of July 28th. To learn more about the impact of the QEII COVID-19 Response fund visit QE2COVID19Response.ca.