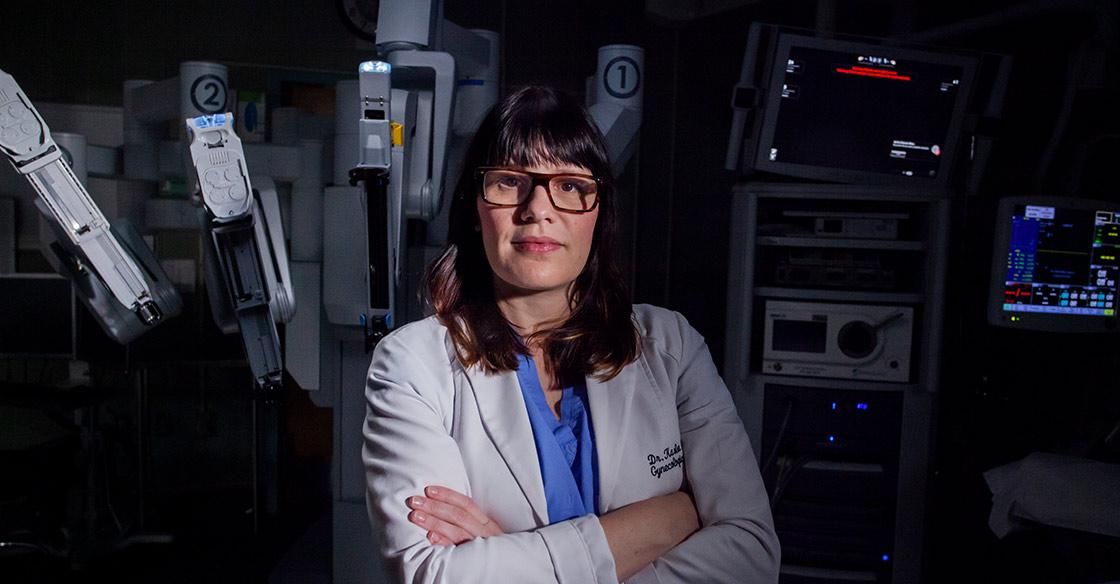 Originally published on thechronicleherald.ca

Access to Atlantic Canada's first surgical robotics technology is enabling cancer surgeons, like Dr. Karla Willows (pictured above), to offer more minimally invasive procedures to the patients they treat. The entire project will be funded by QEII Foundation donors. Photo Courtesy QEII Foundation.
The addition of robot-assisted surgery means less pain and quicker recovery for certain cancer patients at the QEII Health Sciences Centre.
A trial underway since February of 2019 has used Atlantic Canada's first surgical robot to help perform surgeries for prostate, kidney and gynecological cancers. The QEII Foundation has raised $5.4 million to bring the robot to Halifax and hopes to raise $2.7 million more to expand the program to other cancer surgeries at the QEII.
Dr. Karla Willows, a QEII gynecologic oncologist and cancer surgeon, uses the technology to operate on women with endometrial cancer.
"We've been providing these procedures via open surgery or laparoscopic surgery for many years," she says. "Our goal is to provide as many patients with minimally invasive surgery."
For many women, that can be done via vaginal approach or laparoscopy (keyhole) surgery. But Dr. Willows says women with a body-mass index (BMI) of 40 or higher are usually ineligible and must take the more invasive approach of open surgery.
"I think a lot of women are surprised to hear that obesity is one of the main risk factors for endometrial cancer and so a lot of patients we see have an elevated BMI and otherwise wouldn't be a good candidate for a minimally invasive approach," she says. "That involves a big, up-and-down incision on the abdomen and quite a longer recovery time." 
Those patients face higher surgical risks of increased bleeding, infections or hernias. They typically stay in hospital for up to five days and face a painful six-week recovery at home.
"Now with robotic-assisted surgery, we're able to offer more women a minimally invasive approach."
The surgeon sits in a comfortable chair, puts their head into a virtual-reality style mask and operates the robotic arms, which are inserted into the patient. The tiny robot arms need only five or six one-centimetre incisions.
Dr. Willows says the more invasive approaches lead to more pain. Patients typically get opioid medication around the clock while in hospital and take more home. But with the robot-assisted surgery, patients face less pain.
"Most of our women go home on just Tylenol and ibuprofen. Women have been very pleased with the outcome and their recovery," she says.
Dr Katharina Kieser, the QEII's chief of gynaecology-oncology, says it's made a big difference for those patients.
"It gives us the opportunity to have the same excellent cancer outcomes, but with much less morbidity," she says. "I think this is really a coup for Nova Scotia. It's wonderful that we've got the robot."
As volunteer chair of the surgical robotics fundraising campaign, Donnie Clow is helping the QEII Foundation raise $8.1 million to fund the entire project, including moving away from a trial to a permanent program. Clow is the president and CEO of Crombie REIT, but he has deep personal motivation to lead the fundraising effort. He survived prostate cancer in 2013, but his brother-in-law Kevin died of kidney cancer in 2016.
"It's been a lot of hard work to date by our committee and the QEII Foundation team. We've had a lot of very supportive donors," he says. "People have either had battles with cancer and survived, or unfortunately didn't survive. In addition, the donors are looking at the greater community and saying it's important for our province to have this highest level of health care that's available."
The QEII Foundation is on a mission to raise the remaining $2.7 million of its $8.1 million goal for Atlantic Canada's first surgical robotics program and Clow is confident the public will make that happen.
"We have great health care in Nova Scotia and we have great doctors. This was doctor-led," he says. "This is really about how we get it to the next level."
To learn more or donate, visit QE2Robotics.ca.