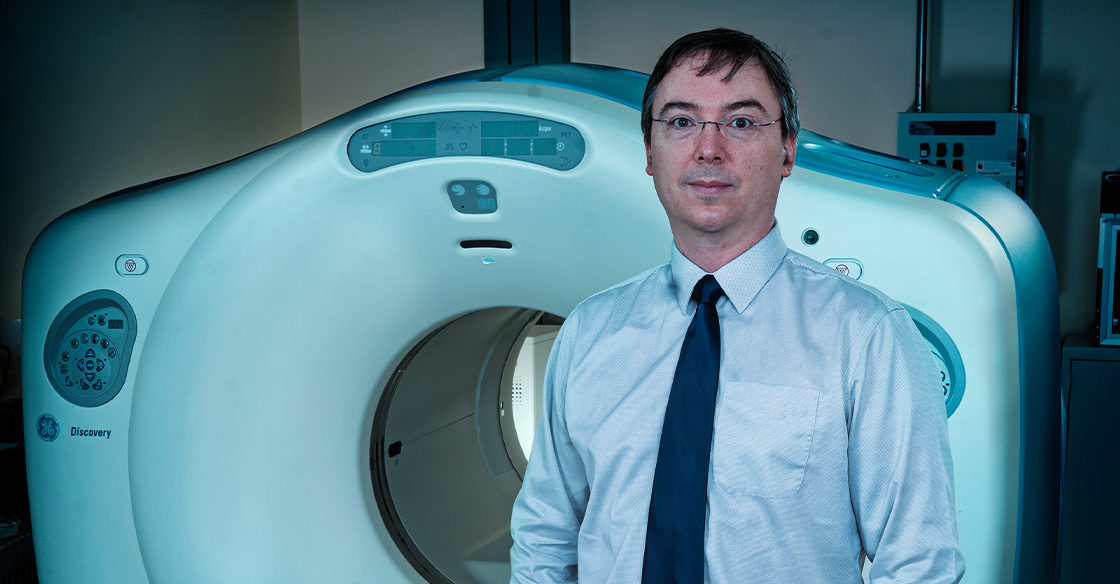 Dr. James Clarke is part of the team of QEII radiologists who are tripling all donations to PET-CT to a total of $50,000, until March 31, 2020.
The QEII's Department of Diagnostic Imaging has a longstanding history of igniting transformational change at the QEII Health Sciences Centre. In 2008, this generous team was a major donor behind Atlantic Canada's first PET-CT scanner at the QEII, which offered the best cancer imaging available at that time­­­­­­­­.
Their generosity allowed our healthcare teams to deliver the most innovative care to patients, as well as inspired many other QEII Foundation donors to help fund this vital technology.
But just as equipment ages and requires replacement, the ­­­­­­­­­­­­­­­­­­­­­­­­­­­­­­­­­­­­­­­possibilities of new technologies grow.

Nearly twelve years later when the QEII Foundation committed to raising funds for extended field-of-view PET-CT – the newest, leading-edge PET-CT technology available on the market – radiologists within the QEII's Department of Diagnostic Imaging once again stepped up in a big way.
Recognizing the immediate impact this technology would have on the lives of patients, the radiologists within the department decided to triple any donations made to PET-CT until March 31st, up to $50,000. This means our donors' impact will be tripled and together we'll raise the $150,000 that's remaining to upgrade this technology and bring the best cancer imaging home to the QEII.
What is extended field-of-view PET-CT?
PET-CT is the most sophisticated imaging test available for many cancers including lung, breast and colon cancer. In many cases, it's the most accurate way to assess the spread of a patient's cancer, if it's responding to therapy, and what the likelihood is of their cancer returning.
Cutting-edge PET-CT scanners offer technology called extended field-of-view, which uses 4D technology to detect small traces of cancer that teams have never been able to see before. Other game-changing benefits for cancer patients include:
reduced wait time to receive a scan from seven weeks to two weeks – five weeks earlier in most cases;
length of scans will reduce drastically, most to around 15 minutes and for some, as little as 90 seconds;
faster scan times will increase the daily number of patients scanned from 14 to 20;
teams will have a more accurate picture of how cancer patients are responding to their treatment; and
treatment plans will be more targeted than ever thanks to the advanced imaging technology.
The QEII has the only PET-CT in Nova Scotia, which means this technology will impact patients from every community across our province.
With the support of QEII Foundation donors and the Department of Diagnostic Imaging, cancer patients will have access to the Maritimes' first and only extended field-of-view PET-CT – the most advanced and effective technology of its kind.
Join our radiologists and give by March 31 to have your donation tripled by the QEII's Department of Diagnostic Imaging
---
Update: The community rose to the challenge to raise over $50,000, which was triple matched by our radiologists within the QEII's Department of Diagnostic Imaging. This means that, together, we've made an incredible $150,000 impact and will help fund the best PET-CT technology available.