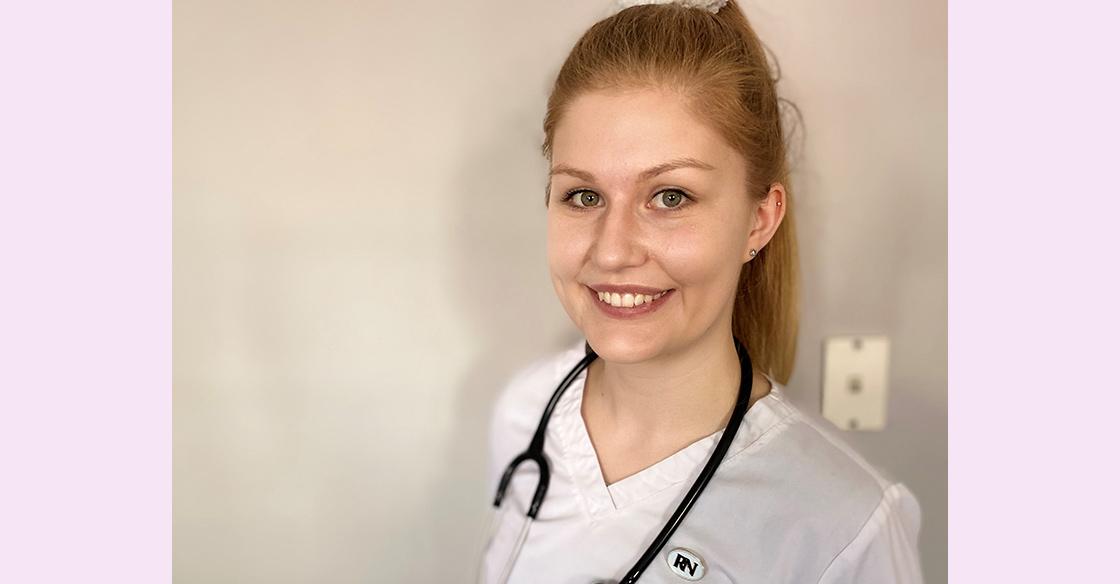 Pictured: Samantha DeLory, registered nurse.
COVID-19 has its silver linings. For Samantha DeLory, a QEII nurse working in COVID-19 assessment centres in Nova Scotia, it comes in the form of a deep appreciation for those around her.
While it has been nerve-wracking facing the daily unknowns, all while adjusting to new coworkers, Sam says teams have really banded together.
"Nearly everyone has volunteered to be here, on the front lines of the pandemic," says Sam, who, prior to COVID-19, was working at the QEII's Geriatric Ambulatory Care and Memory Disability Clinic.
We met Sam – virtually – for the first time after she emailed the QEII Foundation with an unusual, but heartwarming request – to recognize a fellow colleague for his hard work in the face of COVID-19. Sam met Janvier Korongo, a housekeeper at the QEII, at a local assessment centre, where the two got to know each other as they shared responsibilities at a greeting station.
"As I had time to sit with him and get to know his story, I just felt his story needed to be heard by somebody," she says. "He has had an extraordinary life and is living so ordinarily."
Janvier Korongo moved to Canada in 2016 after living in a Ugandan refugee camp for ten years. "You can make your dreams come true," he says. Janvier studied at a Halifax college and received his diploma the following year.
"I feel safe here – and the QEII is a wonderful place to work"
"Canada is a beautiful country," Janvier says. "I feel safe here – and the QEII is a wonderful place to work," he says.
"Janvier is an incredibly hard worker," Sam says. "He's so sweet and kind and really cares about everyone's safety. As soon as anyone touches anything, he's on it – he's up and cleaning it."
When Janvier heard Sam wanted to recognize him for his efforts on the frontlines, he was moved. "I feel proud and strong," he says. "It gives me strength to work harder every day."
When asked why he volunteered to work on the front lines of the pandemic, Janvier was clear and direct. "We need to protect our people," he says.
Housekeeping is part of a larger team providing essential services over the last several months – their contribution critical to ensuring the safety of every Nova Scotian who visits an assessment centre.
Sam, who graduated from Dalhousie University only two years ago, says working in this environment has its challenges.
"A lot of patients are coming in with anxiety. People watch a lot of news, especially being home all day. They come in and they see us in full PPE and it's scary," she says. "There isn't a lot of general knowledge about what we do in the testing clinics so people have spent time googling things like what a nasopharyngeal swab looks like and feels like."
For Sam, providing education is critical to dismantling any anxiety that patients have upon entering the assessment centre. "I tell them what to expect, both during the appointment and after they go home. Unless a patient is very ill, they recover at home."
 The social element of interacting with people while wearing a mask is an added layer, Sam says. "It's amazing how much a mask changes someone's face."
"Tone of voice and body language can go a long way," she says. "I've had moments with patients when I'm up close swabbing them and they've said 'You have very kind eyes' – so, you can still get a level of connection. It's certainly harder but they can feel it when you are calm and comforting."
 
Sam DeLory and Janvier Korongo are among thousands of healthcare workers who have stepped up to care for their communities during COVID-19. Thank you to all of our healthcare heroes and essential workers. We hear you, we see you, and we appreciate you.

To recognize or say thank you to a healthcare provider, tag #QE2HealthHeroes or visit QE2Foundation.ca/QE2HealthHeroes.