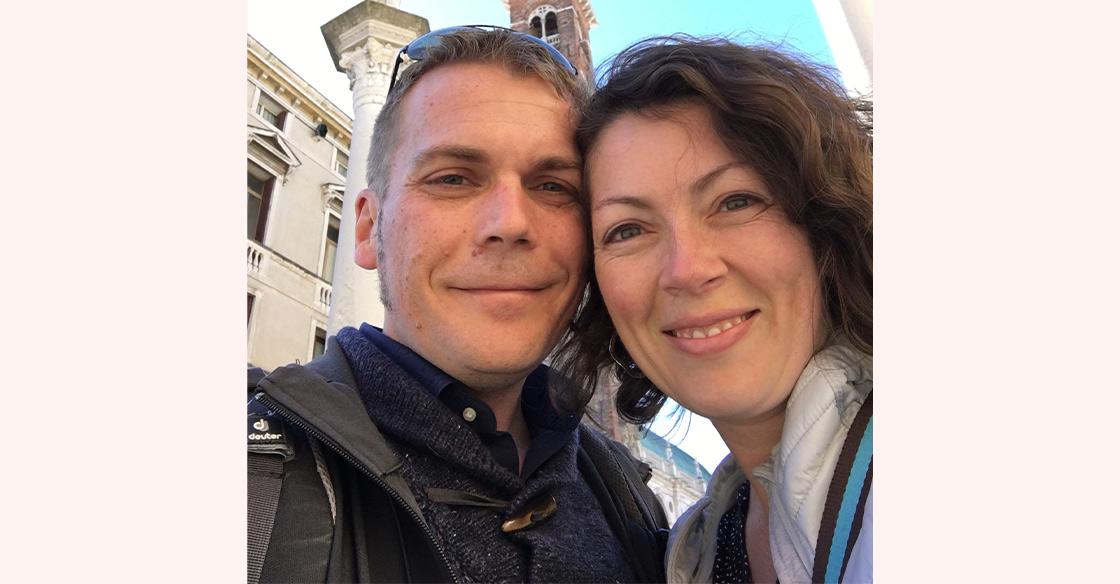 PHOTO CAPTION: Kidney cancer and surgical robotics patient, Warren Connors, with his wife Amy.
Originally published as a sponsored article on saltwire.com.
That Friday night in November 2019 was like any other for Warren Connors, who was walking home after a glass or two of wine when he started feeling off.
After waking up with stabbing pain, Warren went to the QEII Health Sciences Centre and received a shocking kidney cancer diagnosis. Then his surgeon, QEII urologic oncologist Dr. Ricardo Rendon, spoke with him about how surgical robotics could help.
The notion of robotics didn't worry Warren, who is a defence scientist and robotics expert. He became the first Atlantic Canadian to undergo two robotic surgeries and is now an advocate for the technology, as well as Halifax's leading role within it.
"A lot of people don't realize the capabilities that exist here in Halifax, or don't know about the surgical robotics program at QEII. There's a story to be told here," he says.
IN GOOD HANDS
It took less than an hour for Warren, then 42, to receive a diagnosis confirming he had tumours on both of his kidneys that would require surgery.
The news shook him and his wife, Amy, but what stunned them even more was discovering through Dr. Rendon that surgical robotics could remove the tumours through a minimally-invasive procedure, meaning better results and a quicker recovery.
"Cancer is a big word — we were stressed and didn't know what was going on. But from then on, things started looking up," says Warren.
Dr. Rendon and Warren spoke and connected over how the robotics technology gives surgeons greater visibility and precision during procedures, as well as being minimally-invasive, with procedures completed through small incisions.
The conversations left Warren feeling comfortable, knowing he was in good hands — da Vinci's hands, controlled by Dr. Rendon.
"This technology has more degrees of freedom — it moves more freely than humans can — due to its EndoWrist technology, which allows us to navigate tight places, corners and areas much better than we could previously," says Dr. Rendon.
Dr. Rendon says this increased precision means more control over the cancer, which delivers better patient outcomes and helps alleviate the overall healthcare system.
"Long-term cancer control means a better quality of life for patients and their families and, from another point of view, a much lower burden on the system," he says.
BETTER RESULTS, QUICKER RECOVERIES
Warren's surgeries were both completed within a few weeks. He remained in hospital for only a day or two after each one, returning home much sooner than he would have after major surgery.
He is still amazed at how quick his recovery progressed.
"It was incredible — I was driving after two weeks and back to work after three. It's crazy considering nearly half of both kidneys were taken out. I'm just so lucky," he says.
There are clear parallels in Warren's work and his QEII surgical robotics experience, as he uses robotics to detect underwater mines. He trusts the technology and wants others to as well, as he sees how this technology has the capacity to make a huge difference in health care.
"The beauty of robotics is that it is not restrained by human kinematics, allowing for higher degrees of freedom in movement," he says.
Warren has organized a series of talks this May at the Carleton to talk about the robotics scene in Halifax, from medicine to deep sea and space. His ultimate goal is to get people comfortable with the idea of surgical robotics, while driving awareness and support for the QEII Foundation and future fundraising campaigns to expand the use of robotics at the QEII.
"It's a really cool story to tell and one we are using to drive awareness around what the QEII Foundation folks are doing. It's amazing work and I owe them so much because of it. It was a humbling experience and I am proud to do this.," says Warren.