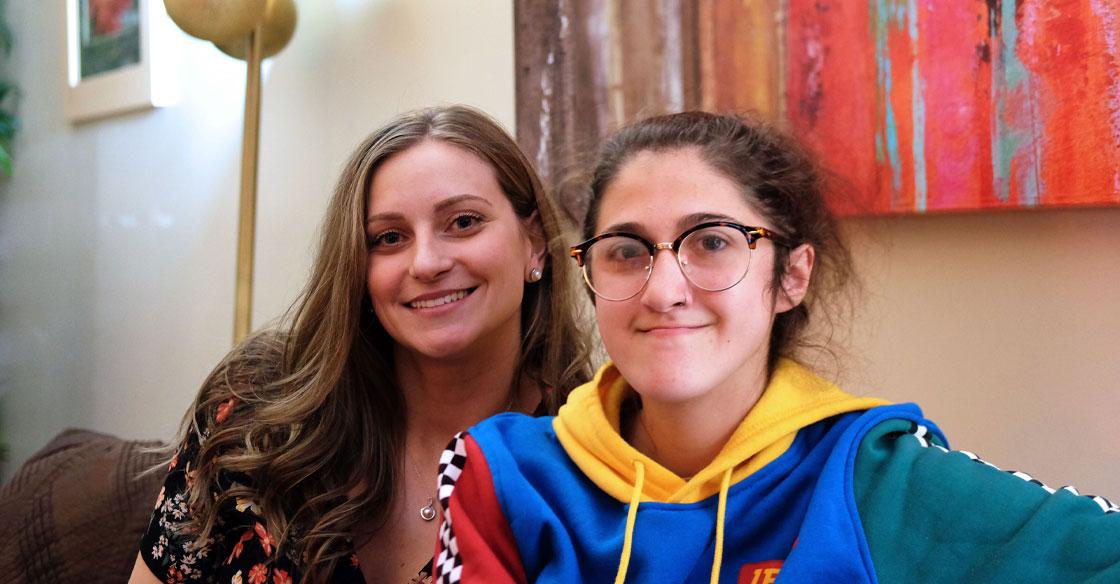 Two friends sit across each other on a sofa chatting softly. An unfinished cross stitch sits on the table between them.
In reality they are a nurse and a patient – but you wouldn't know they're sitting in a hospital room with its local art and paint colours you'd see in a magazine.
To their left is a full kitchen, with snacks in the fridge and all the basic necessities of being at home. And that is the goal – to create a homelike environment. All of this is made possible by donors.
Tasha Thomas was in critical condition when she arrived at the QEII in January of 2019. Her blood sugars were so low, her pancreas, the organ that regulates sugar in the body, was failing.
18 years old, Tasha had received prior treatment for her eating disorder, "but it wasn't working out," she says, "I wasn't in the right mindset."
She contacted her peer support worker, and received a call from the QEII's Eating Disorder Clinic just a few days later. 
"It got to a point where it was debilitating in my life," says Tasha, "I couldn't go to school or even function really."
Tasha spent four months building up her strength and rediscovering herself through the QEII's treatment program.
The program is framed around group sessions and involves reintroducing a healthy relationship with food, as well as participating in group therapy. There are also various creative groups – art and music, for example, with a goal of helping patients rediscover their hobbies and interests.
In their downtime, patients retreat to the lounge, which was funded by QEII Foundation donors through a Comfort and Care grant.
"This grant has been one of the only avenues to provide those basic comfort needs," says Lindsay Turner, a registered nurse at the unit. "We are incredibly grateful."
Alongside her team, Lindsay has helped to evolve the program. "It feels amazing," she says. "You can see it in the patients. They get better faster, the outcomes are better and it's more pleasant for them, too."
Tasha says the space made a big difference in her recovery, helping her to open up and become more herself after losing herself to the disorder. "To have an environment that feels homey – you get comfortable. You know you are safe here," she says.
Today, Tasha feels stronger than ever. "I'm coming out of this confident and with the skills to manage on my own," she says.
Of her treatment, Tasha says "It's not as scary as it seems. There are really good people who will be in your corner. If you give 100 per cent you will get 100 per cent," she says.
When asked about her care team, Tasha was quick to acknowledge several people who helped motivate her to get better. Dr. Keshen, Kim, Lindsay, Tia, Paige, Meara, Shannon, Helen and David are among those she is grateful for.
She hopes her story inspires others to reach out for help if they're struggling. "It's worth it, it's a short amount of time to get back the rest of your life."