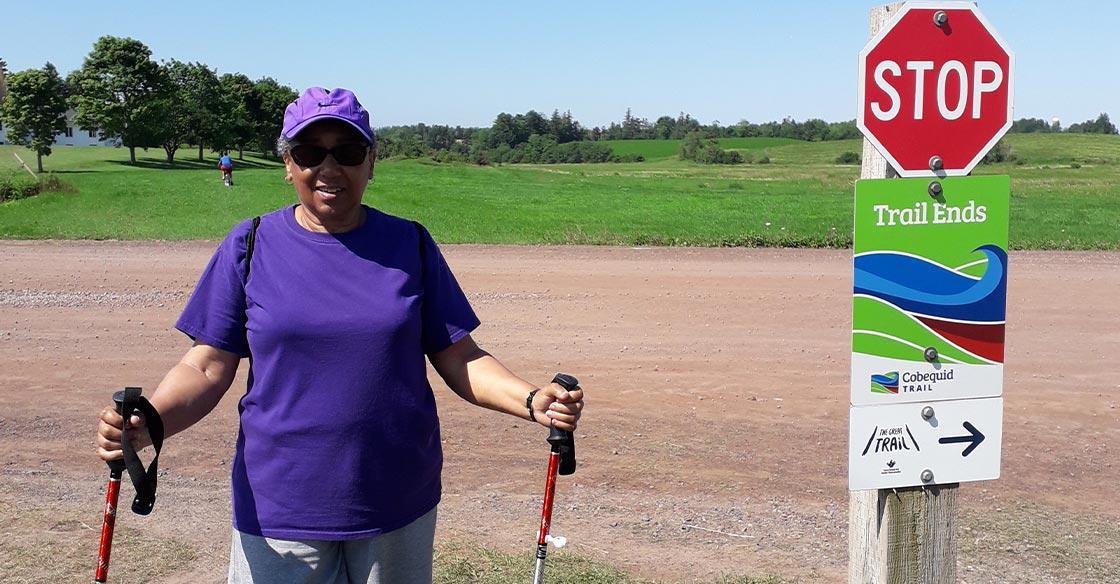 PHOTO CAPTION: Endometrial cancer and surgical robotics patient, Margaret Aucoin.
Originally published as a sponsored article on saltwire.com. 
Margaret Aucoin had faced major surgery and long recoveries twice in her life before receiving a cancer diagnosis and finding out it required surgery.
With an intimate understanding of what recovery following a major surgical event meant, Margaret felt relief after learning her procedures would be performed by surgical robotics, in a minimally-invasive way with a much quicker recovery.
Her surgical team was led by Dr. Stephanie Scott, who says surgical robotics is a game changer for some surgeries, including endometrial cancer procedures like Margaret's.
"This technology means we are delivering the best in patient care. The hospital stay for patients who required open surgery for endometrial cancer was up to four to six days. Now, almost all most patients are home the very next morning," says Dr. Scott.
BETTER CARE FOR ALL WOMEN
This news was a welcome reprieve for Margaret, who'd felt anxiety and apprehension since her cancer diagnosis. She'd known something was wrong when she felt lower back pain while skating with her daughter and later had spotting.
Margaret booked a doctor's appointment and was referred to a gynecologist for a biopsy. She received an endometrial (uterine) cancer diagnosis and began feeling the stress settle in.
"I knew that cancer could be treated — knew it wasn't a death sentence, but was worried and in shock," she says.
Margaret then met QEII gynecologic oncologist Dr. Scott, who discussed surgical robotics procedures with her, which sounded outlandish to her.
"I thought, 'this sounds like a movie!'" says Margaret.
Margaret wondered if she'd once again face the long recovery she endured after both of her cesarean deliveries. But when Dr. Scott explained the technology and its benefits, including its quick recovery, Margaret felt she was in safe hands.
She still brought pajamas and an overnight bag to the QEII on her procedure day, before learning she'd be home just one day later.
A CLEARER PICTURE
Dr. Scott says that for patients like Margaret with endometrial cancer, removing and assessing lymph nodes are how surgeons stage the cancer; a process which determines how much cancer is in the body, if it has spread and where it's located.
Dr. Scott says staging cancer and performing lymphadenectomies robotically gives surgeons a clearer idea of, what, if any, additional treatment is needed after surgery. Appropriate staging is now accessible to all women, including those who couldn't previously undergo such a procedure due to patient factors.
"Lymph node dissections were not always feasible laparoscopically. Now, robotic surgery gives us an additional minimally-invasive option that can overcome some of the challenges we faced with laparoscopic surgery in certain patient populations. This technology allows us to be more confident we aren't missing anything, in all patients," says Dr. Scott.
QEII Gynaecologic Oncology division head Dr. Katharina Kieser says this clarity also means women are getting an even more precise surgery than before, as the technology allows surgeons to get a close-up view of the cancer and individually tailor treatment for all patients.
"It is a real improvement. And for those who need further treatment, we have a better understanding of how to approach this," says Dr. Kieser.
Margaret underwent six chemotherapy treatments after her procedure. She is now thriving and has become an advocate for women's health and cancer, encouraging women to stay on top of their own health.
"Women, and mothers especially, tend to put everyone ahead of themselves, and so I tell everyone now - you need to be vigilant and proactive in your own health," she says.
Both Dr. Kieser and Dr. Scott were among those who donated to and helped raise $8.1 million in support of bringing surgical robotics to the QEII. Dr. Scott says this technology now means the best care is being delivered to QEII patients, including those in her department facing endometrial cancer.
"This technology ensures surgeons have the tools they need to provide the best care," says Dr. Scott.