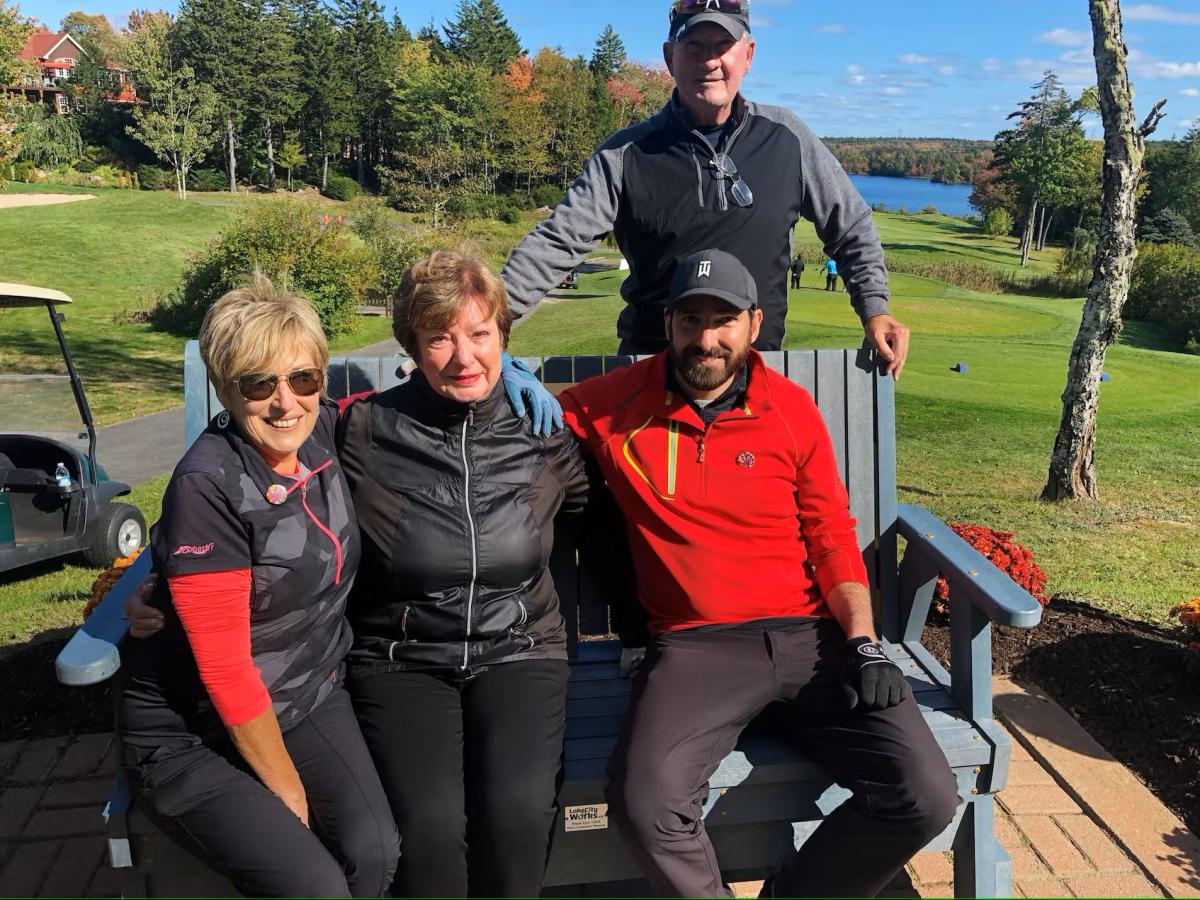 In 2020, Terry Thorne was diagnosed with acute myeloid leukemia (AML), an aggressive cancer of the blood and bone marrow. A spry, golf-playing 65-year-old, he felt fine just days before the diagnosis.
Admitted to the QEII's Hematology, Medical Oncology and Blood and Marrow Transplant (BMT) Unit, Terry, a pragmatic former chartered accountant and businessman, began his journey with AML with remarkable calmness.
Spending more than 70 days in hospital at the QEII Health Sciences Centre, Terry underwent chemotherapy and bone marrow transplants — determined and optimistic to beat his illness.
"He followed the advice of his doctors and healthcare providers," says Linda Thorne, Terry's wife of 40 years and high-school sweetheart. "They told him what he needed to do, and he got right down to business and did it."
Of course, nothing was going to keep Terry from his golfing passion. Taking the opportunity to leave the hospital when permitted, his stay included time spent doing what he loved during the summer, spring and fall.
"It always made the staff smile," recounts Emily MacIsaac, a former charge nurse of the QEII's 8A/BMT in-patient unit, who grew close to Terry. "Often, you'd walk into his room to administer his chemo, he'd be sitting there, all dressed in his golf attire, ready to go once his chemo infusion was done. His strength was inspirational."
Dr. Abdullah Qureshi, a clinical associate with the QEII BMT program, was another care provider who worked closely with Terry, often sharing a joke and conversations. "I was impressed," says Dr. Qureshi. "No matter how hard the times were, he always had a smile on his face."
Noting the severity of AML, Dr. Qureshi attributes the progress Terry made to his positive mindset and support from his family, which included Linda, their three children and grandchildren and his brother, Bill.
"Linda was amazing; she was there all the time, she stood by him," says Dr. Qureshi. "It's not easy for anyone to see their loved ones suffering, but she was strong for him; that helped Terry to fight the disease. Bill was also very generous and donated the stem cells for Terry. His son, who's a physician, would also call in to help him understand the medical aspect of things — a wonderful family, no doubt."
Unfortunately, despite initially responding well to chemotherapy in the summer of 2020 and a bone marrow transplant, Terry's health declined, in part, due to a gene mutation (tp53). After battling his AML for more than 10 months, he passed away at age 66.
"It's always hard. A lot of times it's the ones that you grow close to who are truly all-around amazing people, like Terry," says MacIsaac. "You're always left questioning, 'why did it happen to this person?'"
Saddened by Terry's passing, the Thorne family made their peace, knowing the hospital and staff did all they could — and more.
"They took good care of him, and he was forever grateful," says Linda. "The level of care and compassion from the doctors and nurses on 8A and BMT was amazing. They were never short of time and would always sit down to answer all of our questions."
Always looking on the bright side, Terry left a particularly meaningful impact before he passed. He embarked on a personal fundraising mission, in support of the QEII Foundation, called My AML Journey Fundraiser.
Intended to help future AML patients on floor 8A, Terry's fundraiser aimed to help with the purchase of much-needed care supplies like lighting, specialized pillows, an ultrasound machine and a specialized recliner. Soliciting funds from friends, professional contacts, and fellow patients who believed in the cause, Terry raised a remarkable $30,000.
"Through my experience working with many passionate volunteer fundraisers, it's honestly the compassion that comes from the care that drives most of the fundraisers we work with," says QEII Foundation director of community programs and charitable giving advisor Amanda Hatt. "The compassion and love that doctors and nurses have for their patients, to want to see them through hard times, is what motivates patients, like Terry, to make that experience easier for future patients."
Following Terry's passing, the initiative transitioned from a community fundraiser to a memorial giving fundraiser, journeying on with Terry's family.
"After he died, we sat around as a family and thought, 'what can we do to honour Terry?'" says Linda. "Of course, a golf tournament was the perfect choice as the game Terry loved."
Organizing a day of golfing fun on a sunny day in October, the event was attended by 120 participants, including friends, neighbours and the community at large and raised nearly $20,000. And amazingly, the My AML Journey Fundraiser managed to surpass the initial goal of $50,000 and ultimately raised $56,000 — all to benefit the QEII and its patients.
"It speaks so much. He was such a likable person, and he had a lot of friends," says Linda.
"In a situation where there's not a lot that people can do, aside from verbal support, to raise money for a cause that not only benefitted Terry, but other people in the future, that's a really powerful thing."
The QEII Foundation advances health care at the QEII Health Sciences Centre, funding cutting-edge equipment and technology, research, patient care and more — all thanks to donations. These gifts can include everything from outright donations or personal fundraisers like Terry's to memorial gifts, which donors make as a way to remember a loved one.
"Donors and their gifts are how we create an impact through the QEII," says Hatt, adding that every donation, whether $100 or $1,000, matters.
Taking notes from none other than Terry himself, Hatt says that while the current state of health care can feel overwhelming, there is a lot that people can do on an individual level concerning fundraising.
"Terry shared a story about a little boy, walking along the beach, picking up starfish and throwing them back in the water," says Hatt. "Someone asks him what difference would it make because there's so many starfish in the world. The little boy looks at the person, picks up a starfish, throws it into the ocean and says, 'made a difference for that one.'"
"That stuck out in terms of what motivated Terry and how one person can make a difference — and Terry did," adds Hatt. "He has continued to inspire me, our board, our staff; and through his family, friends and bringing everyone together, he's inspired an entire community."
Of course, when touched and inspired by the quality care and compassion provided by healthcare teams at the QEII, giving back is sure to be on the minds of many patients to come.
"It's important to give to causes that are near and dear to your heart," says Linda. "This was near and dear to Terry's heart because it impacted him, and the people on the 8th floor impacted him so greatly."
Meanwhile, contemplating the thought of hosting another golf tournament at the golf course (where a memorial bench for Terry now sits at hole #2), the Thorne family is committed to honouring his legacy and hopes to work alongside the QEII Foundation in the future.
"I hope he'll be remembered as a person who truly appreciated the care that he got," says Linda. "Also, that he truly wanted to help other people who will be in the position where he was."
To learn more about the QEII Foundation and ways you can get involved or to honour a loved one today, visit QE2Foundation.ca/memory or call 902-334-1546.