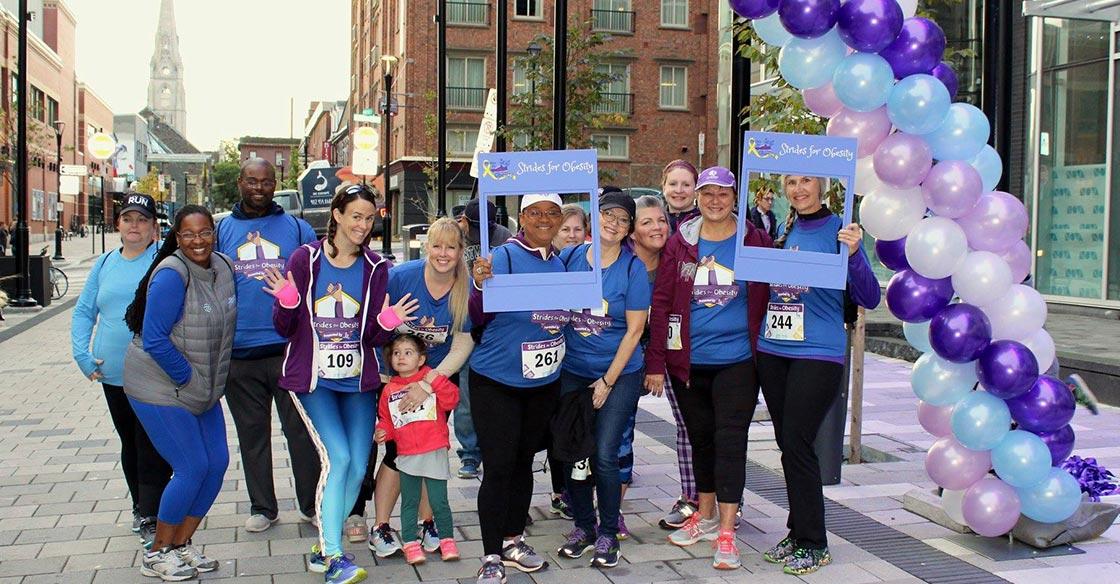 Pictured: Participants in the 2018 Strides for Obesity event are all smiles.
Originally published on chronicleherald.ca 

MAKING STRIDES
One takes a small size, the other extra-large.
How can it be that two bodies, being of the same genes, living in the same environment, eating the same foods, getting about the same exercise, measuring roughly the same height, can look so different?
"No one thing seems to adequately explain the difference," says Dr. Thomas Ransom, MD, FRCPC of the Division of Endocrinology and Metabolism at the Queen Elizabeth II Health Sciences Centre in Halifax and assistant professor of medicine at Dalhousie University. He describes an array of evolutionary, biological, psychological and social factors at play.
A MEDICAL PROBLEM
Obesity is a disease, according to Ransom, and for the patient, it can mean a host of health problems, mobility problems and social problems, including what he calls "weight bias" and the "stigma" attached to people with chronic obesity.
Ransom is part of the Halifax Obesity Network and the bariatric clinic at the QEII Health Sciences Centre. The group produces a Strides for Obesity walk every October and publishes a website by the same name. The walks and the engaging website are designed to educate and raise awareness about obesity.
This quote, for instance, sums up research on weight bias and stigma: "Individuals living with obesity … face widespread weight bias and discrimination from family…, friends, and health professionals."
Beyond the cost to the individual, Ransom reminds us that every medical problem taxes an already stressed healthcare system, and that obesity often coexists with — and may exacerbate — other issues.
THE GOOD NEWS
There is a silver lining and lots to be optimistic about, according to Ransom.
The acknowledgment of obesity as a disease by the medical community is, he says, "super important." As a result, for example, there is more funding, education, and support. Guidelines to treat obesity are now available, adds Ransom, and drug plans are now paying for drugs to treat obesity.
With more funding and attention comes more study. Academic journals and conferences are today dedicated to the study of obesity.
"We are developing interventions," says Ransom. "Surgical, medical and psychological interventions."
More people are receiving treatment to fight obesity, he says, but many more do not have access.
WHY STRIDE
Ransom highlights three key outcomes of the walk: for people with obesity, it is a moment to feel accepted and part of a group. The walk also creates an awareness of the disease in the community. Finally, the walk is a fundraiser to provide more resources and programs necessary to fight obesity.
Ransom is one of the many people behind Strides for Obesity, now in its fourth year. Asked what, if anything, he is most surprised by as he looks back, Ransom says it is the patients.
"It's so surprising how much the walk means to the patients; it just means so much to them."